She's colourful, she's confident and she delivers perfect comedic timing like no other — Japanese comedian Naomi Watanabe has just been named Kate Spade New York's newest global ambassador and we're excited to see what this partnership will bring.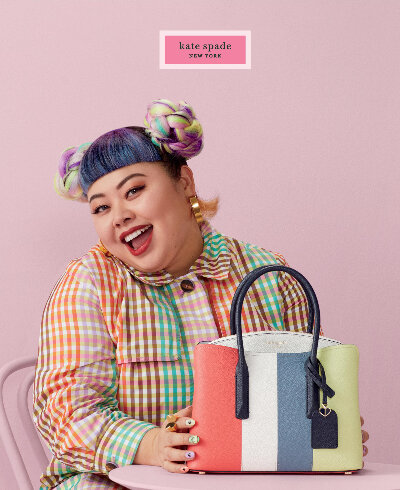 Naomi Watanabe is Kate Spade New York's latest global ambassador
Deemed by Kate Spade New York as "'the embodiment of confidence, joy and originality," Naomi will star in the American fashion brand's Spring 2020 campaign starting today across digital platforms worldwide. As the most followed person on Instagram in Japan, Naomi does not play by the rules of what a 'conventional' celebrity should look or behave like. Instead, she
re-defines the term by remaining authentic to her quirky self and by celebrating her plus-sized figure.
During her recent guest appearance in an episode of Netflix's Queer Eye, Naomi shared about her personal journey with a young woman who was struggling with self-confidence. She revealed: "When I grew up especially in my teens… I was brainwashed to think that if you're aren't skinny, you won't be treated as a woman or even a person. But then, when I entered the world of entertainment… I realised that there are people who liked me for me... I became stronger towards negative comments."

Naomi expressing her joy and delight at the brand's popular Margaux bag
In the campaign reel which was revealed to us by the brand, we find a pea-sized Naomi dancing and posing cheekily around Kate Spade's popular Margaux bag before it concludes with a life-sized version of herself enveloping the same bag in her arms — cute! The photos of her posing with the Margaux put a smile on our faces too, as they capture her fondness for the bag and accurately portray of how most of us would feel when we finally meet the bag of our dreams.
Having observed the past few campaigns by Kate Spade New York, it's heartening to know that the casting of funny and refreshingly relevant comediennes has been a tried-and-true method for the brand in appealing to the women of today. The brand has previously featured

Pitch Perfect

star Anna Kendrick,

Two Broke Girls

actress Kat Dennings and even feminist organiser and writer Glora Steinem.
"To us, Naomi represents all women. Her humour and love of life perfectly align with our brand values, and she makes our product shine. Together, we hope to continue inspiring multi-generational self-styled and self-motivated women to live their lives with substance, sophistication and a smile," said Nicola Glass, Kate Spade New York Creative Director.
(Cover photo from: Kate Spade New York)
Now, find out which English actress has been named Clinique's first-ever global ambassador by clicking here.