Enjoyed the gripping events in Riverdale and The Chilling Adventures of Sabrina? Well, you'll be ecstatic to know that the Archie universe on-screen is expanding once more with The CW's upcoming Katy Keene. That's right — those who were avid fans of the Archie Comics might recognise this iconic character. Still, although they share the same universe don't expect it to be quite like the aforementioned shows. Katy Keene will be a wholly different show. It will be a musical dramedy set in New York City, where cults and witches would probably not be making an appearance. Intrigued? Read on to find out more about it.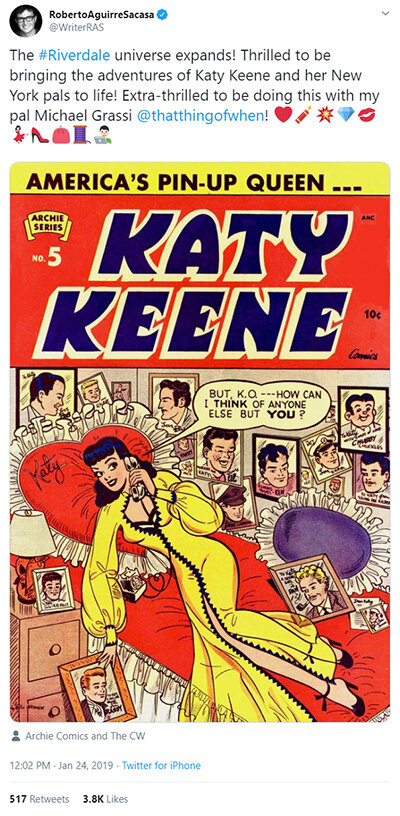 Where dreams are made of
If something's set in the Big Apple, we know it's bound to have the glitz and glam of the city. If you weren't much into the supernatural aspect of the other shows, you'll be pleased to know that Katy Keene will be a much lighter series. It will focus on the lives of 20-something aspiring artists trying to make it in the city. The first look we have of the show definitely gives Sex And The City vibes, so we're expecting that this would be a fun joyride.
An all-star ensemble
Lucy Hale, whom you probably recognise from Pretty Little Liars, is going to be playing Katy Keene, who tries to chase her dreams of becoming a fashion designer in the city. Joining her is Ashleigh Murray who will be playing her Riverdale character Josie McCoy, an aspiring singer. There's also Lucien Laviscount and Camille Hyde, among others, who'll be giving us a glimpse of what it's like to try to make it in New York.
A shared universe
Riverdale showrunners Roberto Aguirre-Sacasa and Michael Grassi will be developing the upcoming The CW show. They'll be joined by The Chilling Adventures Of Sabrina alum Maggie Kiley, who'll be directing the show. Since Katy Keene and Riverdale share some characters, it's pretty clear it's all set in the same universe. Still, it's unlikely we'll get crossovers between these shows. Katy Keene will be set years ahead of Riverdale, so if we're getting cameos, it has to be older versions of your beloved characters.
The series is still currently being filmed, and there's no set date for its release yet. But after seeing the trailer, we're already excited to see what's in store for us soon. We've definitely added this to our to-watch list.
(Cover photo from: @lucyhale)
While waiting, check out these Netflix shows showing this month.