Providing an affordable option for runway-ready looks, the women behind
THAVIA
set out to create a fashion label that is accessible, affordable, and catered to the tastes of self-driven and independent women. Established in 2015 by
Tengku Chanela Jamidah
and
Angie Lai-Tay
, THAVIA's collections give the everyday women access to pieces with the flair of high couture but are easy to wear day-to-day.
When asked about the progression of the label's designs, the ladies said "
The previous collection
was inspired by the highly feminine Parisian trend featuring ladylike silhouettes such as fit and flare dresses and tops, full tulle skirts, as well A-scape style blouses. This was followed by a collection inspired by high-street style that comprises of a range of street fashion catered to empowered women seeking trendy and chic styles."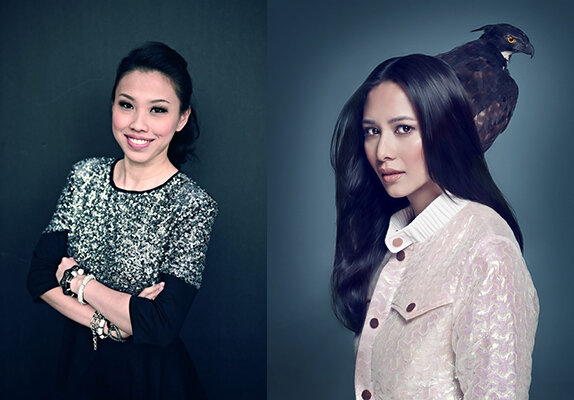 With the label set to showcase their latest collection at
Kuala Lumpur Ready To Wear Fashion Week
this August 2016, we caught up with the two ladies behind
THAVIA
and got them chatting about what it was like to set-up THAVIA, their design aesthetic, and what we can expect at their upcoming runway show in Malaysia.
--------------------------
Describe your fashion journey. What made you both embark on launching THAVIA?
We are both fashionable ladies busy with our businesses and children, and we found it hard to find easy but runway worthy items that can take us from meetings to school. THAVIA was born from that lack of runway-to-everyday pieces that wont break the bank. From day one, it was very important to us to keep prices at an affordable point for customers to be able to update their closet frequently.
Your label aims to dress women you both identify with, particularly self-driven women. How did that design/style direction come about?
We love to dress women we identify with - self driven women who juggle multiple roles at home and at work, while not forgetting to treat herself with love and respect. Work life and daily family life are seamless for the current working lady. In today's digital social media constant push, we are always inspired by style icons, business women, and beautiful lifestyle images to improve our own lives.
On that note, how would you define an independent and self-driven woman?
Someone who knows her strength and weaknesses. And strives for their goals despite challenges that arrive along the way. Someone who earns her own income and does not need encouragement from anybody but herself. Someone who is courageous and brave about everything she does in life.
What has been the best part about launching THAVIA, and what has been the most challenging? In what ways do you think THAVIA have grown since your launch last year?

The best part is hearing from our customers that they can't wait for our new stuff to be released and personal messages from friends to pre-order what they see on our Instagram. It's definitely encouraging to know that your friends keep on supporting you, not once but every time something new lands. It shows that we are doing something right with our designs, quality, and price point.
What has been the most challenging? You could say everything! But really it's production as we are very particular about the end result, how it finishes, how it falls, and the fit.
What should people expect from your runway show at KLFW. Is there a certain design philosophy or look you'll be conveying on the runway?
Feminine strength. Every piece can be somehow incorporated into your current wardrobe, staples that you will be able to wear daily, and a strong sense of empowerment and movement.
What can we expect from THAVIA in the coming months/years. Where do you see your brand headed?
We will be growing our point of sales for easy access regardless of which city you live in. Our idea is to create different looks for our point of sales to suit our customer's needs. We also don't see ourselves as mass producers, we like to keep our designs wide but the quantity kept small with a constant drop in stores.