As we enter the prime time of our life, promoting & maintaining a healthy skin is vital. Ageing is inevitable, therefore for us to age gracefully; we need to love and pamper our skin. Melvita, the French organic beauty care, understands this demand and provide a solution with their new Nectar Supreme range, which offers the secret to staying young and beautiful at any age.

This range is a unique complex of precious nectar from the beehive and is everyone's answer to younger, more radiant looking skin. Melvita combined rare Kniphofia nectar with all of its precious ingredients from the beehive: the patented complex of three organic honeys, nourishing royal jelly (the secret to the queen bee's longevity), and beeswax, with its unique moisturising properties.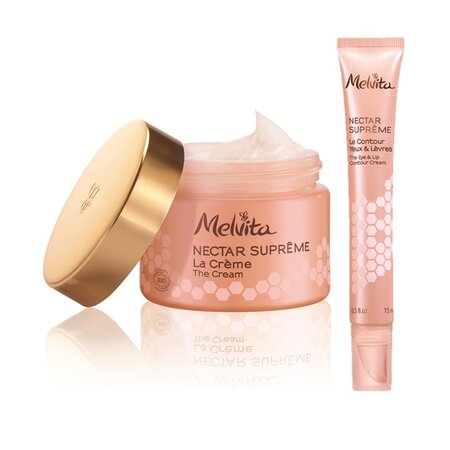 These ingredients are synonymous not only with the beehive, but also with life itself, as they encapsulate the age-old cycle of the hive. The bees feast on Kniphofia nectar, and then produce honey, wax and royal jelly. This exclusive blend of ingredients lies at the heart of a new range that reflects the very quintessence of Melvita's expertise: Nectar Supreme.
The Nectar Supreme range is also ideal for tired & aged skin caused by an unhealthy lifestyle as it replenishes and provides essential balance, like a divine gift from nature, to visibly smooth, illuminate, hydrate and densify matured skin. With this range, Melvita has succeeded in capturing an extra-rich formula in an ultra-light texture. The secret to this achievement is a new generation of organic texture agents obtained from beeswax. Upon application, the cream gives a pleasant fresh sensation while it sinks rapidly into the skin, leaving nothing behind but a sheer, barely perceptible film. For 100% of users, the texture is creamy and easy to apply!