Lipstick is a powerful tool in a woman's arsenal. It invokes a mood, a certain power, and much like a signature scent, its trace leaves a lasting impression. Being self-confessed devotees of lipstick, we decided to take a trip to the new
Lab'i
Lipstick Design Studio
, the first of its kind in the Philippines, to try our hand at creating our own perfect tube.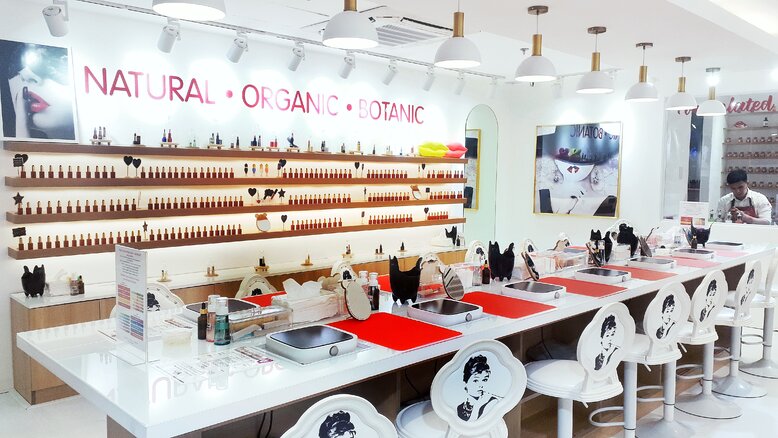 Co-founder and owner Eleanor Leung (who runs the business with her partner, Anli Wu) told us that Lab'i started "as just loving makeup and lipstick and being very passionate about buying lipstick all the time." The only frustration? She couldn't find the perfect shade. After pitching the idea to her partner who she credits greatly as the other half of the business, Lab'i was born.
Both being health-conscious, it was important that the lipsticks didn't only look good but they also had to be good for the wearer. Eleanor added, "A woman wears an average of five to nine pounds of lipstick in her lifetime. It's on your lips, it's close to your body and then you ingest it when you eat or talk. The lipsticks here are all about being healthy." Which is why Lab'i's lipsticks are created with organic and botanical ingredients, making it as much about skincare as it is about makeup. Formulated in Tokyo, they're designed to suit Asian complexions with each tube containing a capsule of vitamin E to nourish lips while delivering rich, vibrant colour.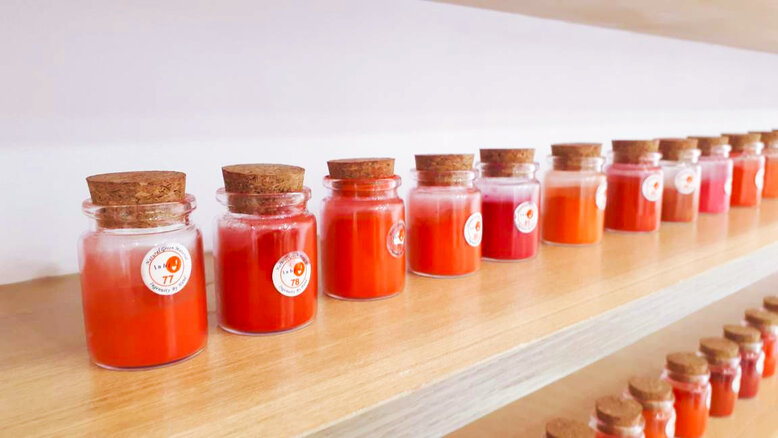 With an impressive 150 shades, an array of finishes (from creamy, hydrating formulations to velvety mattes), moulds, and beautiful packaging, we were spoiled for choice when it comes to finding our match. When asked about her favourite shades, Eleanor said she loved all shades equally, though not all suited her. She cited one of their bestsellers, #99 (a gorgeous deep pink), as one of her picks. Personally, she has over a hundred shades in her private collection and is thinking of expanding to lip liners in the future to accommodate them all. But Eleanor's philosophy on lipstick is that "lipstick is life and is every woman's possession. I compare it to ice cream. It doesn't matter — young, old, middle-aged... everyone loves it. It transforms you." To find out about our experience at Lab'i, keep reading below.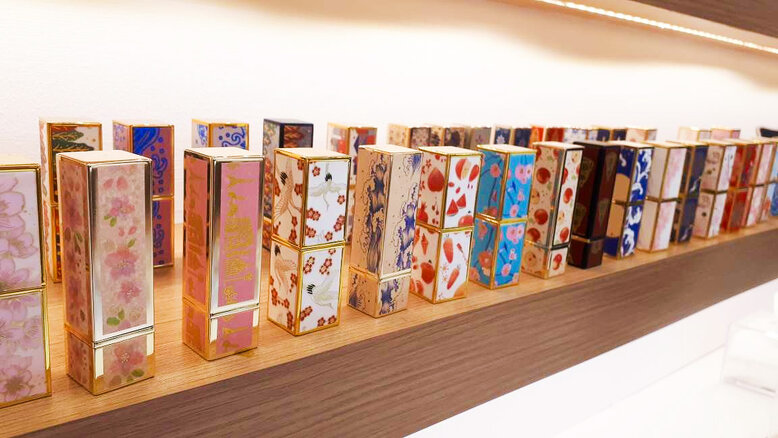 Our lipstick habits
Amanda says: "As someone who can never leave the house without carrying around four (or more) lipsticks in my purse, the concept of a customised tube is definitely alluring. Reds, pinks, and purples are more up my alley than nudes so I walked in at Lab'i's Lipstick Lab with that vision in mind."
Blessilde says: "I'm naturally quite pale so every time I go out, I need a hint of colour on my lips, otherwise people start asking if I'm feeling unwell. I'm mostly drawn to bold reds but for the summer I wanted a my-lips-but-better (MLBB) shade. I haven't had much luck in that department, I'm afraid, as the colours were either too dark or too warm."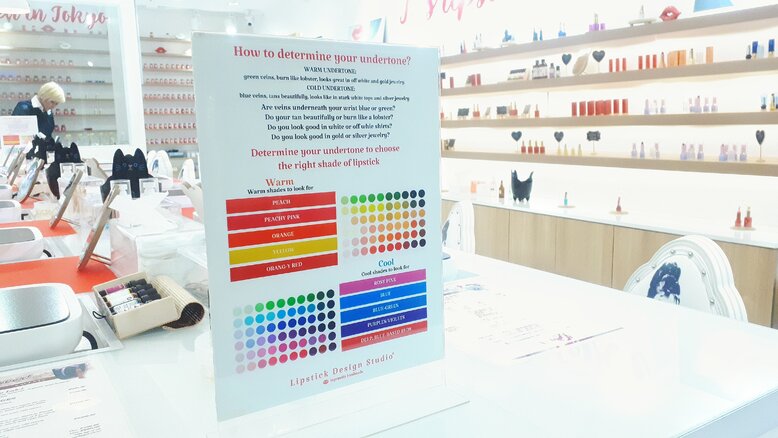 Planning our shades
Amanda says: "I was initially confused with my undertones since I lean towards a warmer spectrum upon checking how to determine which is what (see the chart as reference). But upon consulting with Eleanor and trying out a couple of shades here and there, we ended up with the conclusion that cooler shades suit me better. After playing with a couple of swatches, we went with shade #99 — a gorgeous cross between magenta and boysenberry that complements my naturally tanned skin. But that's just the beginning. After the colour matching (which was already fun on its own, to be honest), the real work began."
Blessilde says: "I favour a cooler undertone but it was particularly challenging finding my perfect shade as most nude-leaning colours tend to wash me out. After many tries, Eleanor opted to mix my perfect shade resulting in a warm terracotta. Before going with it, she also suggested I try their bestselling nude in the shade #127 and I ended up going with that. It was a rosy terracotta which was warm enough for the summer but not too warm, and the formula felt buttery smooth and luscious on the lips. I also appreciated how there was no rush selecting the right shade, and Eleanor was very gracious in terms of accommodating our preferences and critiquing how they sat against our complexion."
Lipstick chemistry (minus the chemicals)

Amanda says: "With Mulan as my favourite movie of all time, the concept of getting pigments from real flowers that are powdered and processed traditionally reminded me of the scene where Mulan was preparing for her match-making session. Now, I don't know about you but anything that makes me feel like a Disney character is a plus in my book. As for the scent, I opted for lavender which was made possible by actually infusing essential oils into the formula. For the finishing touches, I went for a cat-shaped tip (because who could resist such cuteness?) and a black and gold crane-embellished casing to match my usual edgy/Japanese-loving aesthetic."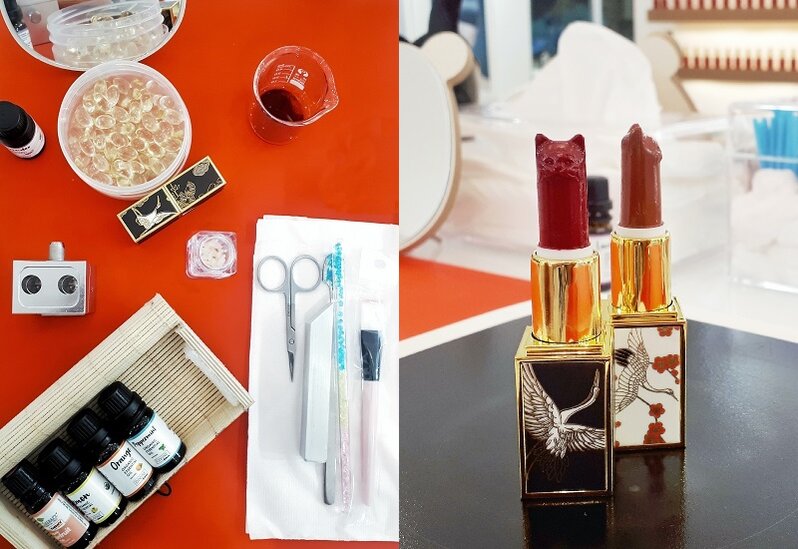 Blessilde says: "One of the real highlights of the experience was putting our aprons on and doing some lab(i) work. We were given a set of tools and pre-measured ingredients ready for mixing. Eleanor guided us through the process with clear instructions for each step and she kept track of the proper amount of time allotted for mixing, heating, and pouring. There was something therapeutic about the entire ritual. Everything was treated with great care and attention and it's a good exercise on being mindful not just with the process but with the choices that we make. My personal combination was: lavender essential oil fragrance as I love its calming effect, cat-shaped mould in honour of my two furry children, and a dainty white and gold casing with cranes and red flowers due to my love of Oriental-inspired designs."
Overall thoughts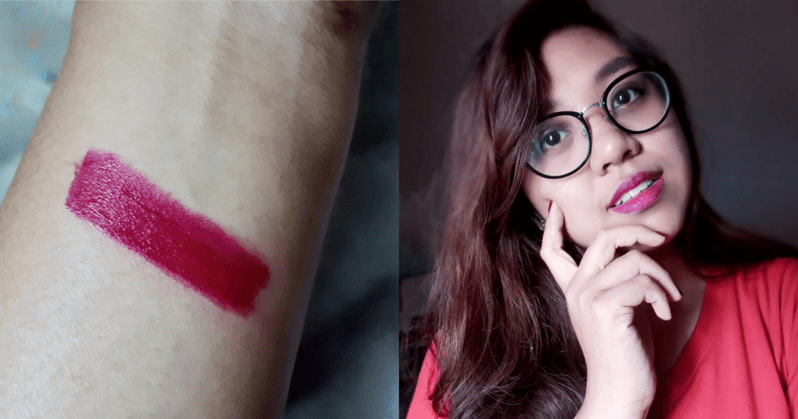 Amanda says: "Waiting for 24 hours for my lippie to fully set was pure agony but it was totally worth it. The best part of the entire experience was actually knowing what gets blended into the lipstick that I'm wearing and being at ease because of that knowledge. I can claim that it's enriched with Vitamin E because I added it to the formula myself. I can talk about what made me choose for each of its components. Overall, it made me feel that loving makeup and actually being a part of the process in making it definitely elevates how you value a product and what it means to you once you put it on. Not to mention how therapeutic the entire thing was. Whether you're simply looking for a unique yet relaxing me-time experience or want to have a nice bonding sesh with your best gals, I highly recommend jumping into the Lab'i experience."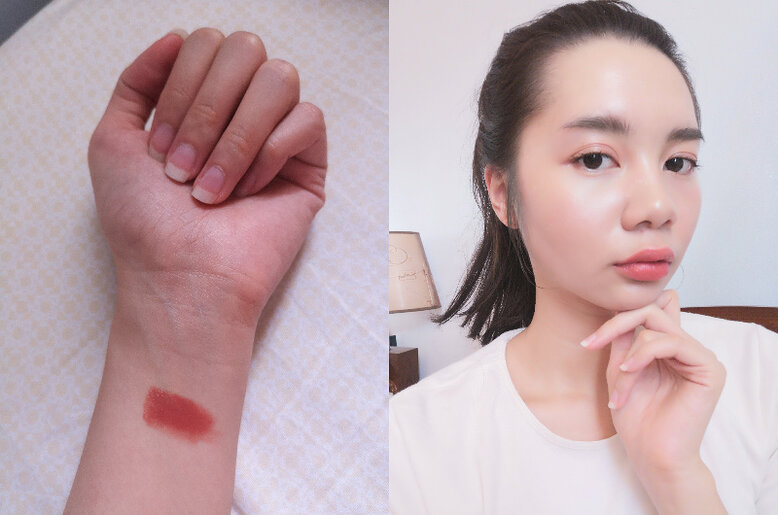 Blessilde says: "There's really something to be said about being involved in the whole creation process of the lipstick. It really heightens the experience of wearing it knowing it was made consciously by the wearer. The formula was wonderfully creamy and nourishing — it glided on smoothly, had great colour, and I do think the vitamin E did wonders for how comfortably it sat on the lips. It was lightweight and deeply moisturising, and it felt even better knowing it was packed with the good stuff. Most of it came off when I ate so longevity is average at best but I wouldn't mind reapplying it multiple times throughout the day. I highly recommend the experience for anyone who has even the slightest interest in lipstick or cosmetics."
Find out about Lab'i's rates and packages

here.