Gone are the days when you need to set an appointment at the spa to achieve your skin goals. Now, you can effectively target your skin concerns while holding your pampering sesh in the comfort of your home. Aside from your beloved serums and masks, you can now experience improved skin benefits thanks to LED-powered skincare tools. This innovative technology is said to boost our beauty from inside out, especially with consistent use. But with all the available LED skincare tools in the market right now, how do you know which one is the best for you? Ahead, find out which LED skincare tool is meant for your specific skincare needs.
Tackling under-eye problems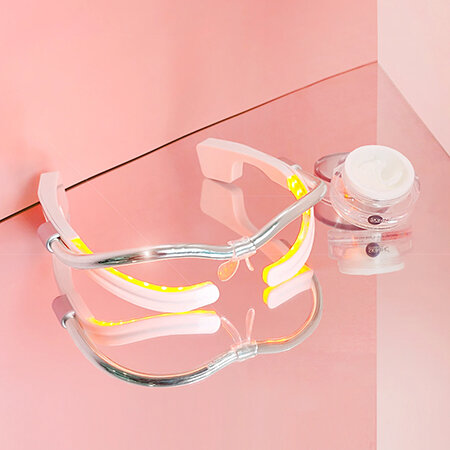 Skin Inc. Optimizer Voyage Tri-Light Glasses For Bright Eyes, SGD298 (Photo from: iloveskininc.com.sg)
Did you know that the skin around our eyes ages faster? Not only that, but due to the loss of collagen as it ages, it gets thinner and thinner, making it more susceptible to wrinkles and blemishes. But not to worry — the future is still bright thanks to Skin Inc. Optimizer Voyage Tri-Light Glasses. Unlike most LED skincare tools, this one specialises in under-eye concerns. It emits light in three colours: red to boost collagen, yellow to fade dark spots, and orange to boost circulation and reduce puffiness. Slip them on daily for 10 minutes after applying eye cream for youthful, bright eyes.