In recent years, Lipstick Queen has gained a cult following for their iconic shade-shifting lipsticks. The line was started by Australian-born entrepreneur Poppy King back in 2006, in hopes of creating the perfect lipstick that breaks beauty barriers. But to see whether or not Lipstick Queen products truly transform the lips, we've put some of the crowd favourites to the test. Read on to find out whether or not Lipstick Queen's Lip Restore Balm, Lip Restore Scrub, and Rear View Mirror Lip Lacquer are worth obsessing over.
Packaging and Appearance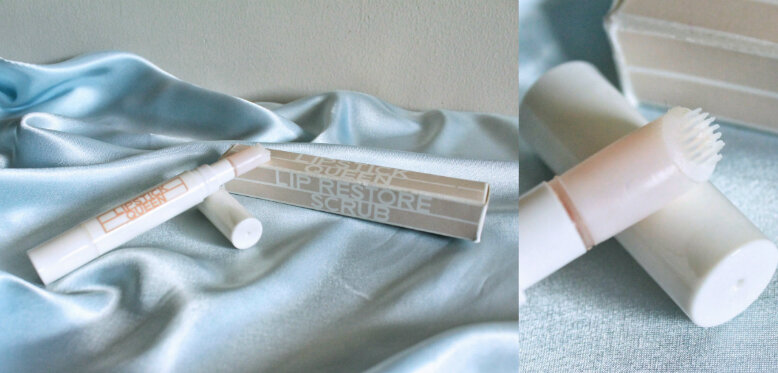 Lip Restore Scrub
The three products are packaged in sleek, minimalist boxes that snuggly contained the lip products inside. The simple, rectangular lines that border the product names seem to be a thematic constant for these lines. However, both the Lip Restore Balm and Lip Restore Scrub are more subtle than the metallic reflectiveness of the Rear View Lip Lacquer range.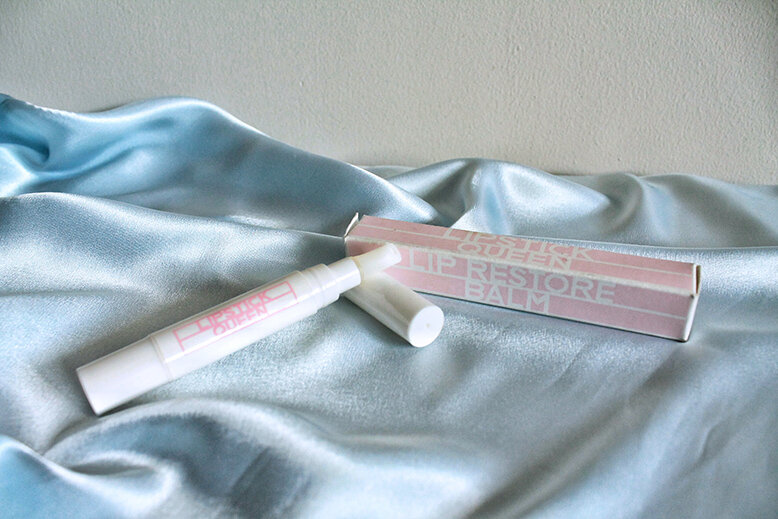 Lip Restore Balm
All came in lengthy pens that make for easier grip and application, with the design of the Lip Restore pair plainer than the lip lacquer's. To push out more product, the bottom part of the pens can be twisted. The applicator parts of the Lip Restore range are made of silicone. I especially loved the soft bristles that the scrub had.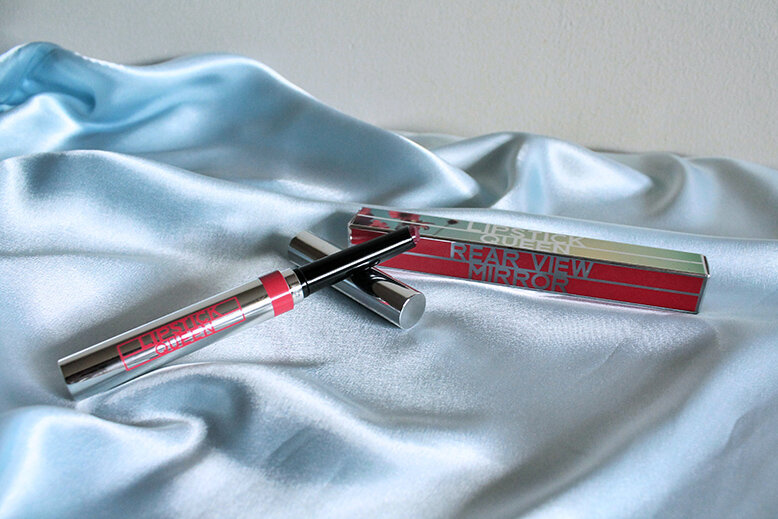 Rear View Mirror
However, I wasn't as fond of the Rear View Mirror Lip Lacquer. You see, I have the tendency to twist out my lipsticks to the max before trying them out, just to see how much product there really is. I was about to do that with this one, but by some good luck, I stopped with just a few centimetres out. Unable to retract it, that's when I found out that the pens only dispense in one direction. I was forced to place the cap back on, letting probably 10 good swipes all to waste. To be fair with them though, there was a cautionary note about this on the box. Still, it was really small so if you don't take time to check all these fine prints, you can find yourself in an unfortunate situation.
Application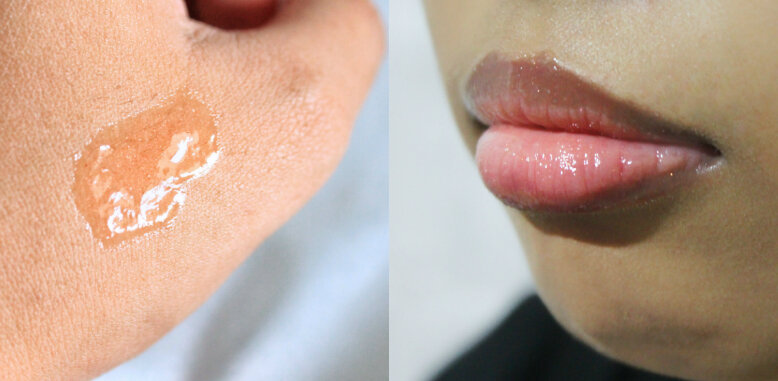 Left: Lip Restore Scrub under direct sunlight; Right: Lip Restore Scrub when applied on the lips
My lips are always dry, not matter how much balm I apply during the day. That's why it's been a habit of mine to exfoliate them at night, making Lipstick Queen Lip Restore Scrub easy to incorporate in my routine. The mint-scented formula contains really fine, glitter-like scrub suspended in a pink serum base, but I really didn't feel it much when I applied. Thankfully, there's the silicone bristles, which helped with exfoliating dry and dead skin. But I find that the product is too greasy, because it's hard to wash it off and oiliness remain on the area around my lips. And though my lips do feel softer after use, some dry skin still remain sometimes, and I end up manually scrubbing them off with my fingers.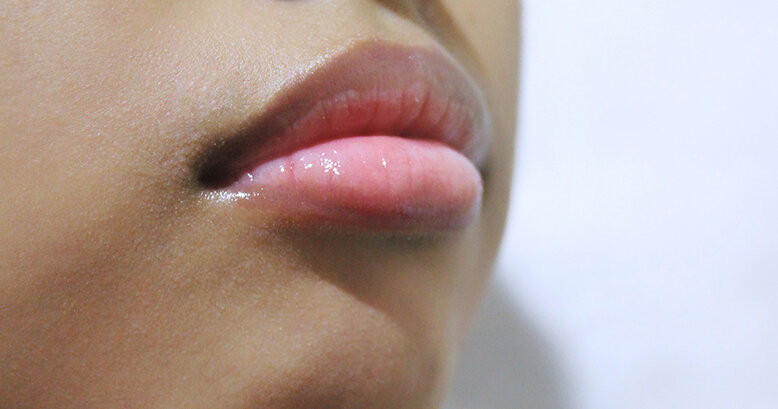 Lip Restore Balm when applied
Like the scrub, the Lip Restore Balm has this minty scent that I love, but it isn't as powerful that it smells like a toothpaste. I always apply this clear balm after using the scrub at night, and a few times during the day. Two to three clicks of the twisting base will get you enough of the liquid balm to cover the whole lips. It glides smoothly and it actually moisturises my lips for hours. I only ever needed re-applying after I finish my meals.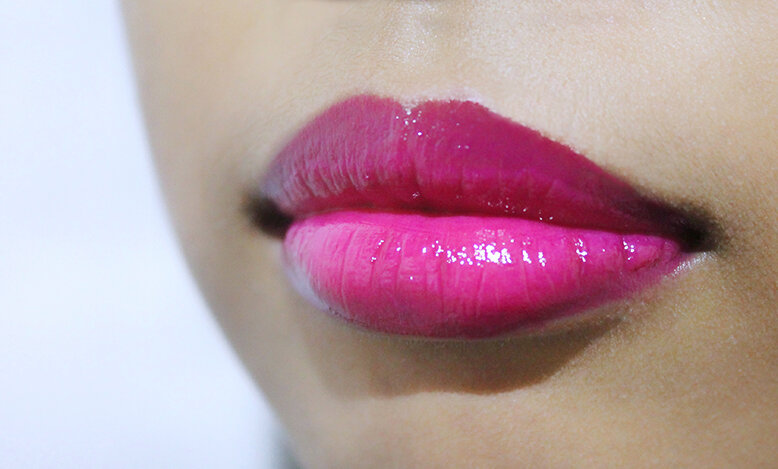 Rear View Mirror Lip Lacquer in Berry Tacoma
Lastly, there's the Rear View Mirror Lip Lacquer. I was wary to try this one, as I'm a matte girl through and though. Like the previous two products, this one applies smoothly, and it's actually thick and quite pigmented, that even if it transfers, colour is still left on my lips. One swipe already gives full colour, but if you're in for a bolder look, the lip lacquer can be buildable for a fuller hue. I appreciate the small size of the lipstick bullet as it made it easier for me to apply the whole thing without going beyond my lips. The shade I got was the best-selling Berry Tacoma, but I feel like it really didn't suit my dark complexion at all. It was just too pink and bright.
Final thoughts
Lipstick Queen Lip Restore Scrub and Balm now earns a spot in my lip care favourites, and I'm definitely getting them again later on. After a day of just using the Lip Restore combo, I immediately felt its results. My lips were definitely softer, and less dry at the end of the day. After continued use of the two, there were less dead skin to be exfoliated. Still, as much as I loved the soft bristles that came with the scrub, it also caused a bit of a hassle. Excess serum with the exfoliated stuff tend to get stuck in between, and cleaning them off was such a task. That really doesn't deny its effectiveness, but as a lazy girl, I ended up toning down my nightly usage to just thrice a week.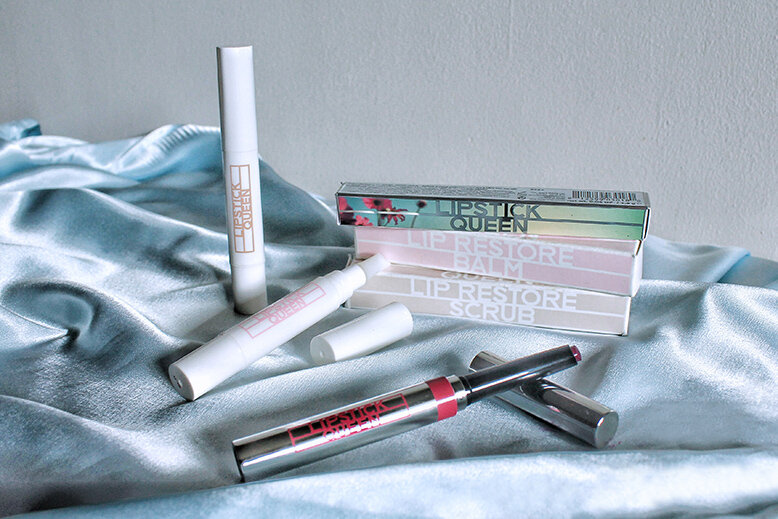 Lipstick Queen Products
As for the Rear View Mirror Lip Lacquer, my doubts were complete quashed. I thought glossy lipsticks weren't long-lasting. But this one survived a full meal of seafood kare-kare, so kudos for that. Still, aside from the shade, I just don't think this lip product is for me. Because I was too traumatised by the dispensing fiasco, I was reluctant in twisting out much of the product, which ended up making the application difficult for me in the long run.
With that, I think it's safe to say that Lipstick Queen products, especially their Lip Restore Range, are definitely worth your try! All were moisturising and long-lasting, which I think is the most important factor for lip care products. If you're keen on trying out the Rear View Mirror, learn from my experience and remember not to twist too much.
Want to try the other Rear View Mirror shades? See them here.