As we enter mid-November territory, we've been treated to plenty of exciting news and updates that make us excited for the upcoming festive season. For starters, French fashion house Louis Vuitton's fun Cruise 2021 'Game On' purses are on their way to achieving 'It' bag status. Plus, R&B singer The Weekend has just announced that he will be headlining the Super Bowl halftime show on 7 February. Read on as we reveal the hottest news to know now.
Louis Vuitton delights with 'Game On' Cruise 2021 collection
As the holiday season draws closer, it has become tougher for us to resist pampering ourselves and our loved ones with a few indulgent gifts. After all, 2020 hasn't been the most smooth-sailing year and we could all use a little more cheer to welcome 2021 on an uplifting note. Speaking of indulgent gifts, a number of celebrities and fashion tastemakers, including Italian content creator Veronica Ferraro and Hailey Bieber's fashion stylist Maeve Reilly, have been spotted with their new arm candies from the French fashion house and luxury good company's 'Game On' Cruise 2021 collection.
Louis Vuitton's Creative Director Nicolas Ghesquière shared in a statement that fashion 'is a game'. As such, the collection stars the fashion house's monogram canvas playing with the suits in a deck of cards. Standout purses from the collection include the Speedy Bandouliére 25, the Vanity PM and the heart-tastic Twist PM. Will you be adding these bags to your holiday wishlist?
The Weeknd to headline Super Bowl's halftime show
From Shakira and Bruno Mars to JLo and Beyoncé, the National Football League (NFL) in America's annual Super Bowl halftime show has played host to many unforgettable music performances over the years. (Who could forget this epic moment of Lady Gaga diving from the top of the stadium? We sure didn't!)
R&B singer The Weeknd will be taking the stage on 7 February 2021, according to an Instagram post which he released earlier today. WWD reports that the Grammy-winning singer is 'humbled, honoured and ecstatic to be the centre of the infamous stage,' as he grew up watching the world's biggest acts play the Super Bowl, and can only dream of being in that position.

Instagram announces updates to its 'Shop' and 'Reels' features
Earlier today, Instagram revealed in a new post that it has made several changes to its application, including allowing more users to gain access to their Facebook messenger experience on Instagram. Its 'Shop' tab will also enable users to connect better with their favourite brands and creators and shop on the app itself. As for its 'Reels' tab, which was launched a few months ago, the app says that it intends to showcase the feature 'to be a kind of a stage, where people can share their creativity with the world."
Kakao TV reveals teasers for upcoming Ji Chang-Wook and Kim Ji-Won drama
South Korean internet company Kakao's television arm, Kakao TV, recently unveiled new stills of their upcoming romance drama City Couple's Way of Love, which stars popular Korean actors Ji Chang-Wook (Empress Ki, The Healer) and Kim Ji-Won (Fight For My Way, Descendents of The Sun).
First revealed in September, the short-form romance drama is slated to premiere in December and it will depict the realistic love of young adults fighting to survive in the hectic city. Ji Chang-Wook will be playing the role of an architect by the name of Park Jae-Won, while Kim Ji-Won will take on the role of a freelance marketer named Lee Eun-Oh.

Issy & Co. Cosmetics turns 1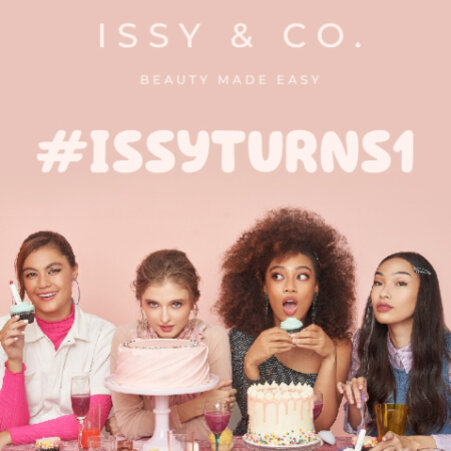 Issy & Co. recently celebrated its first anniversary.
Filipino beauty brand Issy & Co. recently celebrated its first anniversary with the launch of their Birthday Collection and it features the return of some of their best-selling products, including the Multi-use Crayon, Creme Tints and an all-new Eyeliner Duo. During its recent 11.11 sale, the brand also partnered with two organisations: Wipe Every Tear and The Foundation Foundation PH to support women who have been trafficked into the illegal sex trade. Check out their vegan, cruelty-free and long-lasting products on Lazada here.
'Emily in Paris' renewed for Season 2
Très bien! Or should we say mon dieu? Netflix original series Emily in Paris has been renewed for a second season, which we reckon is quite a major feat given how its first season was launched just shy of two months ago. According to Variety, the romantic comedy series made it to Nielsen's list of top 10 most-watched streaming shows during the week after its premiere in the United States. Despite receiving plenty of mixed reviews – be it critiquing the cast's questionable wardrobe choices or their spectacular filming locations — there's no denying that the show had successfully garnered plenty of publicity and attention, and that, is a marketing success which we reckon Emily Cooper would be proud of.
Pandora unveils first animated short film, 'One Lovely Day'
Renowned jewellery brand Pandora has collaborated with animation studio Andy Baker Studios to release a short film titled, One Lovely Day to help spread the holiday spirit and love, and it stars the brand's ambassadors including actress Millie Bobby Brown, model Halima Aden and photographer Margaret Zhang. The film sees the women being transformed into their animated selves as they pass through major cities such as Los Angeles and New York in their giftbox sleigh and connect with Pandora fans across the globe.
(Cover photo from: @louisvuitton)
Click here to discover last week's biggest headlines.