It's official: plaids are back. After going on a hiatus from the fashion scene, plaids are taking the spotlight again as we see it emerge again in the fall-winter 2017 trends. First, we saw tartan and gingham becoming popular again among fashion influencers. And now, the glen plaid is seen in designs for this season.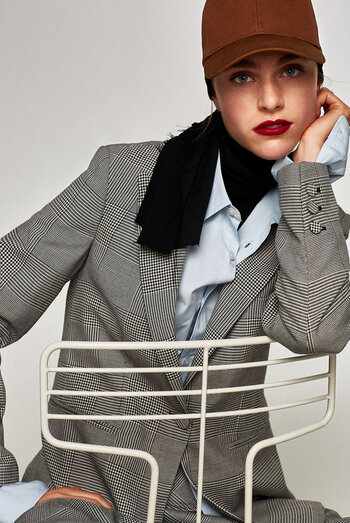 The glen plaid is said to have originated in Scotland and was popularized by Edward VII, a former king of the United Kingdom (known as Duke of Windsor after abdication). Since then, it gained a place in menswear, particularly in suits and ties. But this time, it makes a comes back through the wardrobes of women. Let's take a cue from several Instagrammers on how to wear glen plaid.
Blazer + Denim Jeans
The juxtaposition of the formal glen plaid blazer and casual denim jeans makes for a good business casual outfit. It's good for when you're running going to lots of meetings. Afterwards, you can transform the look from daytime-appropriate to night-time glam simply by taking off the blazer. You'll never feel overdressed or underdressed in this combo.
Blazer + LBD


Pairing the LBD and a gen plaid blazer is like an unexpected match made in heaven. It creates a relaxed yet formal look. Unlike the gen plaid blazer and jeans combo, this one is a little more formal. You can wear this to meetings over cocktails or over dinner. The look says, "I'm professional yet approachable."
Styling High-Waist Glen Plaid Pants
The traditional glen plaid pants are good, but the high-waisted version is better. How so? It's great for flaunting your silhouette and streamlining your look. For petite ladies, this can make your legs look elongated.
For a casual look, pair it with a crop top and throw in a moto or bomber jacket for added edge. If you're going for a more corporate look, you can pair it with a blazer and wear a casual sleeveless blouse or a tee for the top.
Wrap Skirt


Arguably the chicest reincarnation of the gen plaid is the wrap midi skirt. It's fun and feminine with a touch of sleek. It goes great with just about any top, but the best picks for this season would be a tee with textured sleeves or a long-sleeved body-hugging cotton sweater.
(Cover photo
from:
@immaculatewardrobe)
Already in the mood for shopping? Check out these multi-label fashion boutiques.