My Life, My Choice: Be inspired to live and love life even more with these empowering women set out to make the 'unconventional' conventional through their lifestyle choices.

A symbol of power, a tool for activism, a path for self-expression — makeup has always played a role in the lives and history of womanhood. Today, it has long bypassed the realm of 'vanity' or 'social status' and has evolved into a form of artistry and expression that its users leverage on their faces and bodies as canvases. But while it is highly accepted editorially or on the runways, bold beauty looks that some may deem as 'eccentric for a regular day' may still raise an eyebrow or two. How is it really like through the eyes of an unapologetic hair and makeup creative like Shaling Krystal Yeo (a.k.a. Krysticism), founder and creative director of Real Life To Runway and SUGARDREADDY?
As an entrepreneur, makeup artist and brand ambassador who has collaborated with brands like Milani Cosmetics, NYX Cosmetics, UNIQLO and more, the accomplished 24-year-old shared her thoughts on going against the makeup norm, embracing your urge for creativity and the unending quest in challenging standard expectations in beauty.
A young start
"Sometimes, I need a reminder to not go 'too far' when it comes down to creating and styling," Krystal confessed when asked about her personal beauty and style preferences.
As early as four years old, she had always been unafraid to express her creativity, even going as far as drawing on the walls at home. At seven, she felt inspired after her mother let her wear red lipstick for Chinese New Year that she began drawing on "weird makeup" looks on her dolls. That was the moment she fell in love with the idea of makeup.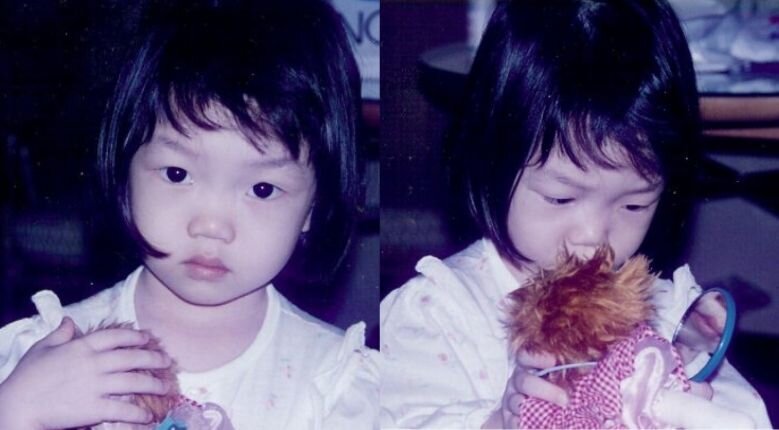 Thankfully, her parents have always been supportive of her artistic ventures. "My ultimate motivation [for doing what I do] is definitely my mother. It's been that way from when I was studying to now," she said. "Growing up, I've always had the urge to achieve something constantly. Maybe it's because I believe that time is precious and you only live once, so live your life to your fullest."
On conventional and unconventional beauty looks
"I consciously and unconsciously choose to do something out of the ordinary just because I speak for me and only for me. When I create or style, it would say a lot about my persona, my uniqueness, my charisma and creative talent," Krystal said proudly. However, as much as she is free to be as bold and creative with her own visage, the reality is still apparent: "Conventional looks are what's selling."
As she started to dip her toes in the business of beauty and fashion, she realised that "conventional looks [may be most people's way to get] a sense of belonging". She clarified, however, that this isn't meant to antagonise the idea — she believes that every preference should be celebrated.
"'Beauty' [on a societal standard standpoint] will always sell more than creativity," she explained. But instead of seeing it as a frustrating realisation, she worked around it through her career as a makeup artist and a creative director by fusing "the best of both worlds". This is her way to make the 'conventional' meet the 'unconventional' while still remaining palatable to her clientele. "It's also creatively challenging this way," she said.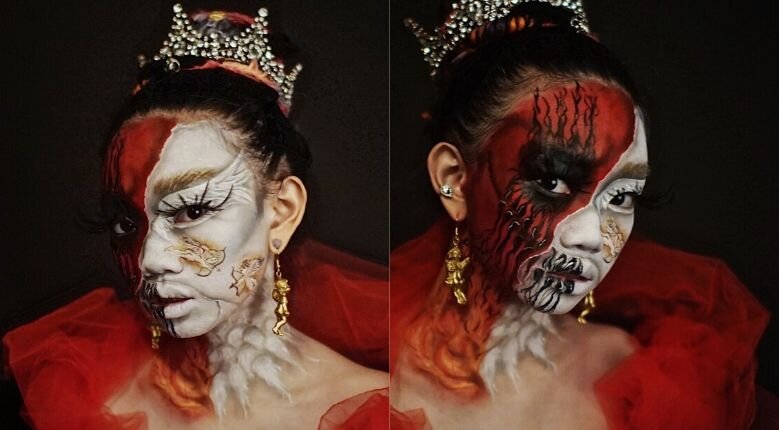 She also explained that whatever the look she creates turns out, it is always about translating the feelings of fulfilment. To her, beauty is a choice — beyond its simplicity or boldness — and what a person should choose is the look that will make her feel the most gratified and the most beautiful, inside and out.

As for her personal style, she shared that on occasions when she has to go for simpler beauty looks, she compensates by styling "louder" which means "wearing some accessories, [bold] pieces of jewellery or louder apparels." She continued, "I am always trying everything — every era, every theme and even trying to go for more 'feminine' looks. It comes in phases." This allows her to stay true to her own aesthetic, regardless of what's perceived as 'normal' or 'acceptable'.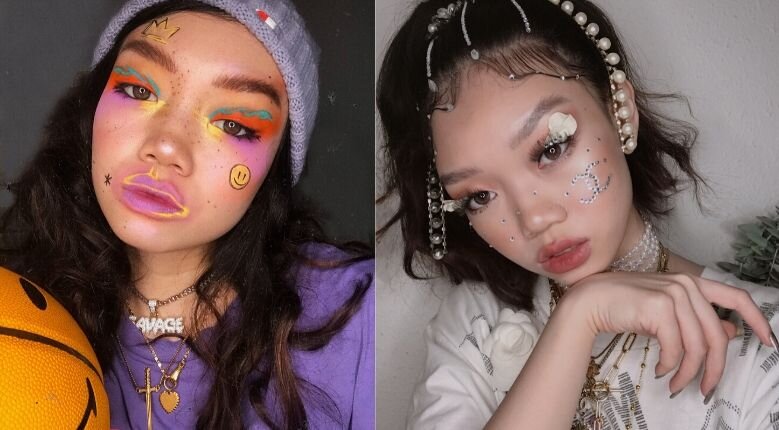 Addressing criticism
Of course, any form of adverseness to the norm is prone to criticism. And while Krystal's circle, both online and offline, tend to be more gracious and accepting of her creativity in beauty, negativity still seeps through every now and then. Still, she learned to deal with negative commentary creatively as well.
"There's a reason why my IG handle is named 'krysticism'," she revealed. "It's a bad pun of 'criticism'."

She elaborated: "I named myself as krysticism because it was my number one tip to win in life: to accept criticism even if they are bad or good. Every criticism is like different doors of opportunity being opened or closed. It is the way of growth, confidence or [a way of] self-expression. You can throw in negative criticism, insults, attacks but the more they throw, the stronger I grow."
With the support of her closest peers, as well as her growth as a creative, she makes sure to encourage others to also take the leap with their choices — be it with their hair, makeup or personal style — through her various platforms and businesses. In her own little ways, she strives to make these two seemingly extreme ends in beauty converge, allowing beauty in its entirety to be fully realised for what it is: that it does not mean the same for everyone but each and every form of beauty should be celebrated.

Taking a leap of faith
"Life is constantly moving forward so if not now, then 'when'?" she challenged, referring not just to beauty looks but for anything else in life that you feel unafraid or uncomfortable about simply because it doesn't fit the mould.
Krystal expressed that at the end of it all, people often forget that being creative with your beauty or your style or with anything else isn't just about innate talent for artistry. It's about practice, perseverance and never losing sight of what makes you
you
. She encourages everyone that at this time of "inclusivity and diversity in beauty," the world of makeup has become everyone's playground.
"If you want to win in life, then love losing, love failure, love criticism. Practice is key. Take a leap of faith." Whether you have candy-coloured hair or black hair, prefer bold eyeshadow or no shadow at all, Krystal is a living testament that beauty is defined by none other than yourself.
Ready to try your hand at interesting makeup looks like Krystal? Here's your 411 on the internet's latest trend: E-girl makeup.