adidas StellaSport has redefined sportswear for the action girl. Offering a modern fusion of sport and style, through bright colours, fresh prints and performance 'pop.' The Fall Winter 2015 collection includes apparel, footwear, and accessories designed to take you from your workout to the city streets, and anywhere in ­between.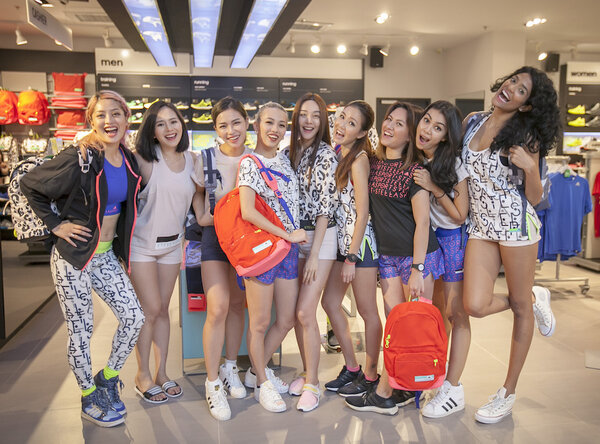 From left to right:­ adidas StellaSport action girls Sarah Lian, Evie Wong, Karen Kho, Lady Seven, Cathryn Lee, Megan Tan, Hanie Hidayah, Sharifah Sakinah and Thanuja Ananthan
Featuring vibrant patterns, bold volume and graphic colour blocking, this season's eye­catching adidas StellaSport collection features an exotic animal print theme, denim­-inspired layering, multi­-logo lettering and performance­led silhouettes.

Fall Winter 2015 also sees the launch of the adidas StellaSport Tumblr – the first dedicated social platform for adidas StellaSport. With Lotte Andersen as the Editor, the channel will feature exclusive collaborations with influencers around the world, sneak previews of the collection and offer a unique insight into the adidas StellaSport world--inspiring and empowering actions girls everywhere.
In Malaysia, action girls Cathryn Lee, Sarah Lian, Sharifah Sakinah, Hanie Hidayah, Karen Kho, Evie Wong, Maybelline Wong, Lady Seven, Megan Tan and Thanuja Ananthan had a first look at the new Fall/Winter 2015 line.
Kick­off your workout style with creative layering of bright blues, daring typefaces, and denim detailing. Ensure striking style and support in the studio with sleek performance silhouettes this Fall. Craft a workout outfit that really 'pops' with this new collection!
Stay active with the high­shine Warm Jacket in sunny Super Orange. With its cutting­edge climawarm© technology designed to keep you warm and comfortable so you can remain unstoppable throughout the colder months. You can also pair the brazen black graphic StellaSport lettered Tights in Logo White and bright neon yellow banding with the graphic StellaSport lettered Backpack AOP in White, Flash Red, and Super Orange for a complete look! For your shoes, stay on your toes and step out in the Yvori Shoe, now available in a new colourway of Bold Orange, Light Flash Red, and Maroon Pink.
The Fall/Winter adidas StellaSport range is now available at the adidas Sports Performance Outlets in adidas Sports Performance Concept stores in Publika, Pavilion, Sunway Pyramid, Mid Valley, Genting Highlands, IMAGO in East Malaysia and online at shop.adidas.com.my.