Of all makeup products, I have the most complicated relationship with eyeshadows. Lipsticks? Love them. Highlighter? Don't need it. Lip liners? Pass. But as for eyeshadows, it has been a love-hate roller coaster ride. You see, from a very young age, I was told not to mess with my eyes. I'm not kidding when I say that I've been told using eyeshadow would eventually blind me. So, I didn't really develop a fondness for it until my late teen years. All those YouTube tutorials made me want to experiment with eyeshadow looks.
I do have fun for a while, but eventually, I become frustrated with not being able to achieve the same artistic perfection those gurus did so effortlessly. So I stop. And then, I stumble upon another awesome look so I will try once again. It's a cycle. For this reason, I've always been hesitant to buy full range palettes. It's just hard for me to commit. But when I saw the Marc Jacobs Eye-Conic Eyeshadow Palettes with its versatile shades and textures, I thought that this could be my go-to. Could this palette be the one? Keep reading!
Packaging and appearance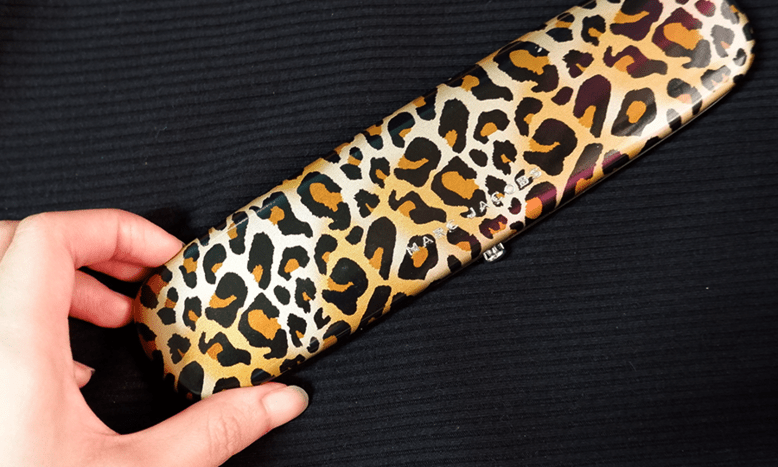 To recap, Marc Jacobs Beauty has five mainstay palettes: Scandalust, Provocouture, Glambition, Frivoluxe and Edgitorial. But what I'm reviewing now is the 2018 limited edition palette called Leopard Frost. Unlike the usual palettes that come with a plain black case, this one features a classy leopard print. Aside from its sleek appearance, the packaging is also very sturdy and travel-friendly. I've dropped this a couple of times and it's still good as new; not one eyeshadow cracked.
Texture and swatches
Like the other Marc Jacobs Eye-Conic Palette, the eyeshadow's texture is thick and pigmented — to a fault. It's really easy to over-apply! When using this palette, a light hand and some restraint is a must or else you'll look like a panda with glittered pink eyebags. However, I must say that the texture is creamy and super blendable. None of that chalky feel that some eyeshadows tend to have.
As for the selection of shades for this particular palette, I would say that it's good but not as top-notch as the colour combinations in Scandalust. There are seven shades: Hey Girl Hey (a light shimmer shade; perfect for highlighting inner corner), You Slay (a deep, burgundy shade; great for one-colour looks), On The Runway (brown shade with shimmer; awesome for an everyday look), Serving Up (my favourite; I use it on my lids and it just makes my eye colour pop), Eleganza (ashy grey shimmer; kind of hard to incorporate but may be good for dramatic looks), Extravaganza (matte ashy green-grey; good for smokey eye looks) and For Your Life (matte dirty brown; good complement for You Slay).
Let's also talk about the longevity of these shades. I know it's not much of a concern for most, but as someone with oily lids, this is important for me. Most eyeshadows would melt or clump on the crease of my lids but this one stays on for hours. I'm talking about still looking fresh and intact after a night of partying — even the shimmers. It's a major plus for this palette.
Overall thoughts
Overall, I would say that the Marc Jacobs Eye-Conic Eyeshadow Palette is a really good palette and lives up to the hype. If it weren't for the steep price tag (it's around USD50-60 depending on the conversion rate), I would have bought all the variants. However, I wouldn't recommend this to people who aren't really into experimenting with dramatic makeup looks since the shades are very pigmented and deep. Otherwise, with its versatile colour selections, good staying power, awesome packaging, it's a good palette to invest in.
(Cover photo from: @marcjacobsbeauty)
Read more of our beauty reviews here.