For this beauty junkie, Shinjuku is losing its charm. The roads leading from the east exit of Shinjuku station towards Kabukichō are packed with shops from leading chains like Matsumoto Kiyoshi and Don Quijote, which is the biggest discount store here. Don't get me started on them — mercifully, they have toned down their rapid onslaughts of cheerful jingles, but in summer the air-conditioning cannot cope with the heat of human traffic and it's a challenge to navigate the narrow aisles of cosmetics amongst the throngs of other shoppers.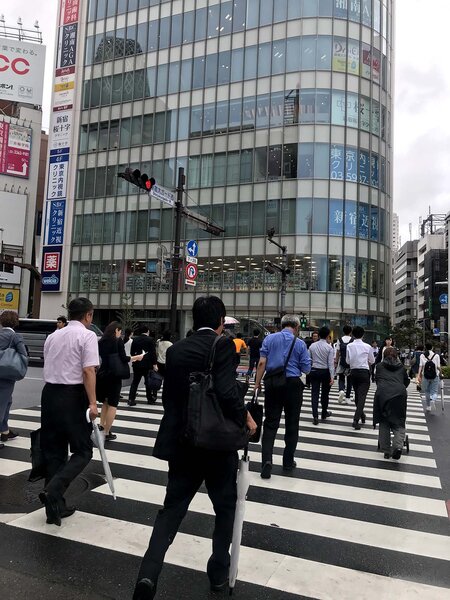 Luckily enough, my happiness index went up when I discovered Welcia, which is on the less crowded west exit of Shinjuku. It's cool enough; the aisles are wide and products are well-displayed. Best of all, you don't get anyone trying to "help", which is the kind that every beauty junkie detests — when a "helpful" promoter tries to steer you to a "better" product which she just so happens to be promoting. I happily spent two hours wandering, sampling products and googling their reviews before carefully making purchases based on my luggage space.

The definite guide to use in Tokyo is the influential global online beauty community, @cosme! awards, which are based on reviews by its members. My choices below are pretty much based on their rankings as well as my personal experiences.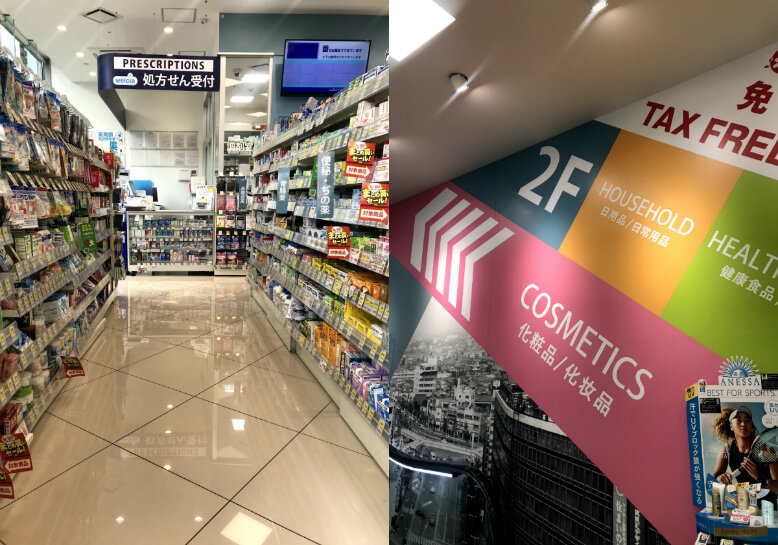 Welcia Shinjuku store
Rohto Melano CC Vitamin C Essence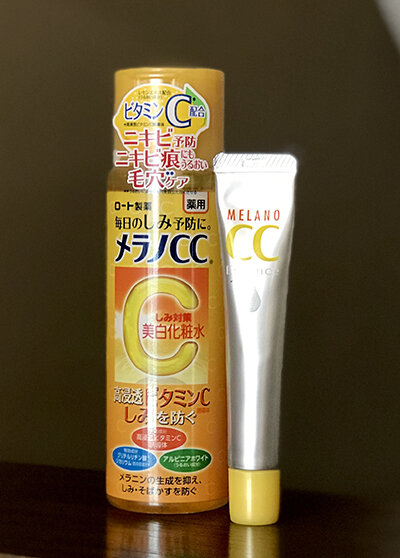 Vitamin C is a potent antioxidant either consumed orally or applied topically. Apply it in the day to improve the efficacy of your sunblock as it neutralises free radicals and protects the skin from UV rays. Use it a night to heal the skin, boost cell renewal and accelerate the production of collagen and elastin.
However, the downside of Vitamin C is its instability, which is why I am loving the Melano CC Vitamin C Essence. The key ingredient of this serum is Vitamin C in the L-Ascorbic Acid form, which, while being one of its most effective forms, is also one of the least stable, turning yellow with exposure to air. The serum comes in a tube with a small nozzle that prevents air from going in. One drop of essence is dispensed only when the tube is squeezed. There are many glowing reviews of this serum on the web as well as YouTube. It bagged the first place on the @cosme cosmetics awards in 2018 under the Best Serum & Booster category. Even more impressively, it beat other similar products on the market which are priced so much higher. You don't need to jump on to a plane to Japan get your hands on this crowd pleaser because it is sold in Singapore at BHG-Welcia for SGD16.90 as well as at Watsons and Guardian.
Kanebo Suisai Beauty Clear Powder
While this product is a prominent bestseller and is sold in Singapore by BHG Welcia and Don Don Donki, I am on the fence on this one.

The facial cleanser comes in powder form, packaged into tiny hexagon capsules for one-time use. Just by adding water, it lathers into a creamy foam, which is then massaged on to the face. I love how fresh and clean my skin feels without the tight uncomfortable sensations that similar products have. I can imagine how travel-friendly this product is to use; just throw in enough to last your trip and marvel at how much space you have left for your other skincare essentials.
Suisai Clear Powder contains enzymes and amino acid that effectively removes sebum and clears pores. I feel my skin absorbing skincare better immediately and remain matte longer the next day. One caveat: it is too expensive for daily use at JPY1700 for 32 and about SGD27 in BHG Welcia Singapore. Personally, I would use this once or twice a week to clear and exfoliate my face.
Kracie Hadabisei 3D Mask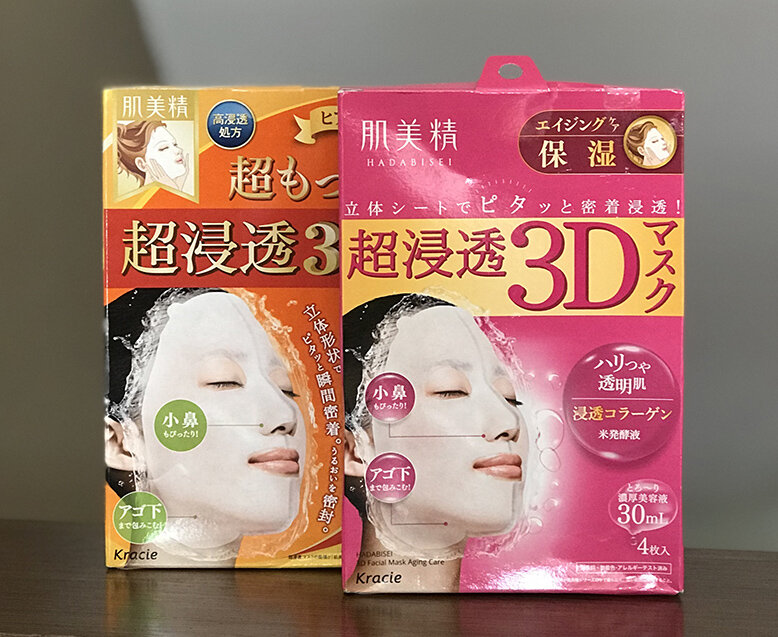 Instead of a flat sheet, this mask contours to your face in 3D. A fold in the centre helps the mask stick better around the nose and upper lip contours. It also has a cute little pouch that sits on your chin and flaps on the side that fold upwards to give your jawline a lift. The sheet mask is generously soaked with a thick, creamy serum containing Hadabisei's skin-conditioning mixture of fruit, floral, Coix seeds and rice extract as well as hyaluronic acid. This is the holy grail to keep my face hydrated. I can tell that it has many fans judging by how many people have it in their shopping baskets. My husband used to haul back boxes of this mask for me from his trips and I was super delighted when I spotted them being sold at Watsons, TOKYU HANDS and Welcia-BHG in Singapore.


Hatomugi Skin Conditioner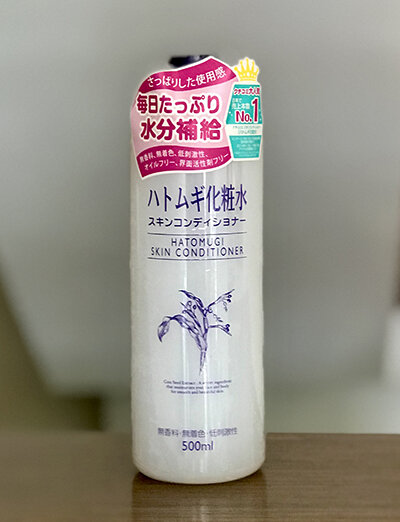 This humble-looking toner retails at JPY498 in Japan and for SGD10.90 in BHG-Welcia in Singapore. It was ranked first place by @cosme in 2018 under the categoy of best toner and lotion. Besides humectants, it contains extracts of Coix seeds (Job's Tears or Chinese pearl barley) that contain fatty acids to help soften and moisten skin as well as boost its ability to defend itself against UV rays. The toner also contains licorice root, which has anti-inflammatory and skin-soothing capabilities. Because it is so inexpensive, I use it liberally, layering it on my skin using the seven-skin method or soaking a few cotton pads with the lotion and using it as a three-minute mask.
Bioré UV Watery Essence SPF 50+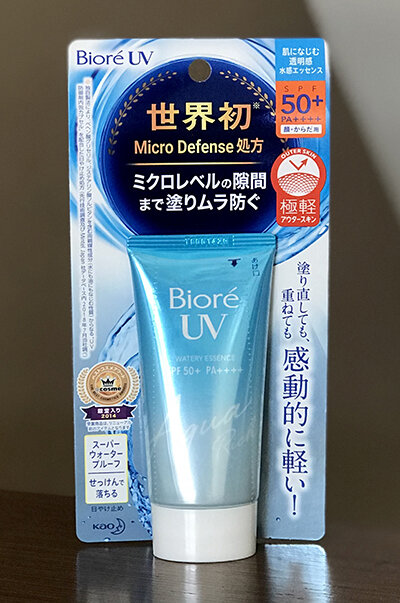 This sunblock is the one you want to use in hot and humid Singapore. It's lightweight and easily absorbed, and I love the burst of moisture on application. It does not leave a white cast and all I need is a dollop of Bioré UV Bright Up Base UV to even out my skin tone and ta-da, I am ready to go out with a glowing, almost no makeup look.

This improved version released in early 2019 is formulated with a unique Micro Defense technology to ensures a full, even coverage down to micro-level crevices invisible to the naked eye.
DHC Lip Cream
You can tell from the display that the folks at Welcia expect this lip balm to be a bestseller. A blogger's favourite, this moisturising lip balm is enriched with antioxidant olive oil and soothing aloe. My lips used to peel when I used matte lipstick but they don't when I prep them with a swipe of this lip balm. They also make for great gift ideas as there are many variations and limited-edition packaging.
Shiseido Medicated Baby Powder (Presssed)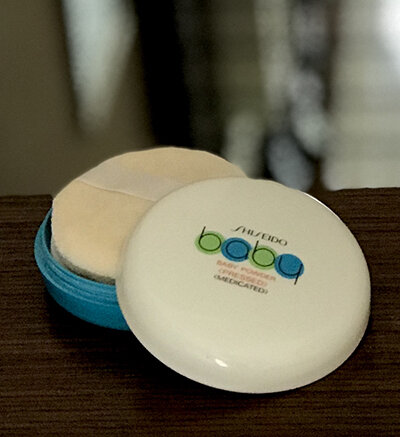 This one was an impulse buy as it was in a big basket and cost JPY350 only. Originally formulated for babies to protect their skin from prickly heat, inflammation and diaper rash, some enterprising beauty junkies discovered its use as an inexpensive blotting powder for the face, leading to its permanent position at the beauty aisle. The texture is fine and the powder is white. It does leave a white cast on the face. I don't like it as a finishing powder on my face; the powder settles on my pores and wrinkles making them look more pronounced. I did, however, notice most of the glowing reviews are from people with oily skin; my face is super dry and most blotting powders don't work for me. I use it over sunblock on my neck and décolletage instead, and I like that it helps keep me sweat-free and fresh and the area matte and smooth. I also love the subtle, clean milky scent that brings back sweet memories of my kiddies when they were babies.
Pitta Mask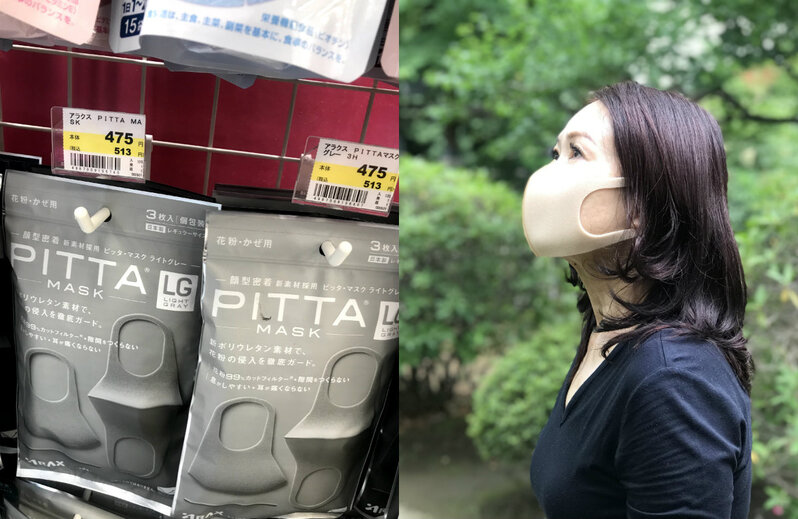 These masks are a technological marvel for women like me who get brown spots from the sun even in the shade. It comes in a variety of colours, with the darker ones like navy and khaki offering up to 98 per cent UV protection and the lighter pastel ones up to 82 per cent.
Made of polyurethane (the same material used for cosmetic sponges), they are soft and fit well on the face, leaving no indentations on the skin and they don't rub off my makeup. One downside is that people may find its plastic smell intolerable.
In the photo above, I am wearing the Size S, which is too small for me, leaving two big vulnerable spots on the side. I have since acknowledged that my face is not as small as I would like to think and so I buy the regular-sized ones. A word of warning though: besides wearing the mask, I still find it necessary to apply sunblock and wear a cap on full-day outings.
Wafood Made Mask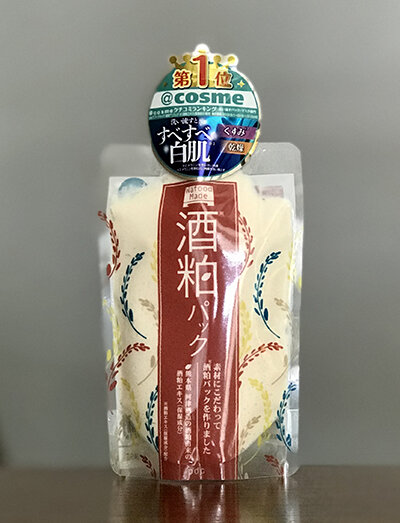 Is this a yoghurt drink? Or a packet of tofu? One YouTuber, hilariously enough, queried viewers who can read Japanese to tell her what this product is for. The short answer: it's a rinse-off mask. I am nodding in approval of Japan's recent trend of using minimalistic packaging for skincare products to reduce waste.
Two reasons why you need this cute little pouch in your life: first, it has the golden No. 1 crown @cosme sticker, and second, it is made from sake lees. Ever since SK-II introduced the story of the smooth youthful hands of the Sake makers, most beauty junkies pay attention when we hear this magic word.
The active ingredient in this rinse-off mask is sake kasu or sake lees, which is basically yeast leftover from sake fermentation combined with skin-loving ingredients like yuzu (brightening), cucumber (soothing) and fermented rice bran (moisturising and brightening).
Rinse-off masks are less convenient than sheet masks but the image of youthful hands will keep me invested in using this mask diligently.
Clear Turn Plumping Eye Zone Mask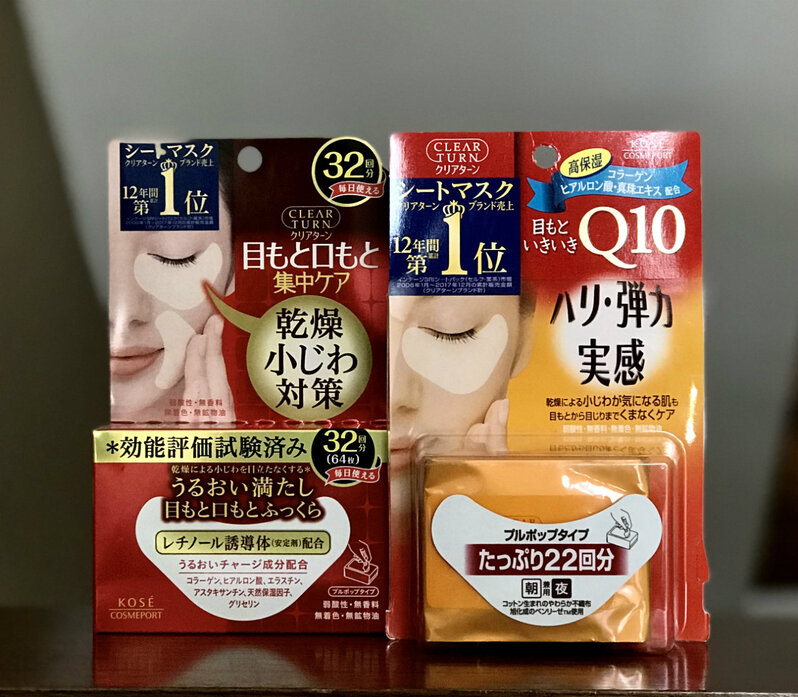 These eye masks are the No. 1 bestselling drugstore brand sheet masks in Japan for the past 12 years. The sheets are made of Bemliese (manufactured from the downy hair around the cottonseed). Besides high water retention properties, this material also has excellent adhesive properties, fitting well below the eye area and around the nasolabial folds.
Both the red and yellow versions are fragrance-, mineral oil- and colourant free and contain hyaluronic acid and collagen. The difference is that the red one is formulated with retinol derivatives (to boost collagen production and increase cell turnover) and astaxanthin (to increase skin moisture and soften fine lines and wrinkles). The yellow ones contain Q10, an enzyme which is produced naturally in the human body to neutralise free radicals and keep cells healthy. Sadly, our bodies' ability to produce Q10 decreases with age which is why this ingredient is important.
Next, try the Igari look with this nifty guide.