For those with acne-prone skin, the most common question asked is, of course, how to treat acne. But there's also that question about moisturising and whether you should moisturise if you have acne-prone or oily skin. For some, the idea of adding rich moisturisers to their routine might equate to oiliness, which may then lead to breakouts.

The truth? Your skin might be oily but it can still lack hydration. If your skin is dehydrated, it may have a tendency to produce more oil that could then clog your pores and cause more acne, according to the
American Academy of Dermatology
. So yes, moisturisation for your acne-prone skin is just as important as targeted treatments.
An Oil-Control Moisturiser Made For Acne-Prone Skin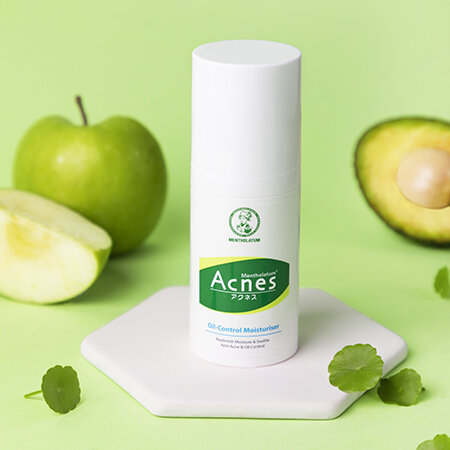 But don't just settle for any moisturiser that lands on your line of sight. It has to be one that's non-comedogenic and won't clog pores — plus points if it can help curb your oiliness too. The new
Acnes Oil-Control Moisturiser
is just right for this.
Made with apple, aloe vera, seaweed and chamomile extracts, it calms inflammation while giving the skin the moisture it needs. It also has AHA from Apple Extract and BHA from Salicylic Acid and Avocado Extract work together in controlling sebum on the skin. But aside from helping to make acne-prone skin healthy while flare-ups are present, it also helps to repair and fade blemishes and scars with 95 per cent* high purity Centella Asiatica (CICA) extract. This nature-derived ingredient is great for healing wounds, soothing the skin, and preventing scarring and blemishes. Plus, it's got antioxidant-rich Bitter Cherry Extract, Vitamin C & E for keeping your skin
A Complete Problem Skin Routine
Back up the benefits of the moisturiser with a complete routine that cares for and treats acne in every step of the way. Go for those that provide a good balance of science and nature — botanical ingredients formulated with the latest technology. The Acnes routine has this and more skin-loving benefits.
First, cleanse deeply but gently with the help of the
Acnes Creamy Wash
, which has an Amino Acid-based formula that cleans effectively without drying your skin out, keeping your skin barrier healthier in the long run. Follow it up with the
Acnes Powder Lotion
, with a special oil-absorbing power that penetrates deep into pores to fight off acne-causing bacteria and balances the skin's sebum production.
For more targeted treatment, reach for the
Acnes Sealing Jell
, a fast-absorbing transparent gel that improves and shrinks acne in just three days**. Got a pesky pimple right when you have something important lined up? Put on the
Acnes Anti-bacterial Acne Patch
(available in two variants: 0.02 cm for Day or 0.03cm for Night) that zaps away sebum and pus and fights acne-causing bacteria from growing in 24 hours — bye, bye pimples!
Ready to treat your acne-prone skin the right way? Learn from the review of these ladies who've tried Mentholatum Acnes. Get the Mentholatum Acnes Oil-Control Moisturiser and other products from the range at 5 per cent off when you use the code ACNES5 from 21 August to 6 September on Watsons online, Guardian online and Shopee.