It's no secret that Millie Bobby Brown is on a roll. After her breakthrough role on Stranger Things, for which she got two Emmy nominations, the young actress went on to debut on the big screen with Godzilla: King of the Monsters. But aside from hitting big career milestones, she's also making strides in humanitarian work.
Millie Bobby Brown at the Pandora Me Charm Academy event in New York
As the youngest appointed UNICEF Goodwill Ambassador, she has leveraged her influence to empower young people and shed light on important issues. Notably, she has hosted World Children's Day two times in a row and became the face of the collaboration between UNICEF and Pandora. She's also the ambassador of Pandora Me, a global campaign by the jewellery brand that celebrates self-expression and the true identity of yourself.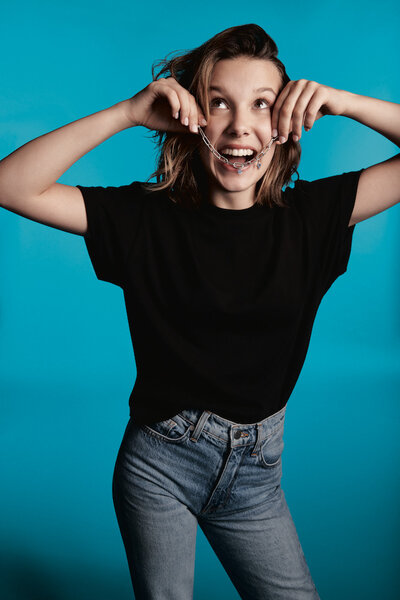 Called "Charms for Change", Pandora will release a special collection featuring the My Girl Pride dangle charm (symbolises female empowerment) and the My Smile dangle charm (symbolising happiness and a brighter future for the next generation). Proceeds will go to contributing funds for UNICEF child survival, education and protection programmes, and life skills training with a focus on programmes that support female empowerment — advocacies that are all close to Millie's heart.
Ahead, she shares more about her experience as a UNICEF Goodwill Ambassador, what it's like to grow up in the public eye, the best advice she's been given and more.
What is it like to grow up in the public eye?
"It can be difficult to be a young girl in the industry. Sometimes, people don't like to listen to what you have to say or dismiss you purely because you're young. But things are looking up, each day I am growing stronger and learning more."
Share with us the most memorable experience that you have as a UNICEF Goodwill ambassador.
"Ever since I hosted my first World Children's Day, UNICEF really opened my eyes to the world that we are living in. The fact that young girls aren't given the same opportunities — like going to school — is heart-breaking because receiving an education is so important. Once I saw how much work UNICEF does for children, I wanted to help. What surprised me is how hands-on they are. The trip to Germany really opened my eyes to the hundreds of people every day who pack boxes with their bare hands to get children the supplies they need. It was really inspiring and emotional for me.
To be a UNICEF Ambassador is one of the biggest things in my life, I feel so privileged and honoured. The reason why I love UNICEF is that they demand rights for children and every child deserves to have human rights."
What's the best life advice you've been given?
"The best advice that's been given to me is 'find out who you are, even if it takes time.' It inspires me to be willing to discover who I am and try new things because I know that once I do, I can be unstoppable."
What makes you feel empowered?
"I feel empowered when I am surrounded by strong women who empower me and when I am doing things that I love and allow me to just be myself."
At this point in your life, what are your most significant passions outside of acting?
"Fashion and music — both allow me to express my individuality. I also love doing really fun and different styles with my hair and makeup. I am 15 so I am still discovering myself. It is so important to express your individuality and find who you truly are so that you can embrace it and pursue your dreams."

Tell us more about Pandora Me. How do you think can it help express self-identity and individuality?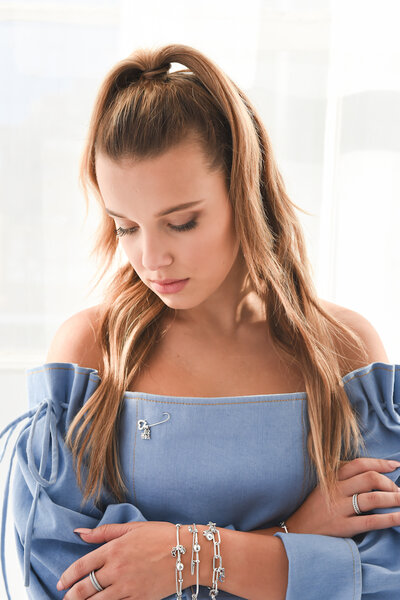 Millie Bobby Brown wearing Pandora Me pieces
"With this new collection, and Pandora in general, everyone can tell a story, and each symbol can represent your individuality. I love being able to accessorize all my outfits with fun jewellery, but it becomes even more meaningful when a certain piece of jewellery holds a special memory or significance. The Pandora Me collection creates a different story for every person, with each charm and symbol representing its own unique meaning, such as our cherished memories and milestone moments."
What are your favourite charms from the collection and why?
"First is the My Moon Dangle Charm. The first blue moon in 2004 was on February 19th, which is the day I was born, so I really love this one. Next is the My Magical Unicorn Dangle Charm. The unicorn reminds me of my baby sister, she loves unicorns at the moment. Finally, I love the My Music Note Dangle Charm. Music has a huge place in my heart. I'm the kind of girl who knows every line to every song."
If you were to give a piece from the collection to your bestie, what would it be? Why do you choose this piece?
"I would gift my best friend Rachel My Girl Pride Dangle Charm because she's a really important woman in my life. One of my favourite things about being a girl is how strong we are, how powerful we are and how beautiful we are as human beings."
This interview has been edited for brevity and clarity.
Check out the Pandora Me pieces here.