Gone are the days when a man only needs his bar soap and water to round up his grooming routine. The modern man today conscientiously pays attention and takes care of himself in the beauty department. Does an elaborate grooming routine make a man any less masculine, unfortunately still a common misconception among many these days? We think not. We love a man who is mindful of both his physical and mental wellbeing.

So what's in a modern man's grooming kit? We asked creative content creator,
Myke Motus
, to show us the essentials in his kit.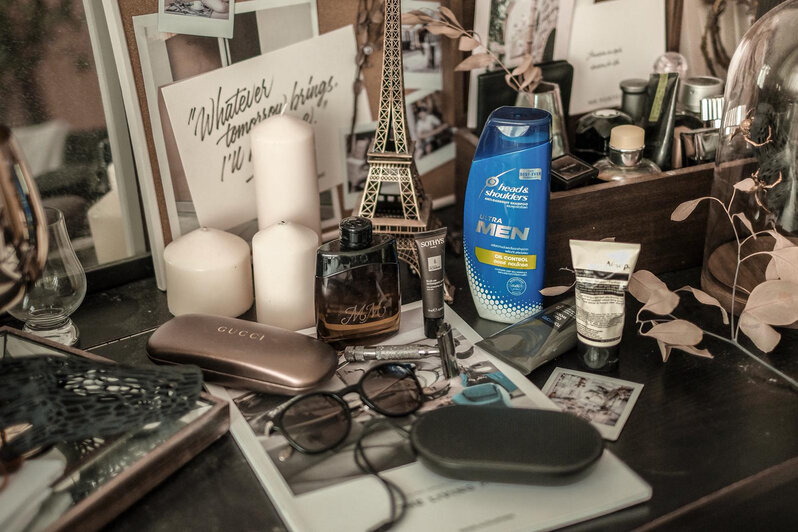 A shaver & organic after-shave combo that delivers a smooth shave
"I'm obsessed with my vintage design titanium shaver that I got from Canada. I always make sure I change the blades every week for it to get the job done perfectly every day. An organic after-shave can arrest bleeding caused by shaving and help your facial skin heal faster. It has a soothing effect on the skin. Hygienic benefits include keeping the skin pores clean & bacteria-free. This helps prevent acne too!"
An energising eye roller that gets rid of yesterday's fatigue

"One of the first signs of ageing for men is crow's feet, so why ignore it when you can prevent it? Eye roller is a must for me and yes, I am addicted to it. It is meant to reduce puffiness, diminish dark circles, visibly smooth wrinkles and hydrate the particularly sensitive eye contour area."





A revitalising shampoo that's great for removing styling hair products

"I am a user of
Head & Shoulders
, and after realising that my needs are now different due to an increase in physical activities and sweating — my recent find is the
Head & Shoulders Ultra Men series
. It removes styling hair products effectively and is also great for the humid weather in our region. The Ultra Men for Oil Control is also ideal for meeting my needs, and it smells and feels refreshing after every wash. That minty feel after a shower just kickstarts my day in the morning and relaxes me before heading to bed."
A body lotion that hydrates & refreshes

"As a firm believer that hydration is a must, my body lotion is something I can't leave the house without. It doesn't only hydrate my skin, but also keeps me feeling fresh and confident."



A pair of sunglasses that's more than just about the aesthetics
"Sunglasses are not meant for only aesthetic purposes – they also protect your eyes and the surrounding skin area protected from the sun. It also keeps you from squinting and frowning, which promote premature wrinkles."
A portable speaker that puts him in a good mood
"While doing my grooming ritual, I keep myself in a good mood with great beats. I always have my portable speakers with me, be it in the shower or preparing for work. This one definitely lightens up my day and makes me feel ready to face the day."
Get the Head & Shoulders Ultra Men Series here.