A
modern woman
is one who is fearless in living out her dreams, fiercely independent, and possesses a sense of inner beauty and power. The result of the female empowerment movement, women of today are rising up to the challenge to live a full life on their own terms, unhindered by any challenges that may get in the way of achieving their dreams.
Much like South Korean actress,
Lee Si-Young
, who broke through boundaries to become an amateur boxing champion and Goodwill Ambassador for the Asian Games 2014. Watch her journey in this video by
SK-II
:
Inspired by Si-Young's story, we sought out to seek and chat with modern women in Singapore who have been instrumental in reshaping the entrepreneurial spirit of women in Asia.
So for
Part One
of our interview series on modern women, we caught up with
Trixie Khong
, the multi-faceted owner of
By Invite Only
, a Singapore based jewellery label. While a full-time entrepreneur and jewellery designer, Trixie is also an avid traveller and blogger who shares her lifestyle and business tips on her blog
trixiekhong.com
.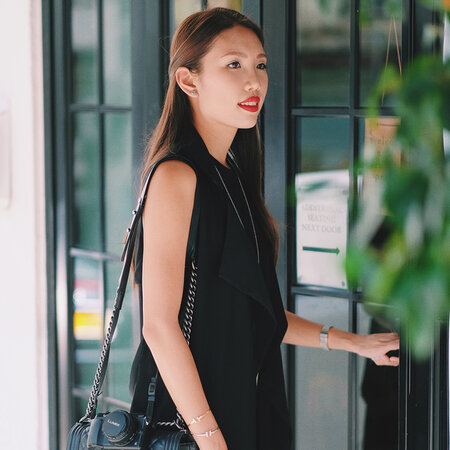 Read on to see what she has to say about balancing life, the journey towards starting her own business, and get a peek into a typical week in her life.
--------------------------
You're an entrepreneur, blogger, and avid traveller. How do you balance all that with your personal life? Were there any big changes you had to do to live the life that you're happy with?
Last year, I made the decision to hire full-time help for my business because things were picking up. I was mostly using part timers and freelancers at the time which was very unpredictable in scheduling. For a small business, this is not an easy decision as it increases my overhead; but I'm very glad that I now have 2 very capable ladies helping me with the brand. I can afford to take time off to run errands or travel for work or leisure and to take time off for myself and my family.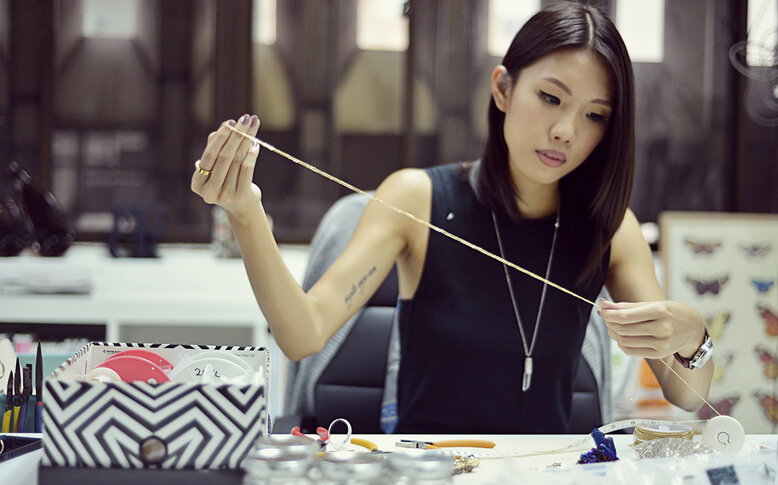 Can you share the journey of what it was like to decide to embark on your business? Was launching www.byinviteonly.info something you always wanted?
Being a jewellery designer and running my own store wasn't something I had planned to do but stumbled into. I was making jewellery as a hobby and selling it for pocket money when I was in school and a friend introduced me to this very important word called 'branding.' He helped me get the basics like my logo and a website up and suddenly, I got myself a proper brand. One thing led to another and I started stocking my designs in multi-label stores around Singapore.
I guess being an entrepreneur doesn't just have to be a dream you plan for a long time, it also depends on opportunities that are presented to you at the time. When the opportunity arises, you have to very quickly decide if this is the path you'd like to pursue as sometimes, these opportunities don't stay for long.
What were some of the challenges and/or negativity you had to face to reach your goals of setting up a successful business?
I started when I was 19 and was still in university then. My classmates didn't understand why I wasn't in school most of the time and people whom I work with outside of school usually thought that I was too young and didn't take me seriously. I ended up with 2 camps of people who I had to make an extra effort to prove my capabilities. Needless to say, I also didn't attend my graduation because I had to do a photoshoot that day.
Everyday, every customer, every hire, and every production process is a challenge when you start a business as people are unpredictable and every situation is different. But in the end, this is what makes my every day less mundane and repetitive. It keeps me on my toes.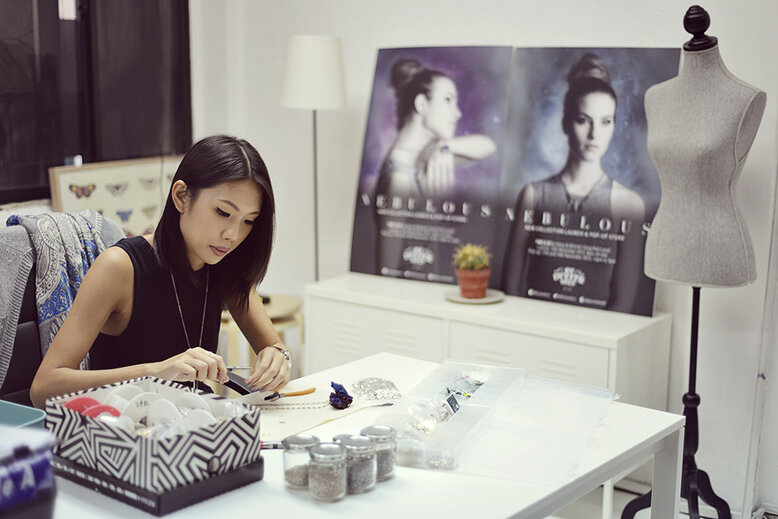 How would you describe your life? Take us through a week in your life, one that involves a little business, travel, and blogging. How does it feel being accomplished in all 3 aspects (and more!) of your life?
I usually schedule meetings and coffee sessions in the beginning of the day to get that out of the way and get into the office by 12pm. Some days I work from home and I usually spend those times working on personal errands or engagements I have on my personal social media channels.
When it's sourcing season, I'd be off to Hong Kong or Seoul for a two to three days buying trip in the middle of the week. I like to set aside a day or two just for sight seeing or catching up with my friends abroad. When I travel during the week, I make sure to allot time to catch up on work, either from the office or from home. Normal weekends include showering my dog, going out with my partner for a long brunch and coffee session, and then dipping in our pool till dinner. Simple yet it's the time I spend with the people and animals I have that make me content.
I'm not perfect and I'm so glad that I have two very amazing ladies working for me to keep my orders and customer queries answered. Because of my schedule, I get forgetful sometimes and they remind me when things are almost due or designs that are almost out of stock. I think I don't say this enough to them, but I'm very appreciative of their help everyday.

For those who've always wanted to make a change in their lives and live the life of their dreams, what would you tell them?
A lot of people are deterred by just the sheer amount of work and effort you need to put into building your dream life. I always think that if you start with finding something you enjoy doing, or good at, then work will be fun and you will not think of it as a chore.
Always make small achievable goals. Feed off the joy of hitting those goals then set new ones immediately so you don't rest on your laurels. Reach for the stars but aways keep your feet on the ground with realistic expectations.