As career women, we have lots of things on our plates. Because of this, it's sometimes easy to forget or put aside our own nourishment. Raise your hand if you've ever missed a meal because you had to meet a deadline! The list is even longer when one's an entrepreneur. On top of personal roles, there's a business to be kept up and running, which is admittedly not an easy task. But mum and ​Clozette Co-Founder and Creative Director ​Kersie Koh​ knows that taking care of yourself is a must so you can be and do your best. If you've ever wondered what fuels a mompreneur, you're in luck. Ahead, Kersie shares what she eats in a day to stay focused and on her A-game.

Breakfast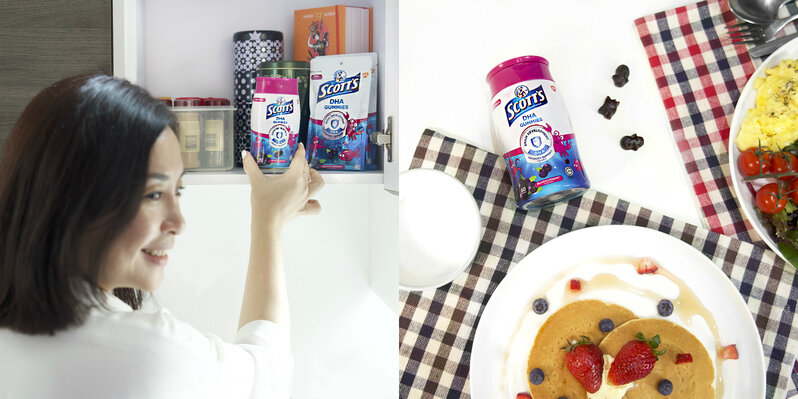 Since it's the first meal of the day, it's important to nourish your body with something that will set the tone for the entire day. For Kersie, it's important that she fuels not just her body but also her mind. But, of course, before she is an entrepreneur, she is a mum first. So Kersie makes sure that her kids get the nourishment they need, especially since they need not only physical energy but also mental stamina because they go to school. Aside from nutritious foods, she gives them ​
Scott's DHA Gummies​
that help support normal brain development and a healthy immune system, to start their day on a good note. A serving of the gummies (three gummies) help kids meet their daily requirements of Omega 3 fatty acids, including DHA.
Plus, they are packed with Vitamin D which supports a healthy immune function and the development of strong bones in children. Kersie has no trouble giving these gummies to her kids as they are designed with microencapsulation DHA technology that locks in the goodness of fish oil without the fishy taste and smell! They are now available in three different flavours to choose from, Strawberry, Orange, and the latest Blackcurrant flavour.