Expertly combining craftsmanship with a raw and creative spirit, young Filipino fashion designer Rosenthal Tee has forged a label that reflects her feminine aesthetic with the defining details of structured sophistication.
And with every fashion designer in the world dreaming of the day they can show their collections at
New York Fashion Week
, it's safe to say that she is living that dream as she is set to showcase her
Spring/Summer 2017 collection
for the
second
time this year.
Watch this video

to find out more about Rosenthal's experience at NYFW and her inspiration behind her S/S 17 collection!
Can't wait to see more of what this rising star will be up to in the coming months? Then keep reading below as we caught up with Rosenthal and got her talking about her upcoming collections, her NYFW stories, the women she would like to dress, and what exciting new things her fans can look forward to!
Can you tell us how you first got started in fashion? We'd love to know how you discovered this was what you wanted to do!
I started in 2013 after I took up further studies in Fashion Design in London. So I'm currently on my 3rd year and I'm working on New York Fashion Week this season with the help of the whole family here at Rosenthal Tee.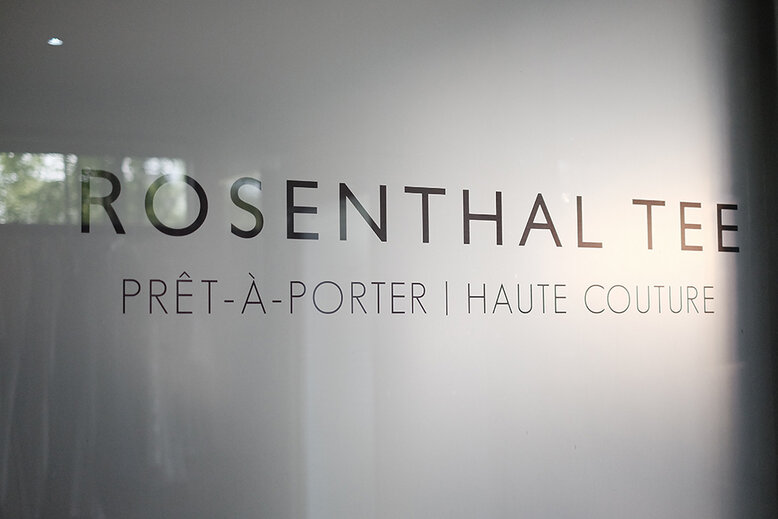 Tell us a bit more about "Rosenthal Tee," the brand.
Rosenthal Tee, the label, is more or less about nostalgia, femininity, with quirky details, younger, and definitely more subtle than its predecessors. Older labels tend to be more "in-your-face", and I'm trying to introduce a softer aesthetic and we'll see how that pans out!
How have your designs evolved since you first started?
When I first started in 2013 my designs were in the tradition of Filipino design, which was heavily beaded and embroidered. And as much as I love those traditional methods, what I've challenged myself with, as a young designer, is to make it younger and more relevant to women today.
Women today are more fast-moving, so we're leaning towards lighter pieces, more wearable, movable pieces – that's what I try to do in every design I work on. Even if it's bridal, I try to make it more relevant and more youthful in spirit than others.
Your brand's style is centred on femininity and sophistication. How is it connected or related to your personal style?
It's an extension of who I am and what I like. I like subtle, smart detailing and high quality detailing. So I work on clean silhouettes on a day-to-day basis. I, myself, like wearing clean silhouettes: no fuss, as much as possible. And if there is "fuss", it has to be very concentrated, articulated, and thoughtful detailing.
This past February, you presented your F/W 16 collection at NYFW. Can you give us a background on how that came about?
I got invited by CAAFD, which is the
Council of Aspiring American Fashion Designers
. They are the sister organisation of
Council of Fashion Designers of America
, so that's CFDA. The premise of their group is to search for emerging designers beyond the scope of the Americas. That's why they started tapping into the Southeast Asian and East Asian region, and went out on a search for designers who'd be able to show on a more globalised platform.
As a Filipino designer, what did it feel like to present your work in the biggest fashion event of the year?
To be honest, showing at New York Fashion Week was quite numbing. I didn't really know what to expect since it was my first time coming in. Although, of course, the pressure was there to not embarrass the country. But the actual showtime was pretty good. I just worked on it as I would have on a normal show. It doesn't really faze me as much as to where the show is and what the show is about because I still go through the same motions. So I only start feeling the impact of it all once it's done.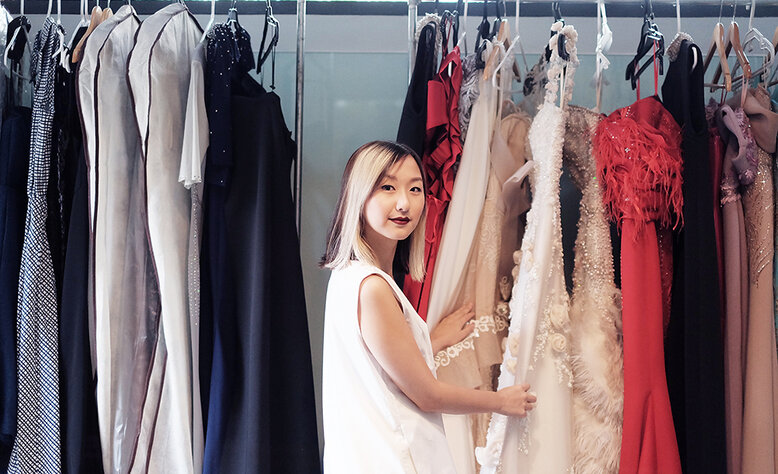 You're presenting your Spring/Summer 17 collection at NYFW this September again, can you give us a tease or sneak peek on what to expect, as well as the inspiration behind it?
This time, the collection is inspired by this fused characterisation of Sisa and Maria Clara of the Jose Rizal novels. Because of all the political changes happening in the country this year, that primarily moved me to produce a collection that was inherently Filipina, but very current and very young.
As women, we always battle with this duality of being the crazy Sisa and the more presentable and demure Maria Clara. I thought that's an interesting starting point to visualise what the modern Filipina is. That's how the whole collection progressed, and you'll see in September what it will actually come out to.
When you design for the runway, do you do it with the idea that you're putting together an artistic show compared to the clothes you would present to your clients?
I try to do both in equal measure. Well, 80/20 – 80% wearable and 20% [artistic], and that's because you're trying to establish yourself as a label that can be worn in real life. So it's about producing pieces that can be worn by someone as young as 12 up to someone who's 80. Keeping with that broad age spectrum, I try to design around that and the specific concerns each target group would have. I think that's the advantage we have here in Manila, in the Philippines rather, is that because we serve clients most of the time, we hear their concerns and they are real women. It's just a matter of globalising those concerns and producing pieces that are still a representation of my label, but also something that women will be able to wear.
Now that you've experienced being a part of the international fashion world, how would you say it's different or similar to the Philippine fashion industry?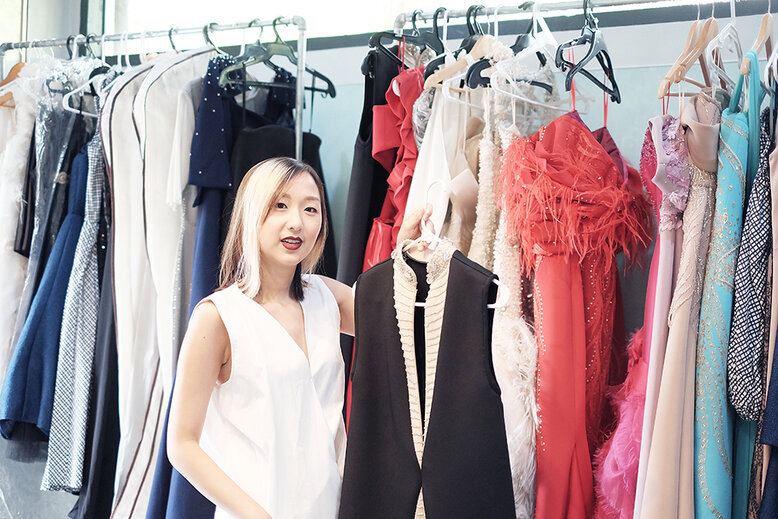 It's very different because in the Philippines it's still on a customised, service-based level; meaning, we do bespoke pieces for very specific clients. In contrast to what I'm trying to do with New York Fashion Week and what other designers do abroad, we present our collections in the hopes that buyers will want to include us in their boutiques and department stores. And that's definitely something that I think Filipino designers can do, it's just that we're not presented as much with those opportunities. My personal goal is to get stocked online and abroad, and open a way for others in the future from Manila or from the Philippines to get into that platform.
[On the other hand,] what I love about the Philippine fashion industry is our artisans. I've had the opportunity to study fashion in London and the training that I got there was very relevant to what's been happening and what is happening around the world. But what Filipinos really have, in terms of what our strong suits are, is the passion that we have in producing things with our hands. So it's with our embroideries and our beading, and that's really something that I want to try and bring into the New York fashion scene; and bring back the nostalgia for having something that's hand made. Although, understandably, it can't be 100% hand made these days because of the global markets and their speed at producing things. But that's really something I want to try and include as a Filipino designer.
When you envision people who wear your label, who are they?
They can be
lolas
(grandmothers) to toddlers; everyone can wear me.
Margaret Zhang
is someone I'm obsessing about, I love her look. And
Liz Uy
, she and I are working a lot together these days -- I think I'm feeding off of her aura on it. And if we're going classic Hollywood, Diane Keaton and Sophia Loren. I know it's a bit of a clash because you have Diane who's more tailored, menswear pieces, and you have Sophia who's more like the Hollywood bombshell type. But it's that fusion that gets me really excited about clothes.
But who would you love to wear your clothes?
Tilda Swinton or Cate Blanchett. Just because I think they're the most versatile in terms of their look. They can go from full-on menswear attire to full-on romantic. And I just love that chameleon-esque aspect that they both have.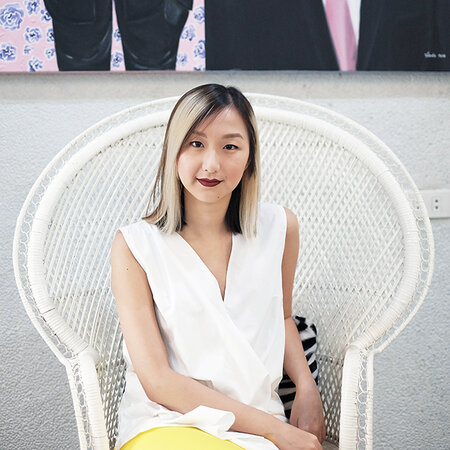 Besides taking the fashion world by storm, what else can your fans look forward too? Are there other sides of the fashion industry you'd like to do, such as writing or photography?
As a startup fashion designer label, just expect to be surprised. I think it's too early to cement anything down, but I'm trying to break whatever walls there might be needed to be broken along this journey to get my name out globally. So just wait for it!
If you didn't have a career in fashion, what would you be doing today?
I'd probably enter advertising or production because those are two aspects I generally gravitate towards to. Even publishing in the fashion industry, well fashion or food-related, definitely. If I weren't a fashion designer, I'd still be doing some sort of creative output, so it could have been in any of those industries.