Who knew that we could have two or three skin types? We've been so wrapped up figuring out our [singular] skin type that we overlooked the possibility we could have more than one -- such as combination-sensitive or oily-acne prone with dry patches. Which is why multi-masking is the perfect way to de-stress, purify, and address our complexion's varied skin concerns!
But since we're all newbies to the whole world of multi-masking, we thought, why not let our Community learn from the best? So we partnered with
Origins Philippines
for "
Clozette x Origins PH Mix & Mask Workshop
" – a skincare workshop held last Saturday (28th May) at
SM Makati
where selected Clozette Ambassadors and members of the Community were treated to an afternoon of healthy snacks and juices courtesy of
The Wholesome Table
, skincare lessons, and multi-masking demonstrations from Origins Philippines' "Resident Product Expert"
Samantha Lim
!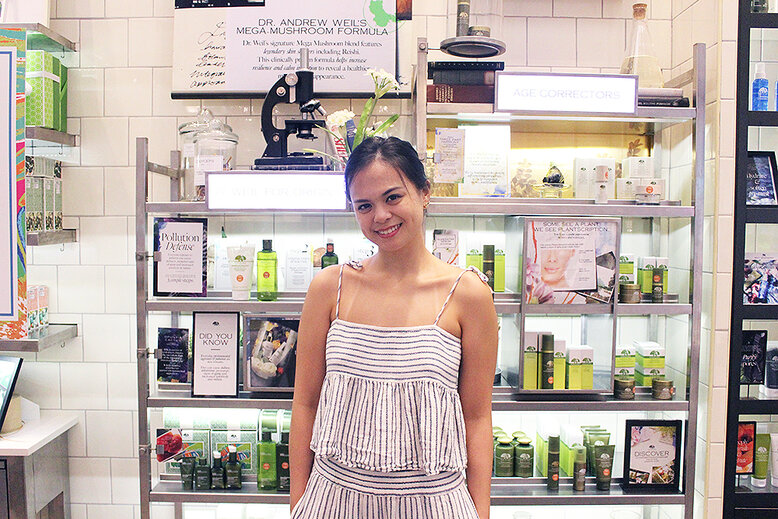 Origins Philippines' Sales & Training Coordinator Samantha Lim
Mask combinations such as the
Insta-Glow
,
Blemish Buster
, and the
Green Detox
were applied on 3 volunteers from the audience; and these 3 are perfect for all skin types and for anyone who wants to give their skincare regimen a boost!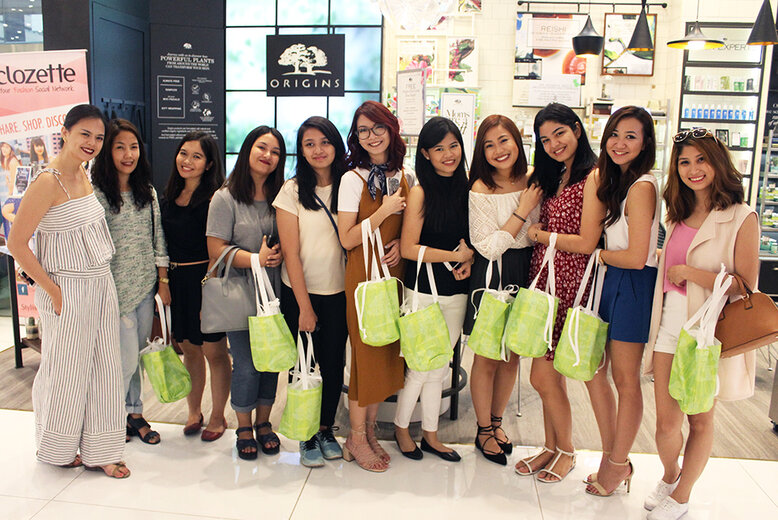 Clozette Ambassadors and Clozetters carrying their Origins goodie bags
So, want to mask your way to glowing and clear skin? Then read on to learn more about these 3 multi-masking combinations which will definitely amp up your beauty and pamper routines!
Insta-Glow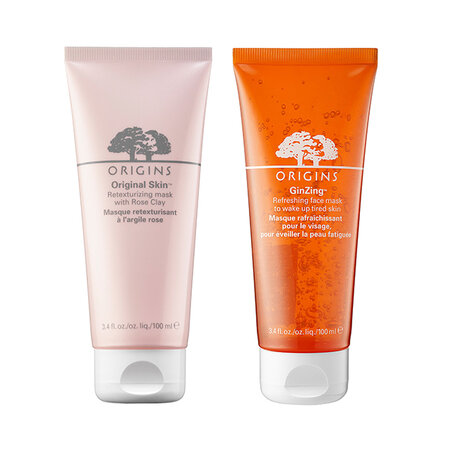 The multi-masking must-have for anyone who wants to give their skin a glowy boost or a quick pick-me-up! Apply the
Original Skin™ Retexturising Mask with Rose Clay
on your T-zone and chin, and the
GinZing™ Refreshing Face Mask
on your cheeks to energise and purify your complexion in 10 minutes!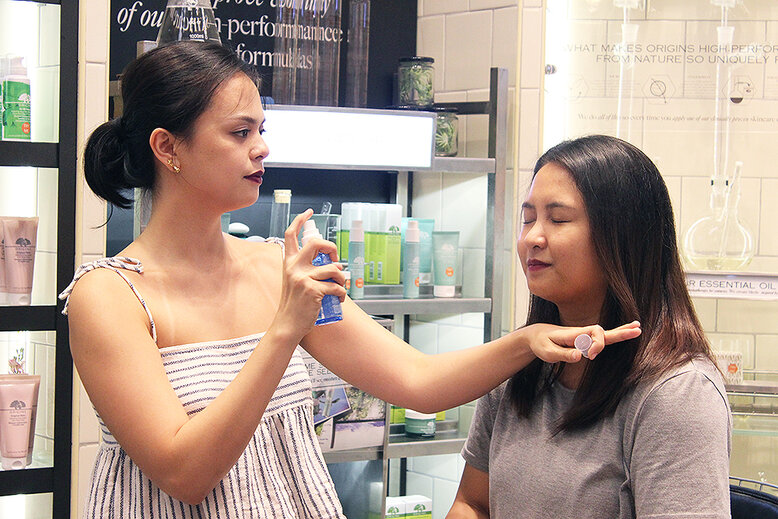 Samantha sprayed the

Maskimizer™ Skin-Optimizing Mask Primer

on Clozetter Jeanne's complexion before applying the masks
Why do these two masks work so well together? Because the Original Skin's fine Jojoba beads gently but effectively remove dead skin cells and refine your pores; while the GinZing mask's coffee and cucumber ingredients wake up a dull and tired complexion — giving your skin a cooling and hydrating boost!

Blemish Buster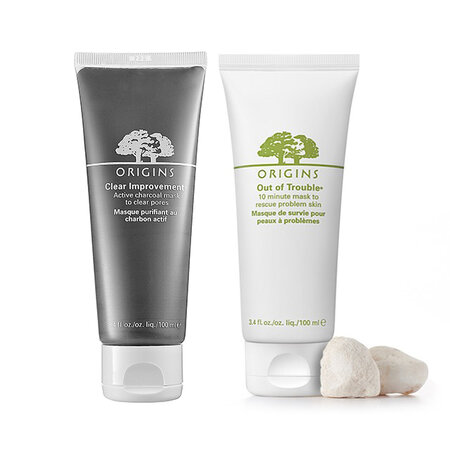 Want to give your skin a deep detoxification? Then the combination of the
Clear Improvement™ Active Charcoal Mask
and the
Out Of Trouble™ 10 Minute Mask
is the perfect one for you — it will banish all your blemishes and your skin's impurities in a short amount of time!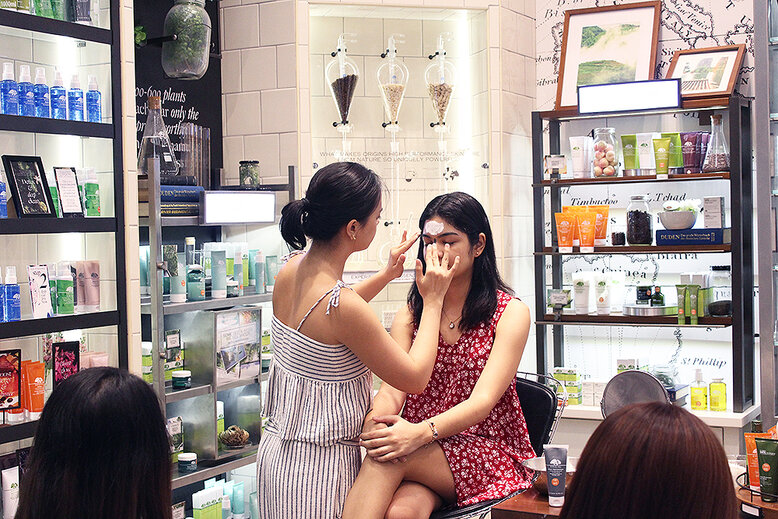 Samantha applied the two masks on Clozetter Fatima's T-zone to focus on her more clogged areas
How? The Clear Improvement's Bamboo Charcoal acts like a magnet to draw out deep-dwelling pore-cloggers, while the Out Of Trouble's ingredients work to slough off dead skin cells and refine rough texture to steer your complexion away from possible breakouts!

Green Detox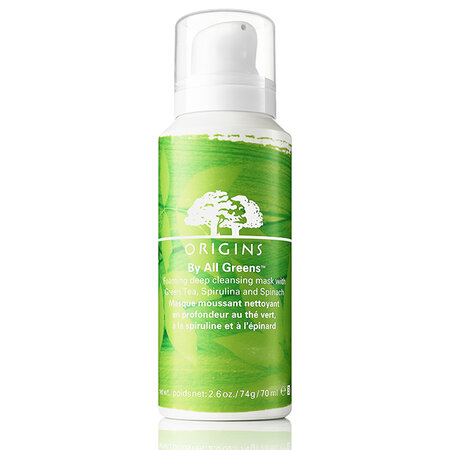 Don't let its packaging fool you, but the
By All Greens™ Foaming Deep Cleansing Mask
is a powerful product because it's actually 2 different masks in one bottle! This creamy clay mask, which is packed with nutrient-rich Spirulina, Green Tea, and Spinach, transforms into a foaming cleanser the minute it touches your skin to detoxify clogged pores while gently-yet-deeply cleansing your skin. So if you want to give your skin a nice detox without stripping it of its moisture, this is the perfect multi-mask for you!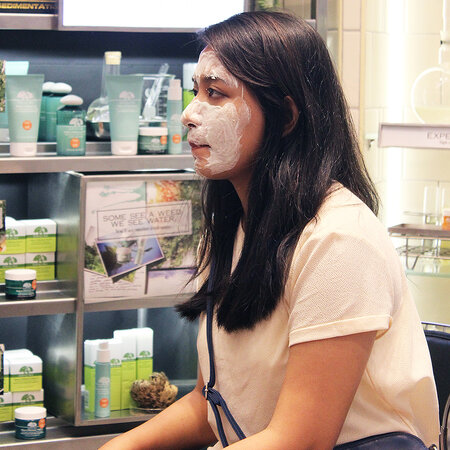 Clozetter Alyanna left the mask on her face for 10 minutes to really give it a good clean
What are your favourite mask combinations? Share your multi-masking tips and tricks with us in the comment section below!

And don't forget to visit Origins Philippines at SM Makati, SM Megamall, and SM Mall of Asia to try out these amazing masks for yourselves!