Only five years after its launch, Thai skincare brand Namu Life SNAILWHITE is slowly becoming a vanity staple for beauty junkies in the Philippines. With their products enriched with a signature formula called the Snail Potion, SNAILWHITE promises to unlock your healthy glow. And it seems that they really do deliver, based on the rave reviews their products receive on local beauty e-commerce sites. Burning with curiosity, I've decided to try Namu Life SNAILWHITE products and see whether or not they are worth the hype.
In my years of trying out skincare products, I've found that ones with snail extract agreed with my skin the most. That's why I really had high hopes for the best-selling Namu Life SNAILWHITE products, especially since they are a bit pricey. Both the Namu Life SNAILWHITE Moisture Facial Cream and CC Sunscreen with SPF50+/PA+++ comes at a price of Php995/~USD19.31. The Whipp Soap, on the other hand, costs a bit lower at Php295/~USD5.72. Let's see if they're worth these investments after a few weeks of usage.
Packaging and appearance
I was sceptical before using the Whipp Soap. I thought it would take me a few minutes before I can build up a foam as fluffy as they show in the pictures. But, once I fished it out of its resealable foil packaging, I saw that it included a handy net pouch, which helped create a luxurious lather. Also, because of that pouch, I didn't need to worry about melting the bar with excess water. Instead of placing the soap after use on a tub holder, I simply hung it to let it air dry.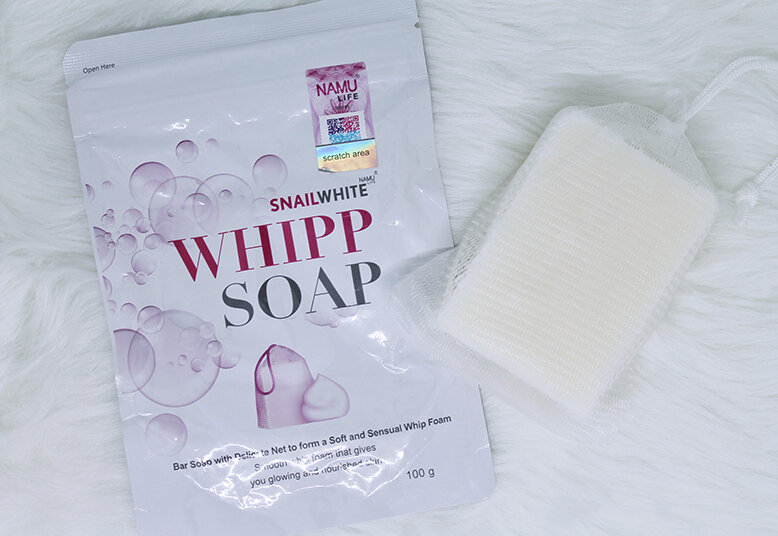 The packaging for the other two SNAILWHITE products is also pretty and straightforward. Unlike the soap, they were in a box with minimal designs that stuck to their signature white-pink-and-grey colour scheme. But what they perfectly achieved on the outside, they overdid on the inside. Their boxes had unnecessary flaps inside that made the products quite a task to pull out.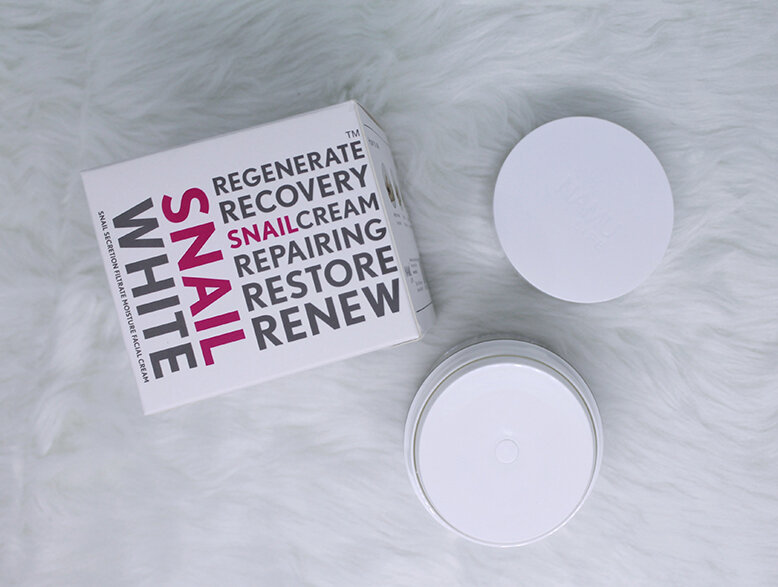 But the struggle didn't end there. I was expecting the SNAILWHITE Moisture Cream to be a regular tub of moisturiser, but what greeted me when I removed the cover confused me. Maybe it's just me, but it probably took me around five minutes to figure out that I was supposed to push the top to dispense the cream. A short note on the box really would have been helpful. Additionally, it took me around three more tries before I perfected the amount of pressure I applied so it would dispense just the right amount.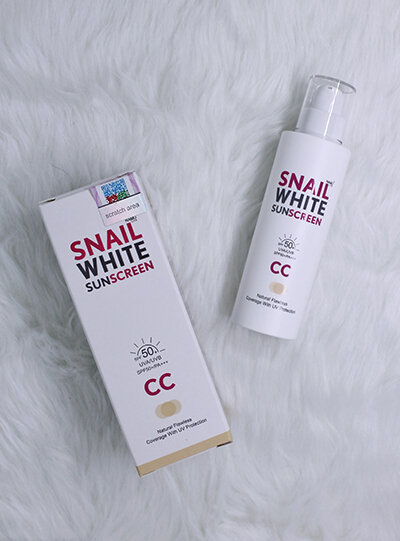 Thankfully, the CC Sunscreen was far easier and more convenient to use. It came in a pump bottle — exactly what liquid bases should be in. The pump was great in that it helped me control the product I dispense easier.
Texture, scent, and application
The SNAILWHITE Whipp Soap was definitely a blast to use. In a matter of seconds, I had more than enough soft lather in my hands to cover my face with. To further exfoliate my skin, I lightly scrubbed the net-covered soap onto my skin, which wasn't the best idea as it wasn't really made of a soft material. The soap has a floral fragrance. It was alright with me but it can be a bit overwhelming for others with a sensitive nose, especially when it covers the whole of your face.
Though we didn't get on quite well in the beginning, SNAILWHITE Moisture Facial Cream quickly made its way up to my favourite moisturising creams. Because even during the times I accidentally got too much cream, I'm pleased to say that none of the product went to waste. No matter how thick of the gel-cream product I applied, in a matter of minutes, the stickiness would be gone, leaving my face smooth. Of course, a pea-sized amount was more than enough, but I was glad that it didn't leave me feeling heavy and greasy unlike when I apply other moisturisers too much. Not to mention, it had a citrusy scent which is refreshingly gentle.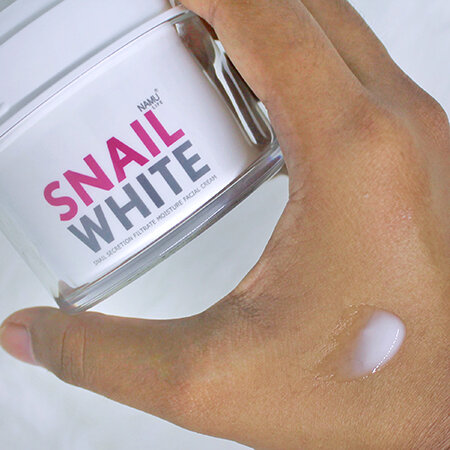 The SNAILWHITE CC Sunscreen, sad to say, didn't quite meet my expectations. To be fair though, it was creamy and easily blendable. I was also glad that it was lightweight and didn't feel oily despite leaving a dewy finish. I think it would have been great if its shade just fit my brown skin tone.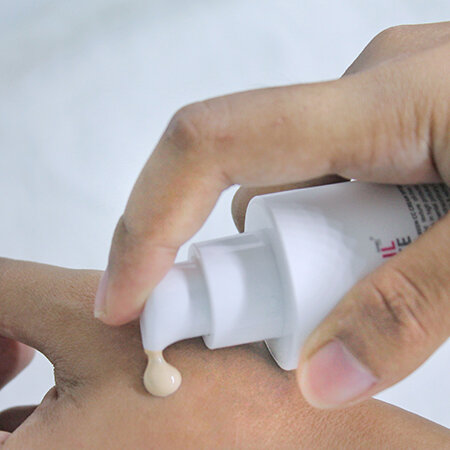 Results and overall thoughts
The Whipp Soap was enjoyable and convenient to use. Not to mention, it left my face oil-free but not squeaky clean and dry after use. However, I found that it doesn't really thoroughly cleanse because when I apply my toner afterwards, my cotton pads still end up lifting up dirt. But I'm thankful that, despite that, it never caused me any breakouts.
As you've probably have guessed, out of all three Namu Life SNAILWHITE products I used, I definitely loved the Moisture Facial Cream. It went beyond what I expected. My face was never greasy in the morning, and it made my skin plumper after use. Also, despite the hassle in the beginning, I ended up loving the way it dispenses the cream. I realised it was more hygienic than dipping my hands into a tubful of cream.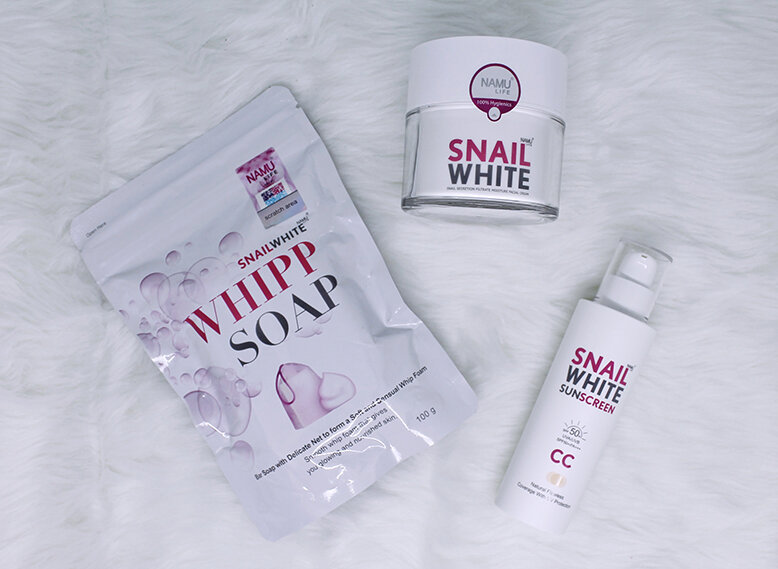 Best-selling Namu Life SNAILWHITE products
But I wasn't happy at all with the CC Sunscreen. As you can expect from a shade that's too light for my skin tone, the tinted sunscreen left a white cast on my face no matter how thinly I spread it. It was unfortunate that it's only available in that one shade. Aside from that, it also wasn't great with coverage and only lasted for less than six hours.
Still, despite the issues, I figured the trio does a decent job of giving your face a nice glow. Continued use of the Whipp Soap and Moisture Facial Cream made my skin softer and smoother. And the CC Sunscreen leaves a dewy but non-greasy finish — maybe I'll try it again if they released it in more shades. But the star for me is definitely the Moisture Facial Cream. It comes with a price, but it's a hydrating gem I'd be willing to pay for.
(Cover photo from: @snailwhitephils)
Looking to add more skincare products to your routine? See what's worth trying here.