Osaka is often referred to as the Nation's Kitchen "Tenka no daidokoro(天下の台所)" of Japan, a moniker bestowed upon it during the Edo Period (1603-1868) when the city was the epicentre of the rice trade. Osaka remains the country's culinary centre, and while its offerings may not necessarily rival Tokyo's in terms of sophistication, any doubts about its right to this crown are soon dispelled with a quick stroll in the entertainment district of Dotonbori, a neon-lit labyrinth jam-packed with restaurants, food stalls and bars providing a kaleidoscope of dining options, interspersed with deafening gaming arcades.

There's more to Osakan cuisine than just okonomi-yaki (Japanese pancake) and kushi-katsu (skewered deep-fried meats and vegetables). While nearby Kyoto is famed for its traditional kaiseki-ryōri (懐石料理)multi-course haute cuisine, Osaka has its own kappo (割烹) means to cut and cook style of less formal dining, which embodies various traditional Japanese cooking methods: raw, simmered, fried, steamed and roasted or grilled. Most kappo restaurants tend to feature counter seating where you can interact with the chefs — that is if you speak the language. Both kaiseki and kappo cuisines are anchored on the quality and seasonality of ingredients, but the menu of the latter is often less structured, and usually served in a more down-to-earth and lively atmosphere compared to the formal elegance of kaiseki.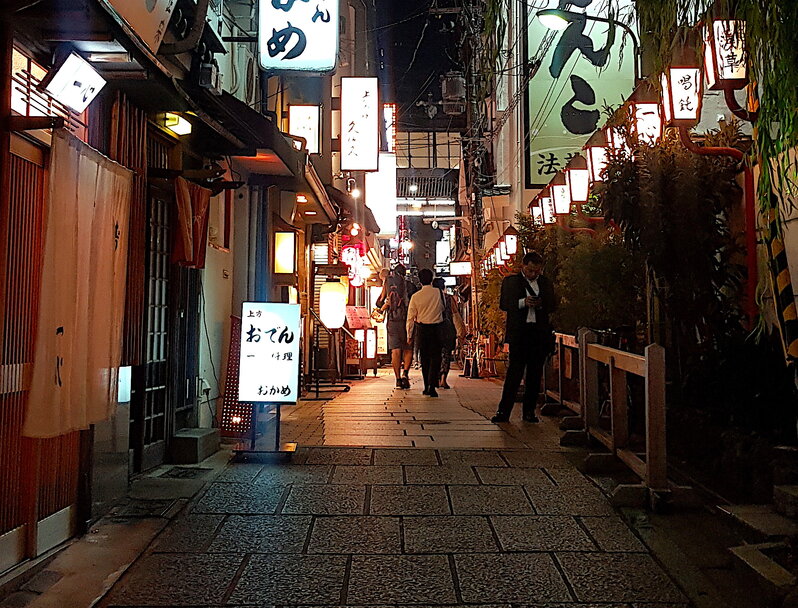 Hozen-ji yokocho Alley
And when it comes to kappo dining, it's hard to find a better name in Osaka than Michelin-starred Naniwa Kappo Kigawa (浪速割烹 喜川)— revered by both international gourmands and locals — located on Hozen-ji yokocho, a stone-paved alley named after the nearby Hozen-ji Temple, home to the moss-covered image of the Buddhist deity Mizukake Fudo. As you walk down the dimly-lit narrow lane patterned with dancing shadows cast by the soft glow of lanterns — lined with tiny wooden buildings housing restaurants and taverns — it's as though you've momentarily stepped off a time machine into the Edo era, albeit with the concession of a few discreet neon signs and suited salarymen; but it's nevertheless a surreal transition just a short detour from the adjacent brasher Dotonbori district.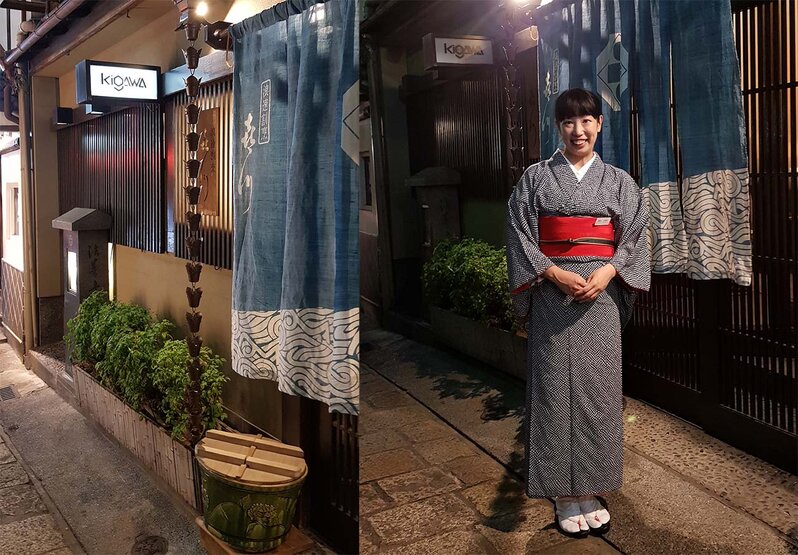 The entrance at Kigawa
Sweeping through the noren curtains of the humble entrance of Kigawa — the restaurant can easily be missed if you are not looking too carefully — you are ushered into a cosy and gracefully decorated room dominated by a 12-seat wooden counter affording views of chefs busy working the kitchen. Orchestrated by chef-owner Ueno Osamu (上野 修), a native of Osaka, the kappo-style tasting menu at Kigawa melds classic Japanese flavours and cooking techniques with the chef's extensive French culinary training.

Left to right: Pumpkin soup, tofu and wild vegetable appetiser, seasonal platter

Our palates were awakened with a refreshing Pumpkin Soup, followed by a Tofu and Wild Vegetables appetiser, and a Seasonal Platter that had too many ingredients to recall; we could only remember the deep-fried shrimp, hamo eel gut, and whale paste, which was way too salty for our liking (aside from the environmental issues that involve it).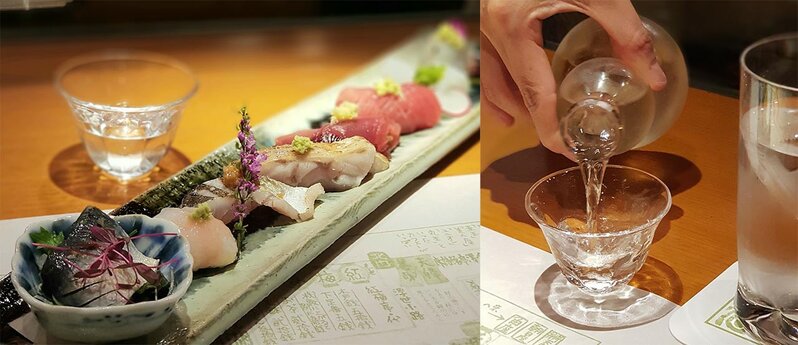 Left: Sashimi platter; Right: Akishika junmai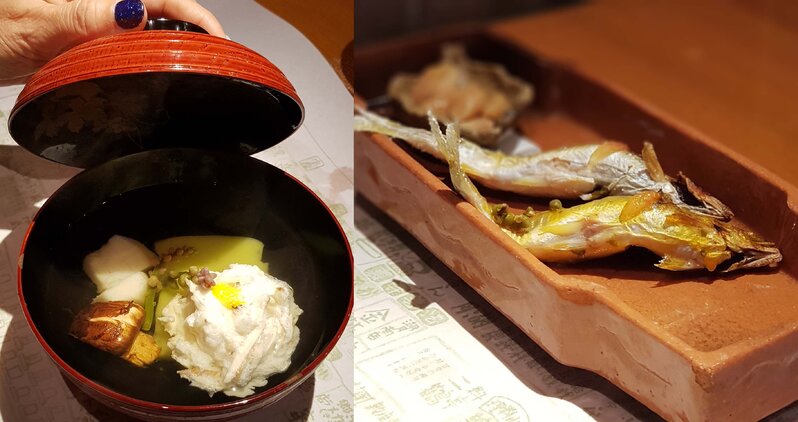 Left: Hamo Eel Gut & Matsutake Mushroom Soup; Right: Ayu
We chose a dry
Akishika junmai sake
from Osaka prefecture for the food pairing, perfect for the prettily-plated
sashimi platter
that, needless to say, was very fresh. Next up was a light but flavourful
hamo eel gut & matsutake mushroom soup
. In season, too, was the
ayu
, a small roe-filled river fish simply grilled with salt and sansho pepper, exuding a contrasting bittersweet taste.

Left: Grilled Wagyu; Right: Katsu Wagyu
More familiar items were the two mains that we chose: the well-marbled
grilled wagyu beef
, executed a faultless medium-rare, was delectable with the celery miso paste; meanwhile, the other course,
katsu wagyu
, came a tad too fatty but was fortunately tempered somewhat by the drizzle of aromatic curry sauce.
Stuffed, we finished with a simple but umami-filled hot Japanese Mitten Crab Somen and ended the long dinner with a dessert of Soy Milk Blancmange, a creamy custard that pays tribute to the chef's stint at French restaurants.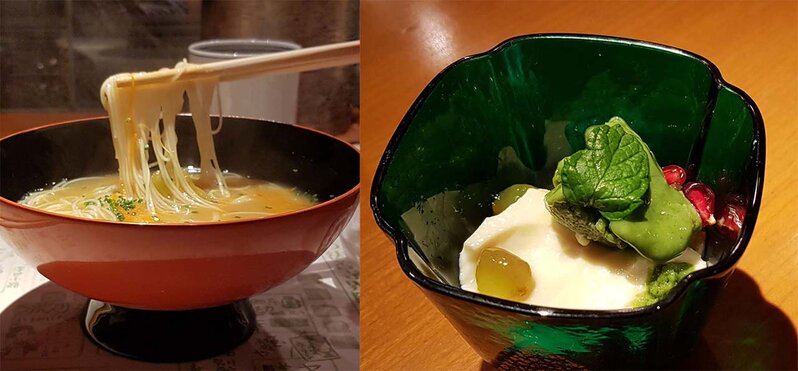 Left: Japanese Mitten Crab Somen; Right: Soy Milk Blancmange
How would we rate the dinner? As with most seasonal degustation menus, there are hits and misses depending on your palate preferences. Exotic items like hamo eel gut and whale paste are acquired tastes, and may not be up everyone's alley. And while the dinner doesn't come cheap — with tasting menus starting from JPY15,000 and inching up to JPY20,000 — Naniwa Kappo Kigawa certainly delivers a visual feast and an enlightening culinary adventure and to some arguably worth the price to experience a slice of Osaka's unique food culture.
Naniwa Kappo Kigawa (浪速割烹 喜川)
1-7-7 Dotonbori, Chuo-ku, Osaka City, Osaka, Japan 542-0071
(〒542-0071 大阪府大阪市中央区道頓堀1-7-7)