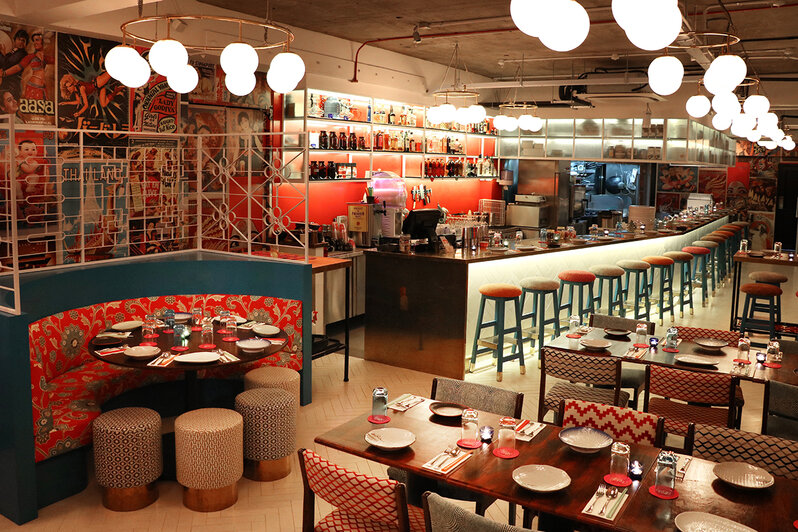 Inside Ding Dong
An invitation to a natural wine pairing event by The Drunken Farmer — a collaboration between one of Paris' foremost natural wine bistros Aux Deux Amis and mod-Southeast Asian restaurant Ding Dong, hosted by the affable CEO of Spa Esprit Group — triggered my investigation into this fast-emerging phenomenon of "raw" wines that has spread through Europe, the United States, and now Asia.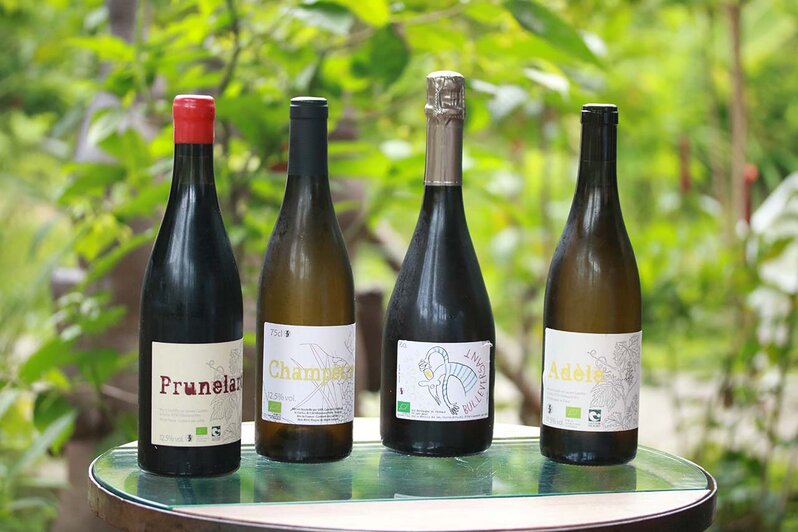 A selection of natural wines
Natural wines have been in existence for thousands of years but the current renewed interest in such additive-free wines is often credited to a movement among winemakers that started in the Beaujolais region of France in the 1960s, inspired by the ethos of renowned oenologists Jules Chauvet and Jacques Neauport, who advocated chemical-free farming without the use of pesticides and herbicides, or additives like sulphur or sugar — a manipulation common in today's winemaking to enhance the body of the end product.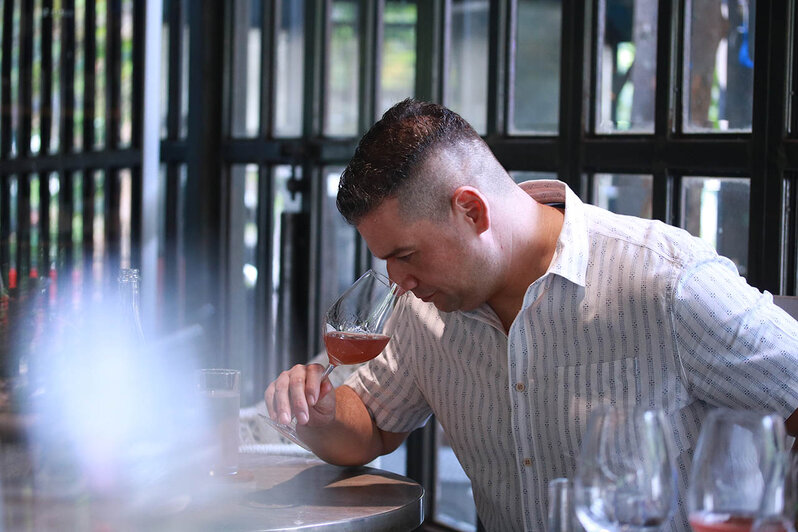 Eduardo Bayo taking a whiff of a fragrant natural wine
The evening's wine tasting was helmed by Eduardo Bayo who hails from Montreal. He enthused about championing the grower-to-glass movement in Singapore, drawing on his curation of over 90 natural, organic, biodynamic and sustainably farmed labels sourced directly from winemakers all around the world — Australia, Austria, France, Germany, Italy, New Zealand and South Africa.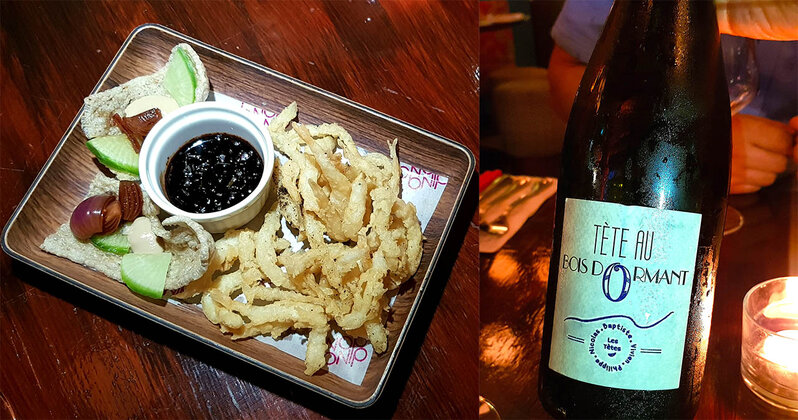 Left: Crispy Whitebait, Kecap Manis ADA Pate, Pickled Turnips; Right: Domaines Les Tètes
Eduardo fired the first tasting salvo with a
Domaines Les Tètes
, a Chardonnay and Chenin Blanc​ blend from VdF Loire Pétillant in France, to go with the snack of
Crispy Whitebait
,
Kecap Manis ADA Pate
,
and
Pickled Turnips
. Fresh and easy on the palate, this well-balanced wine made a good companion for the light dish and opened up our palates nicely.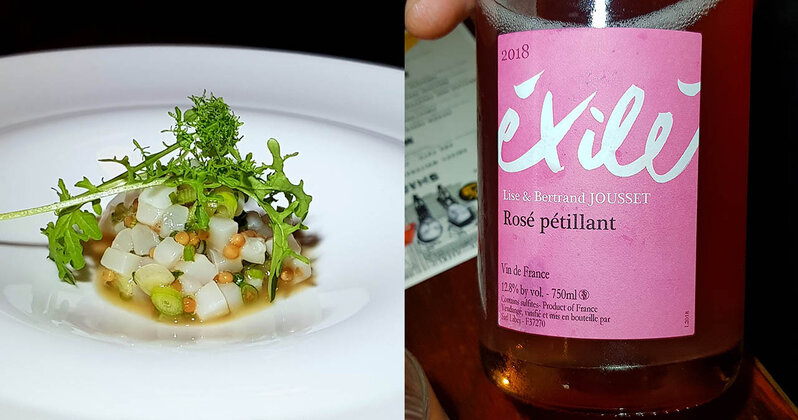 Left: Spiced Squid Tartare; Right: Lise et Bernard Jousset Gamay
Next up was the rather unusual
Spiced Squid Tartare in Herb Sauce
, matched with the pleasing fruity aromas of a
Lise et Bertrand Jousset Gamay
from VdF Loire. The paring would have been better had the squid been served chilled a tad more.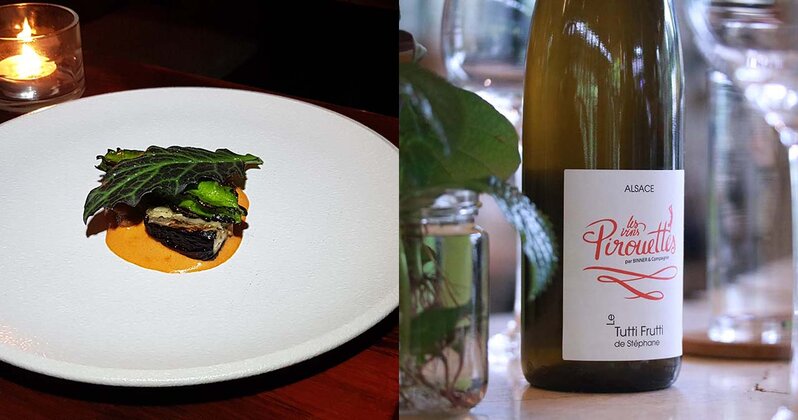 Left: Sweetbread in Thai Red Curry; Right: Les Vins Pirouettes
An acquired taste, the standout of the dinner had to be the
Sweetbread in Thai Red Curry
, paired with a
Les Vins Pirouettes
from Alsace, an orange wine blended from three varietals — Gewürztraminer, Riesling and Auxerrois​. The heaviness of the buttery sweetbread was easily tempered by the piquant curry; the delicious composition heightened by the zesty flavours of this crisp, well-chilled wine that oozed appetising notes of orange skin, mandarin, grapefruit and passion fruit.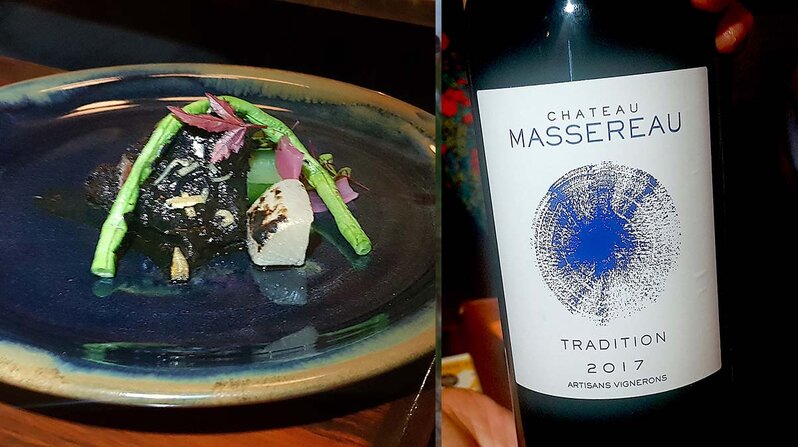 Left: Braised Beef Cheek with Buah Keluak Sambal; Right: Merlot-Cabernet Sauvignon from Château Massereau in France
The innovative kitchen hands at Ding Dong showed up again in the Southeast Asian-influenced main course of Braised Beef Cheek lathered with Buah Keluak Sambal, served with a smooth Merlot-Cabernet Sauvignon blend from Château Massereau in France; the wine's chocolaty red berries bouquet and soft tannins played well with the robustness of the buah keluak.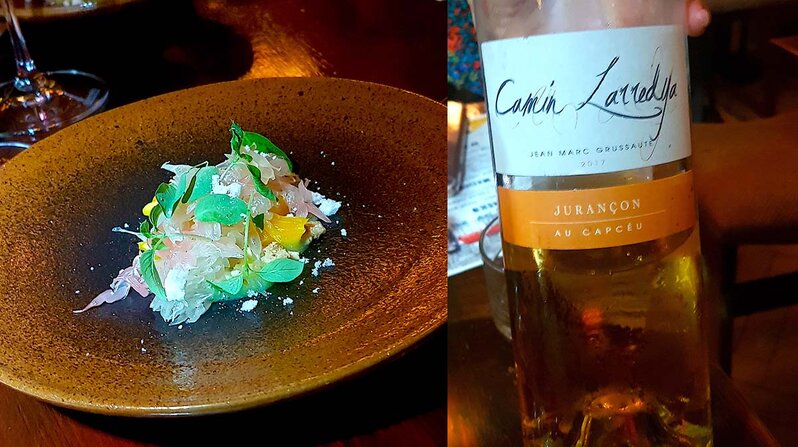 Left: Citrus Inspiration; Right: Camin Larredya Au Capceu
For dessert, the
Citrus Inspiration
— a concoction of various citrus fruits and condiments — was accompanied by a beautiful
Camin Larredya Au Capceu
from Jurançon, France. Comprising 100 per cent Petit Manseng from grapes typically harvested in November, this sweet wine exuded subtle mango and pear flavours, balanced by a mild acidity that cleansed the palate, wrapping up a delightful and informative dinner.
Overall, I was impressed by my maiden encounter with natural wines and while they may lack the instant oomph and body of the mainstream wines, the simplicity and rawness of these minimally manipulated wines surely but slowly drew me in as the dinner lingered on.
Going natural is still new in this part of the wine-drinking world, but its appeal and potential cannot be ignored, especially to the new generation of consumers whose taste references are yet to be shaped by the familiarity of traditional wines, and who increasingly demand products that are sustainably-produced, respect nature and use ingredients with little intervention. This burgeoning natural wines movement is good tidings indeed for many of my friends who are allergic or sensitive to sulphate.
Follow The Drunken Farmer on Facebook and Instagram.
You may also visit Ding Dong at 115 Amoy St., 01-02, Singapore 069935.