The Korean beauty market is a vast and competitive one with hundreds of brands releasing a ton of new products every season. It's not exactly bad for us because as proud beauty addicts we enjoy the variety of products and the number of options we have to add to our flowing collections!
But if you want to mix things up and are looking to try out new beauty brands that are worth adding to your beauty stash, here are the 3 that you should try next!
--------------------------
Heimish
(photo from Heimish)
Launched in the beginning of 2016,
Heimish
is a sleek makeup brand which focuses on bringing out your natural beauty through neutral shades and colours suitable for everyday. Their products place emphasis on modern and refreshing makeup looks; the kind all women can use. Plus, with their pastel baby pink and brown, their packaging is definitely pleasing to the eye!
A must-try product from their collection is their eye shadow palette. With 6 variations to choose from, each palette contains 8 shades that feature trendy and classic hues to give you endless combinations with your eye looks. If you want to learn what type of looks you can come up using the palette,
click here
for an illustrated tutorial.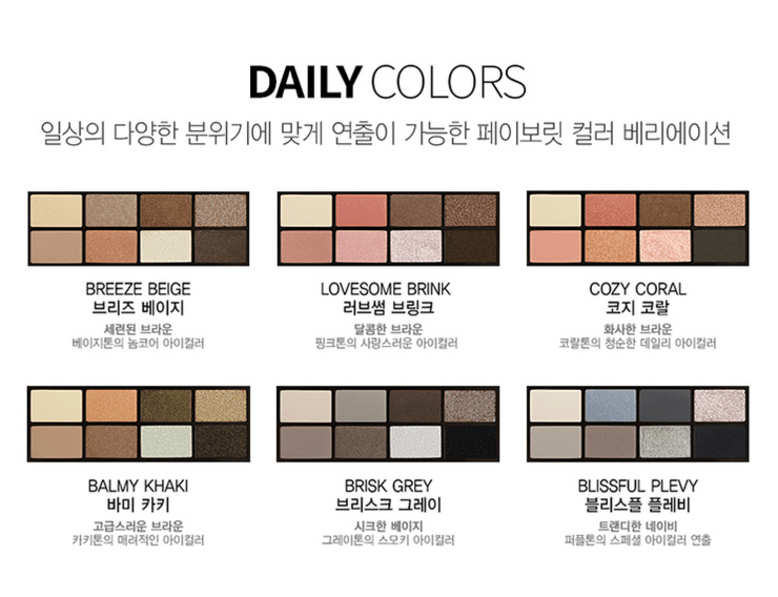 (photo from Heimish)
If you want to get your hands on their products, you can check out
Style Korean
as Heimish works with them to allow their international fans to purchase their products!
Pony Effect

(photo from Pony)
You're probably no stranger to her makeup tutorials as makeup artist
Pony
is one of the most successful Korean YouTubers in the beauty industry. But if you're only hearing about her now, check out her channel
here
!
She has her own makeup line called "Pony Effect", which was released last year. But she recently came out with an exciting new collection of products consisting of concealers, foundations, brushes, nail colours, and many more.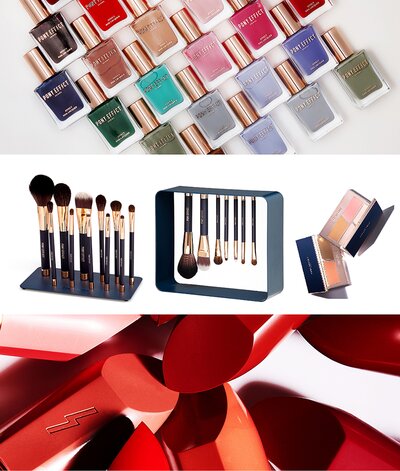 (photo from Pony Effect)
The brand's black and rose gold packaging is so sleek they look good enough to just display in your makeup counters and vanities! Out of her newest releases, though, her
Everlasting Cushion Foundation
, which was voted as a "Hit Item" in Korea's #1 beauty community Powder Room, is a must-have as it gives amazing coverage. Its cushion sponge is made with a velvety texture to reduce the absorption of the foundation, allowing most of the product to smoothly go over your face.
(photo from Pony)
If you're looking to purchase these products, you can get it online at
MEMEBOX's Global Gmarket Store
. And the best part is that the page comes with English product descriptions, so you don't have to struggle figuring out how to use them!
AprilSkin

(photo from AprilSkin)
No one knows marketing better than
AprilSkin
as they flood Facebook feeds time and time again with their beautiful products, including the
Magic Snow Cushion SPF50+/PA+++
. This full coverage and moisturising cushion foundation claims to have Iceland Glacial Milk True to hydrate and nourish your skin. But if you want a more brightening foundation, their
Magic Snow Cushion White
comes in shades with pink undertones to cancel out any pigmentation and brighten and illuminate your complexion.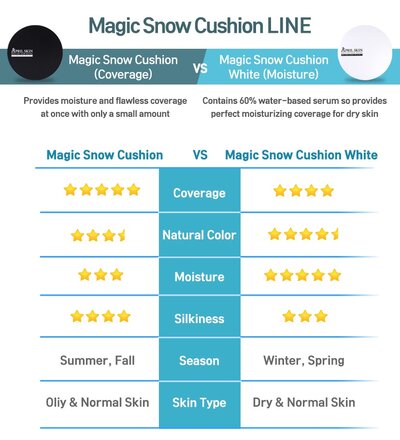 (photo from AprilSkin)
Another must-try product from their collection is the
Mummy Mud Mask
– a clay mask in the form of a sheet mask! In this hygienic alternative, the mask claims to "peel off your ugliness" by clearing away all your dead skin cells and softening your skin. If you want to learn more about this product, watch the video below!
--------------------------
What other Korean beauty brands do you want to try out? Share your picks with us in the comments below!