Ever wanted to wear smokey eye makeup during the day just because? You're in luck: the Newtro trend will make it possible to do just that. Newtro is a distinct youth culture trend hailing from Korea. It encompasses their music, fashion, and beauty while having also spread to food and home living. The word comes from the combination of words 'new' and 'retro', as the style takes heavy inspiration from the '80s to the early '00s while adding a modern twist to by-gone trends.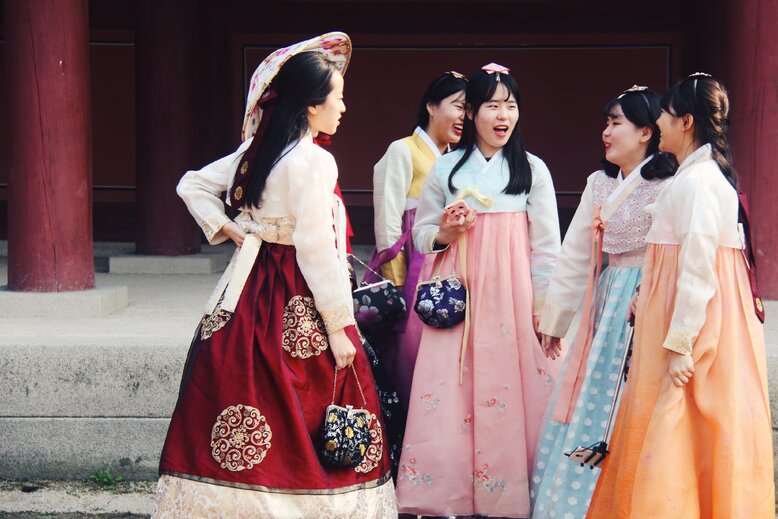 Right now, the world is in love with viewing the past with a sense of nostalgia and this new trend is not an exception. Young Koreans are revisiting vintage clothing, design styles, and food while giving them a very trendy twist in the process. From modern takes on the traditional
hanbok
to reviving muted neutral makeup looks that were popular during the '90s, stylish Koreans in their 20s to early 30s can be seen sporting such looks on the streets. The culture can be taken as their way of rediscovering and reinterpreting a vintage-tinted lifestyle, through the lens of media, their own childhood, and their parents' memories of the time.
In music, the Newtro trend can be seen in the K-pop group DIA's mini-album titled after the trend. It features some '80s- and '90s-inspired styling and fashion. It is still very on-trend and relatable to the modern viewer, but with some notable "vintage" aspects such as the font used on the album cover that just screams retro.
Media is also a huge proponent to the trend. Similar to how
Peaky Blinders
sparked a renewed interest in early 20th-century clothing and design styles in the UK, Korea's Newtro can be traced back to the popular 2018 K-drama
Mr. Sunshine
. The show is a period drama set in 19th-century Hanseong, the original name of their capital city Seoul, which had people — locals and tourists alike — wearing period costumes and paying visits to city districts that have managed to retain traditional architectural styles such as Seoul's Bukchon Hanok Village. Inspired by the costumes worn in the K-drama, young Koreans would either buy, rent, or make period-inspired clothing with a contemporary twist.
You could also see Newtro's presence in interior design. Cafés in Seoul would add vintage touches to their shop, from antique furniture in dark wooden tones to retro-inspired décors like pictures and radios to vintage-looking glassware used in serving your desserts. One such cafe is Coffee Hanyakbang, which is styled like dabang, a traditional Korean coffee house, from the Japanese colonial period. The creaky wooden floors with vintage furnishings certainly add nice aesthetics and a cosy vibe to a place where you want to relax and have a good cup of coffee.
While Newtro is distinctly Korean in nature, the renewed enthusiasm in everything retro and vintage is quite a universal phenomenon. Millennials and Gen Z are constantly revisiting past trends, design styles, and culture. This is in stark contrast to the fast-paced, digitally centred life at present. Though we often tend to see history through rose-coloured lenses, we're still channelling and sharing it through social media. It's an interesting mix of technology and history, one we're eagerly keeping an eye on as it continues to develop and evolve through time.
While we're here, discover more about the trends of nostalgia in fashion.