There are few people who have made more impact in the world of streetwear and hip-hop culture than Tomoaki Nagao, more commonly known as NIGO, the man who redefined what it means to be a creator, curator, and tastemaker.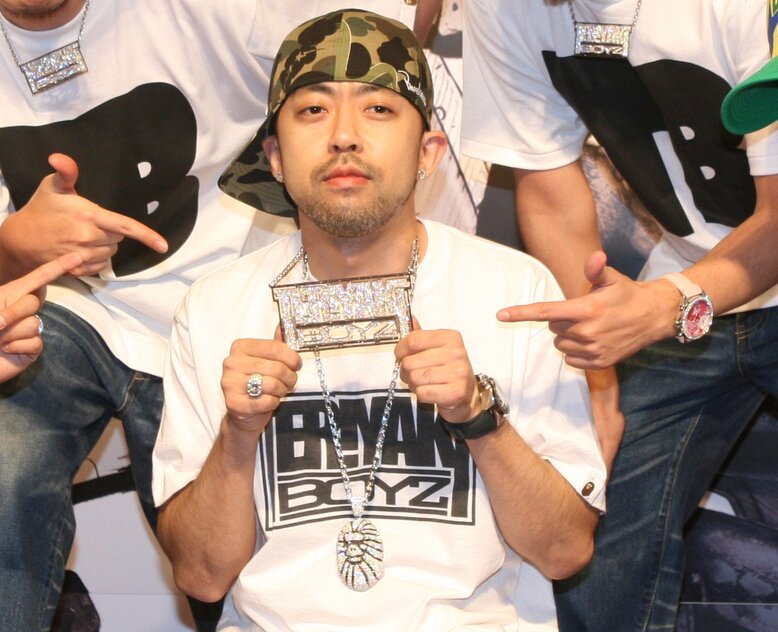 (Photo from: I, Sry8 / CC BY-SA 3.0)

NIGO kickstarted his foray into streetwear with Nowhere, a small store selling graphic t-shirts in Harajuku with UNDERCOVER designer Jun Takahashi. It wasn't long after that NIGO came up with the concept for
A Bathing Ape
(or BAPE) after watching a five-hour movie marathon of
The Planet of The Apes
with his friend Shinichiro Nakamura (Sk8thing). The brand's original name "
A Bathing Ape in Lukewarm Water
" was adapted from a Japanese saying, describing someone living a comfortable and sheltered life, which was a light-hearted jab at their fashionable yet spoilt teenage customers.
BAPE became well-known for its loud colour schemes and outlandish designs — most notably the shark and tiger hoodies, its prolific usage of camouflage motifs, and of course, the iconic ape head logo. NIGO's brainchild rapidly grew to prominence, partly due to the prevailing "flex-culture" within streetwear during that time, but also thanks to endorsements from some of the biggest tastemakers in hip-hop, most notably Pharrell Williams, Kanye West, Lil Wayne, and Soulja Boy, boosting its appeal to new heights.
The soft-spoken NIGO proved to be not just a creative force of nature, but a shrewd businessman as well, coming up with a policy of deliberate scarcity, with production only ever fulfilling around 10 per cent of demand, making BAPE products notoriously hard to acquire. This tactic worked wonders, driving the brand's desirability to astronomical heights. Entire communities and business ecosystems sprung up surrounding the brand, which eventually expanded to include a whole variety of accessories from head to toe, leading to the phrase "draped in BAPE".
In 2005, NIGO partnered up with his long-time supporter Pharrell Williams to launch Billionaire Boys Club and its sister brand ICECREAM. Pharrell would describe NIGO as "…a sage, an unstoppable force that will always continue to inspire". But just a few years later in 2011, NIGO would sell 90 per cent of BAPE to Hong Kong clothing conglomerate I.T Limited, before finally leaving the company altogether in 2013.
The world hadn't seen the last of NIGO, who channelled his unbounded creative energy into a variety of new projects, notably in F&B with
2-5 Café
and
Curry Up
, managing Japanese pop group
BILLIE IDLE
, collaborating with Adidas on numerous occasions, and lending his talents as creative director for Uniqlo's UT line — working on graphic print designs, and YOHO! — one of China's most influential streetwear empires.
However it was NIGO's second streetwear label
HUMAN MADE
that garnered the most attention. HUMAN MADE reflected streetwear's gradual departure from flex-culture to understated curation, with the brand sporting very understated, vintage, hip-hop Americana, and normcore vibes.
HUMAN MADE was a very personal label for NIGO, who had struggled with quality control towards the end of his tenure with BAPE. This time, he emphasised high quality, comfortable fabrics manufactured in the renowned factory of Osaka's Warehouse Co, and teaming up once again with Pharrell Williams and Sk8thing. The resulting collection perfectly reflected NIGO's obsession with classic American sportswear.
NIGO continues to defy expectations to this day. He was last seen with Louis Vuitton men's artistic director Virgil Abloh, who teased an upcoming collaboration with NIGO for a capsule collection called "Louis Vuitton LV²" for the Pre Fall 2020 season.
Among his many talents, NIGO's defining attribute seems to be his sense of partnership — knowing how to bring out the best in people through thoughtful and inspired collaborations. It's anyone's guess what NIGO will do next, but we're certain the world has not seen the last of him.
(Cover photo from: I, Sry8 / CC BY-SA 3.0)
For more about Japanese pop culture, here are some J-pop groups to listen to.