Cellulite, stretch marks, double chin, belly pooch, love handles. We embrace them but let's be honest, they're not exactly our favourite parts of the body. And sometimes, even with a balanced diet and workout routine, it can be a challenge tackling these stubborn areas. So when the opportunity came for us to understand more about how a certain contouring and shaping treatment works, we jumped at the chance.

An award-winning treatment,
NuE Shape's Viva Beauty Contouring & Shaping
uses a patented (MP)2technology that allows Multi-Polar Radio Frequency (RF) to work in unison with Pulsed Electro Magnetic Fields (REMP). This allows deeper, more effective penetration into the skin tissues to stimulate collagen regeneration, which is one of the most important building blocks for an ideal appearance. If you're looking for a non-invasive treatment for the tummy, thighs, face and neck that works to reduce the appearance of cellulite, lighten stretch marks, and slim and sculpt your contours — with absolutely no downtime at all – the Viva Beauty Contouring & Shaping Treatment could very well be your Holy Grail.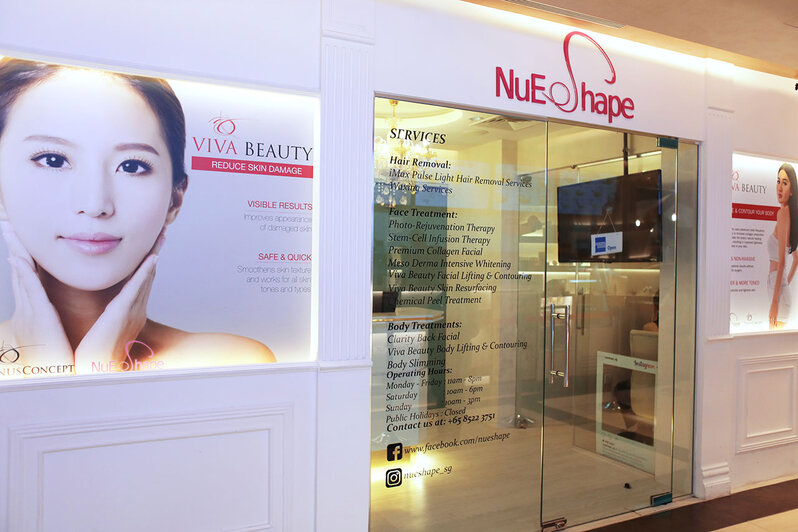 But we get it: it is easy to feel sceptical about contouring treatments, that's why we reached out to three real customers to share their experience with NuE Shape. All from different walks of life — an air stewardess, a newlywed, and stay-at-home mum — these ladies tell us if the Viva Beauty Contouring & Shaping Treatment has helped them achieve their ideal body shape and confidence.

Cleo Kim, Air Stewardess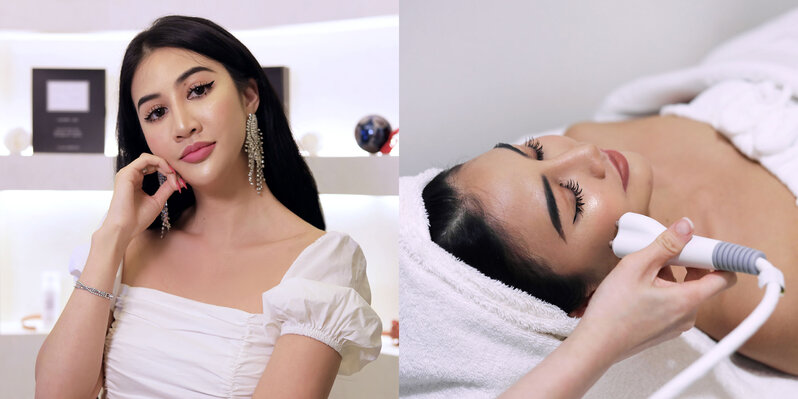 "At first, I wasn't sure if the treatment would work. I always felt exercising was the only way to shape the body. But this treatment has actually changed my life. I hardly have the energy to work out, but going to NuE Shape helps me relax and get in shape at the same time. It really created such a big difference to my face and body without much effort at all.
To be honest, I only saw minor differences after the first treatment. However, the difference became more significant after each session. I'm so satisfied with the results! There really isn't much pain involved. You can always tell your therapist if it gets a bit too warm, but otherwise, the therapist is always checking on you to see if you're comfortable. Overall, it just feels like you're doing a hot stone massage. The light is adjustable and the space is so comforting to the point where you can fall asleep. The best part is the fact that you can literally feel the results at work with the warmth and see a difference right after.
I would definitely recommend this to everyone. It's an effective way of achieving the body you want, especially if you don't have the energy to work out."
Regina Tey, Newly Wed

"I have been to a few body contouring boutiques but the results just weren't what was promised. I was sceptical until I started following NuE Shape on Instagram to get a better understanding of their treatments. After a few months of consideration, I took on a promotion and decided to give it a try in preparation for my wedding. To my surprise, the trial session went amazingly well — and that was when I knew I'll be in good hands.

I was most concerned about my arms, tummy and inner thighs with my then- fiancé's constant teasing. But the Viva Beauty Contouring & Shaping definitely boosted my confidence. After around eight sessions, my family saw a significant difference in my body. They thought I have been dieting, but I was really only going for the treatment once or twice a week. I was also advised by my therapists, Madeline and Esther, to cut down on my carbs and sugar intake along with some workouts.
During the treatment, there wasn't any discomfort. The well-maintained rooms are incredibly soothing; I felt very pampered with the dimmed lights and relaxing music playing at the back. My therapists also always make sure I drink lots of water before and after each session. Just like my friends, they already know my bad habit: I hate drinking plain water!
The numbers in measurement had gone down, and I have never seen such a quick and effective way of contouring. I have already recommended Viva Beauty Contouring & Shaping to my elder sister, and my girlfriend who is planning to get married next year. These girls have been wondering how I managed to slim down in such a short period of time!"
Shannon Low, Stay-at-Home Mum
"I was 6 months postpartum when I started the treatment. At that time I was looking to firm up the loose "pouch" from my pregnancy as well as my arms. Now, as a full-time stay-at-home mum, I find it hard to stick to a fitness plan.
It's always a pleasant experience at NuE Shape as the treatment rooms are cosy, clean and tidy. They also play soothing instrumental music to help relax the mind during the treatment. The staff are always warm and friendly, and they always ensure my comfort — even after almost a year here — during each visit. I went for about three treatments and started seeing immediate results after each session. I could see my fat mass reducing and flattened after my treatments. It also helps tone up specific stubborn areas that are difficult to do with just exercising alone.
Now, I try to go at least twice a month to maintain the results. I also enjoy the break that I get during my treatment as that's the only time I get to rest during the day. When you look good in your clothes, you feel good as well. I would highly recommend this to busy mums who don't have the time to work out and still want a toned body."
NuE Shape is located at 6A Shenton Way, #03-18 Downtown Gallery, Singapore 068815. Find out more about the NuE Shape Viva Beauty Contouring & Shaping Treatment here.