Won't you agree with me that different lip colours would tell a lot of difference to how you look? Different shades surely compliments different occasions, outfits and even fashion styles. I know many of us have our go-to lip colours because we thought those colours suit us best, but would you be as daring as me to step out of your comfort zones and try out many other shades out there?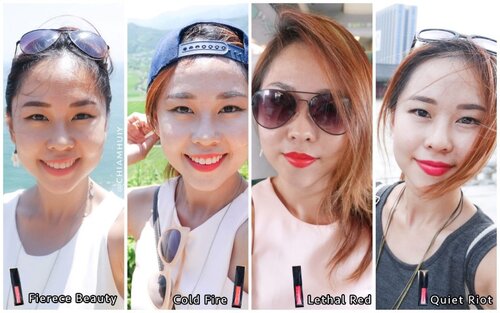 New Estée Lauder Pure Colour Envy Liquid Lip Potion swatches has 12 amazing shades in total, so I went ahead to explore four of their 12 shades to compliment my different outfits during my holiday in Korea. The four shades that I have are as pictured, #04 Fierce Beauty, #05 Cold Fire, #06 Lethal Red and #10 Quiet Riot.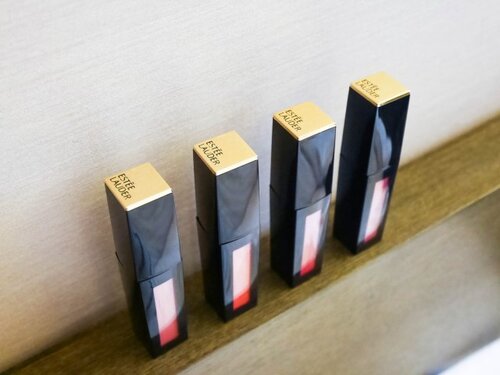 First of all, let's just say I'm in love with Estée Lauder's sleek classy design, with its signature navy and gold-tone packaging. Parts of the Pure Colour Envy Liquid Lip Potion are also transparent to reveal the true colours of the lipsticks.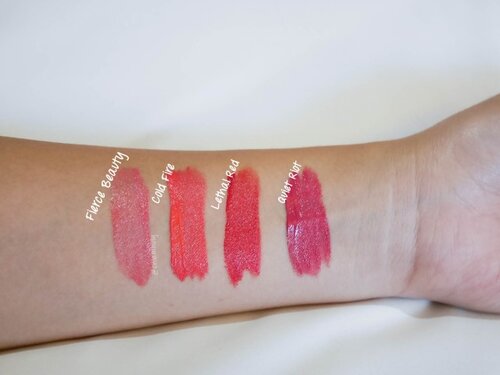 I'm absolutely amazed by how thick and creamy the lip potions turn out. All the swatches are achieved by only one swipe and the colours are definitely intense. These Pure Colour Envy Liquid Lip Potion are formulated with rich moisture and a satiny texture to give a smooth long-lasting wear for up to 8 hours. As for the reason behind such an intensive concentrated colour, it's thanks to Estée Lauder's Advanced True Vision Technology that contain structural pigments to give a rich colour effect.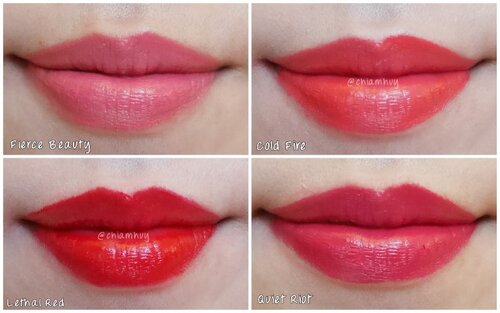 For people with dry lips, fear not because the Time Release Encapsulated Moisture Complex with Hyaluronic Acid, avocado oil, jojoba oil and sunflower oil help to seal-in and boost moisture level on the lips.
Estée Lauder Pure Colour Envy Liquid Lip Potion comes with curved tip on the applicator for a more precise application.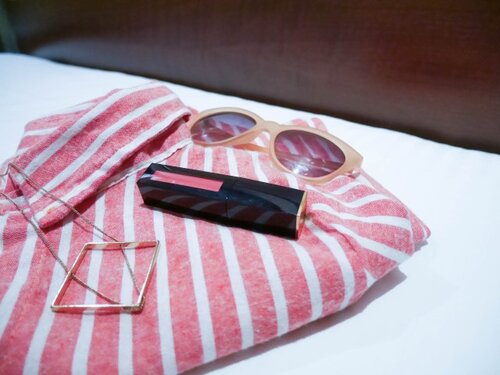 --
Starting from an everyday look, I paired my pastel red dress with Pure Colour Envy Liquid Lip Potion shade #04 Fierce Beauty. It's a muted pink which incline towards the nude but still remain pinkish.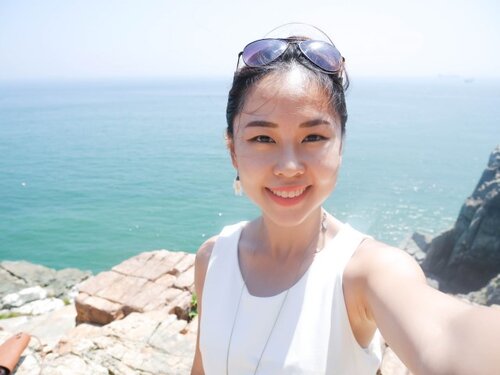 Wearing shade #04 Fierce Beauty
It's the kind of shade that adds colour to your lips but in a low-profile way without wanting too much attention on your lips. It'll be great when you have heavy makeup or accessories and the last thing you want is to have a loud lip colour clashing your outfit.
Following next is one of my favourite shade, #05 Cold Fire. It's a bright coral shade which suits tan skin the best. Since it's coral, I decided to pair with accessories that has a tinge of coral too in order to match the whole outfit with the coral lip shade.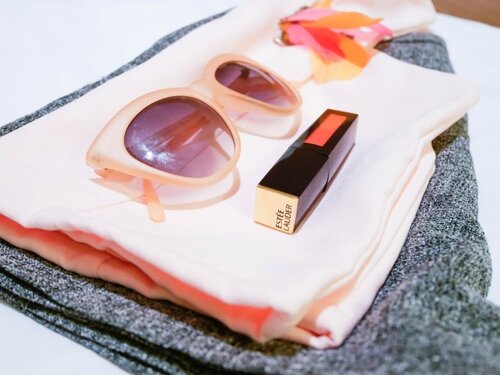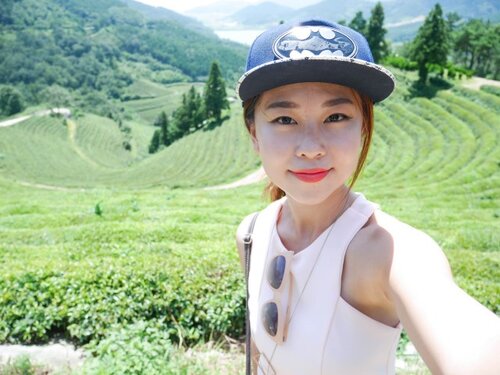 This shade definitely adds on the playfulness of my outfit!
To our good old bright red shade, we have the Lip Potion in #06 Lethal Red. As the name suggests, this shade puts all the attention to only the lips thanks to the very bold shade. Since I was in Korea where most of the girls here go for lighter shades, I stood out among the crowd very easily and I sure did enjoy the attention when people took a second look at me.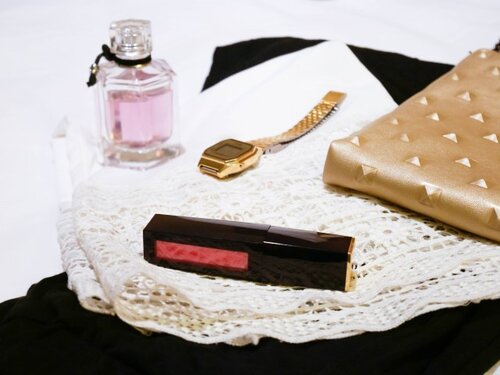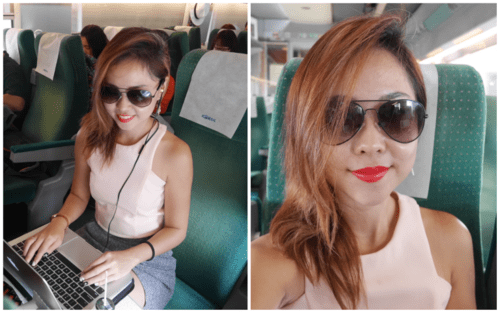 Leaving the best to the last is shade #10 Quiet Riot. It's a berry shade with a mix of dark red and pink, a blend of the best of both worlds (shades). It's something I would like to wear when I feel feminine and not keen to carry too bold a colour.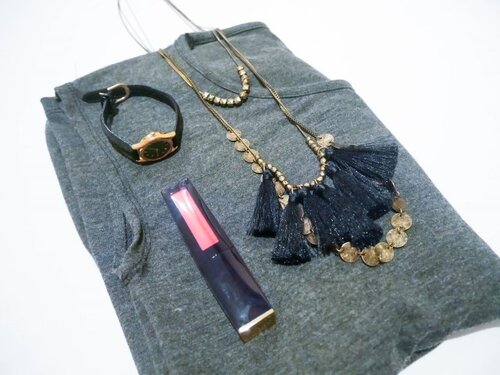 Any shade may pair well with a monochrome outfit like the one above. However, since monochromatic tones would look a little dull, a burst of berry colour would elevate the overall look and gives a pop of color to the otherwise understated palatte.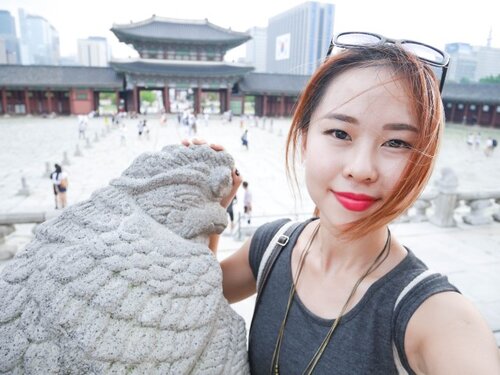 Another good idea to spice up your outfit is when you're wearing a white outfit. This shade works perfect for an all-white outfit as well! White outfits are tricky because you may easily look pale in it, so such a colour like #10 Quiet Riot serves best to elevate your look with a subtle reddish pink tone in it.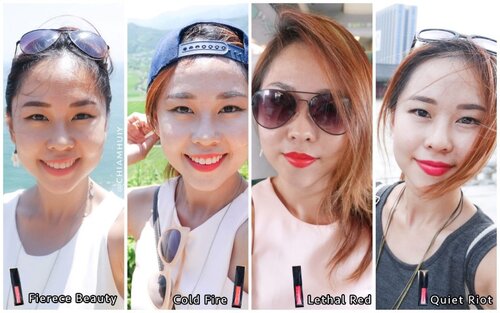 And there you have it! The four shades that transform myself to a different look each time I try out a different lip shade from the New Estée Lauder Pure Colour Envy Liquid Lip Potion collection. I would definitely recommend you to try out as many shades as you can and not restrict yourself to the few colours you are comfortable with. It may take courage to try out different colours and you may fear your peers giving you that strange look, but as soon as you convince yourself that you are game for it, your confidence itself will make any lip color work for you. Have fun experimenting new colours in your life from now onwards! *winks*
Which lipstick colour do you like? Let us know in the comments below!