It's a few days before your holiday vacation and you have no idea what to pack to create the perfect outfits for the trip this December. You have minimal space in your luggage and you're having trouble deciding which items to bring and what to leave behind.
Plus, your destination is in the middle of winter, and doesn't that require extra clothing? Luckily,
UNIQLO
has taken the stress out of winter packing with their extremely light, travel-friendly, and chic clothes and accessories that will not sacrifice your warmth, comfort, and fashion sense!
With different fabrics such as flannel and fleece, plus their innovative
Ultra Light Down
and
HEATTECH
lines, check out below how you can travel in style to destinations such as Japan, London, New York, Switzerland, and Spain with these travel-friendly OOTDs, making sure you have a warm and merry Christmas!
--------------------------
Japan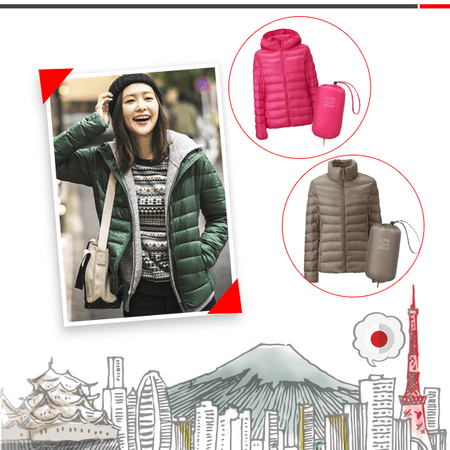 Once you land in Japan, be snow-ready with an OOTD that will keep you warm from the inside to the outside -- with
UNIQLO's Ultra Light Down
, made of warm premium down and which can be transformed into a jacket or a parka! This densely-stitched jacket makes it extra warm, without being heavy or weighing you down. This will protect you from drafts and water with its water-repellent stitching, and packs compactly into its accompanying pouch so it will barely take up any space in your bag or suitcase! Wear a thick
sweater
under it for extra warmth, a pair of stretch jeans for a comfy walk wherever you go, and a
red plaid scarf
for a pop of colour!

Whether you're going skiing or horse riding in Japan, the season of ice won't stand a chance against your hot outfit!