Is your skin feeling taut? Do you see patches of flaky skin? Do you find it getting easily irritated? Almost all women experience dry, dehydrated skin at some point in their lives, and it only gets worse in cool weather. Not only does it make the skin itchy and sensitive, it's also a cause of dullness, and accelerates skin ageing.
If you answered yes to all of the above questions, you probably have dry skin. And your lifestyle has as much of a part to play as your skincare products. Simple habits like taking hot showers, staying out in the sun too long, excessive intake of alcohol, smoking, long hours spent in heated or air conditioned environments, using the wrong cleanser and moisturiser can all lead to dry and dehydrated skin. In addition, people who have lower levels of the enzyme Caspase-14, which helps the skin produce and maintain optimal moisture levels, experience severe dry skin – not a good look, we assure you.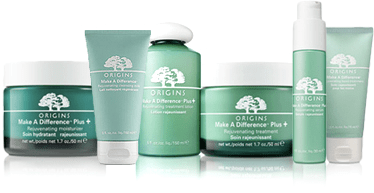 Which is why when our skin is feeling particularly stretched and flaky, we turn to the Origins Make a Difference™ Collection. According to Dr Lieve Declercq, Origins Global Scientist of Plant Physiology and Molecular Biology, "In Asian skin, the protective outermost layer of the epidermis, is thin and delicate which increases susceptibility to dehydration."
Read more about the Origins Make A Difference™ Collection here.
You may also redeem your Origins Make A Difference™ Night Overnight Hydrating Repair Cream and Serum Sample here!