When was the last time you've had eight hours of uninterrupted sleep? With our ever-changing lifestyles that seem to become busier as we grow older, sometimes greeting our bed, much less indulging in deep slumber, appears to be an elusive dream. It's unfortunate because the myth of beauty sleep isn't a myth after all. When we sleep, our body — the skin included — goes into recovery mode. Think of it as a time when all the stress of the day is washed away, making you wake up refreshed and better than ever.

Not all hope is gone, though. While we still think that getting sufficient shut-eye is ideal, we've found a way for you to get the skincare benefits of sleep even when you can't find the hours.
Origins' GinZing™
line is a skincare regimen that consists of products formulated especially to give your skin the clarity, smoothness and glow it can get from sleeping.
Stay hydrated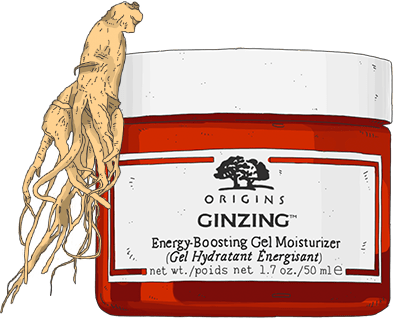 Well-hydrated skin is synonymous to healthy skin. So make sure you moisturise. But don't just moisturise, give your skin the benefits of getting recharged and revived as well. The
Origins GinZing™ Energy-Boosting Gel Moisturizer
is perfect for this. Formulated with Panax Ginseng, known for restoring vital energy in the skin, and anti-irritant Caffeine from coffee beans, this moisturiser hydrates the skin while giving it a healthy glow. It also contains olive, wheat and barley that replenishes the skin's lost moisture. It also has a reviving citrus scent from lemon oil that's known to help ward off mental fatigue.
Target those peepers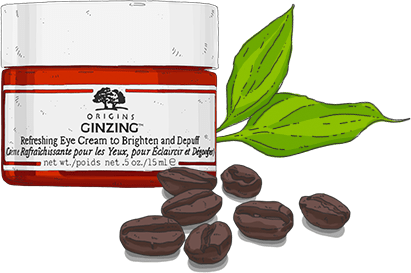 No matter if it's caused by long hours at work or late night with friends, dark circles under your eyes say "I haven't had time to sleep properly in ages." Wake your under eyes up and look awake with the help of the
Origins GinZing™ Refreshing Eye Cream
. Made with the signature blend of reviving Panax Ginseng and Caffeine, this cooling eye cream gives your skin an immediate jolt of freshness and lasting radiance. It also contains Magnolia Extract, an anti-irritant that helps reduce the appearance of dark circles; Vitamin B Complex that helps skin fight off stress; Apple Extract and Cucumber Extract that brightens the skin; Chestnut Extract that wards off dull skin cells; and Silica and Mica that illuminates the undereye area.
Give your skin a perfected finish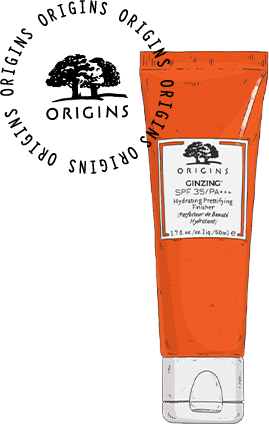 Did you know that all the care you're giving your skin can be countered by the harmful rays of the sun? This is why sun protection is a must. Cap off your morning routine with a finisher that will not only give you a glowing look but also keep the sun's rays from harming your skin. The
Origins GinZing™ SPF 35/PA+++ Hydrating Prettifying Finisher
does just that. With its unique blend of Panax Ginseng, Caffeine and antioxidant-rich Guava, this lightweight and oil-free finisher gives your skin a perfected finish. Plus, its scent that's made with a blend of Grapefruit, Lemon and Spearmint will lift up your spirits and keep you energised.
Pick a fuss-free multitasker
Getting eight hours of sleep is already hard, so why make your routine even harder? We say multi-tasking is a must. Cut your regimen a little with the help of a product that doe more than one thing at once. The
Origins GinZing™ SPF 40 Energy-Boosting Tinted Moisturizer
is a prime example of that. Formulated with the same goodness of other products in the GinZing™ line but with the added goodness of hydrating Barley, this moisturiser energises the skin and gives you a more radiant look. On top of that, it also protects your skin from the sun's harmful rays with SPF 40. Plus, it has a tint that lets your skin shine through while giving you a radiant look and eliminating dullness.
Energise your skin with Origins. Learn more about it here.