Last Friday, 30 of Singapore's most eligible bachelors gathered under one roof for the 22nd
CLEO
Most Eligible Bachelor finals party. From cheeky (or cheesy, you can decide later) pick-up lines to reenacting the Magic Mike moment, the heat was on. On top of the crowning of CLEO's Most Eligible Bachelor 2017, here are our favourite moments from the party.
Funny man Shaun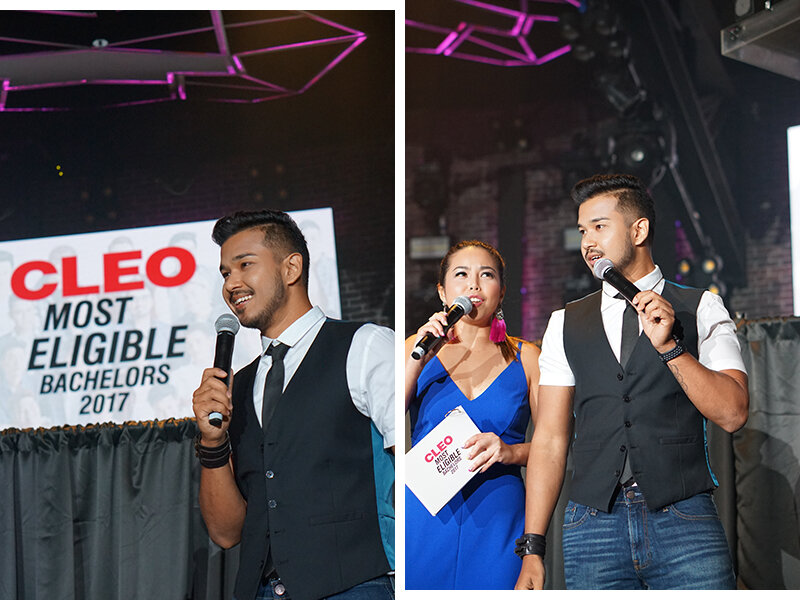 With his witty remarks and funny antics, co-host of the evening,
Shaun Tupaz
from One FM 91.3 certainly added an entertaining flavour to the evening's event. After a striptease segment by the bachelors, Shaun returned back on stage in his vest and tie — sans his white shirt — and gave a little twerking performance, drawing the crowd's laughter. It's no surprise that the radio personality dabbles in stand up comic. There was definitely good chemistry between Shaun and his co-host, Kiss 92's Charmaine, too.
Cheeky pick-up lines




"I work as a lawyer as my day job. If you'd like, you can come to my office, and we can go through all your assets." The bachelors took to the stage with a little self-intro each that struck a fine line between being cheeky and cheesy. Some were provocative. Some were funny. Some were, in all honesty, a teeny-weeny cringe-worthy. But we say, a hundred points to the bachelors for trying their best to impress!
Dance-and-pose




During the games segment, the bachelors partnered up with some lucky ladies from the crowd. The couples had to keep dancing until the music stopped, before fighting to fit their faces into a frame. The last couple standing was, without a doubt, determined to win. In exchange, the crowd was treated to a hilarious sight.
That Magic Mike moment




Needless to say, a striptease was mandatory at the annual event. The iconic Pony by Ginuwine came on. The shirts came off. The crowd went wild.
Wins of the evening




The Freshest Face award went to Leon Markcus, while Kishan. J took home the Talk of the Town award. The biggest winner of the night — CLEO's Most Eligible Bachelor 2017 — was none other than 25-year-old
Amos Ngeow
, co-founder of men's suit company, Prestige Wear. And of course, the evening ended with a champagne popping bang by the topless Ngeow. Congratulations!