Stylish, contemporary, classic -- this is how we'll describe
Laneige's
third fashion project. Started back in 2014,
Laneige Meets Fashion
is all about collaborating with a different fashion designer each year to create a limited edition collection inspired by the culmination of fashion and K-beauty. This year, Laneige collaborated with
Lucky Chouette
--the second line from
Jardin de Chouette
--to create a collection that aims to "unleash the sparkling beauty in you."
A symbol for luck, the iconic
chouettes (
which refers to owl in French) plays a big role in this collaboration. Both were specially created for this limited edition Laneige collection and has been aptly named as follows: the confident
Bella
with her kissable lips and admirable boldness; and the introverted
Vely
, with her clear and shiny eyes that can melt hearts instantly.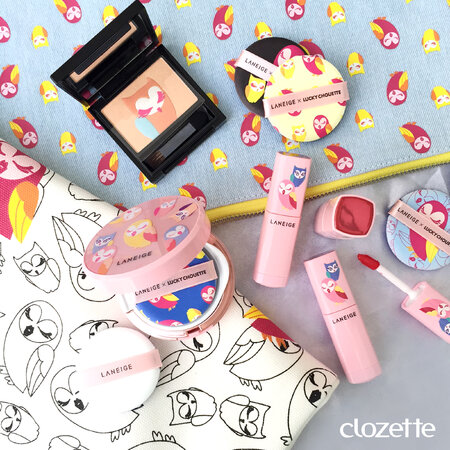 Bearing the motifs of Bella and Vely, the Laneige X Lucky Chouette collection consists of three limited edition Laneige products: the Serum Drop Tint, made with a new, oil-serum formula that provides long-lasting colour and plumping effect; the BB Cushion, formulated to have a porous and ultra-light texture, giving a smooth-looking complexion and excellent coverage; and the Multi-Colour, a face powder moulded in the design of Vely Chouette to achieve a soft highlighting effect.
With the combination of Laneige's vision for a beauty that shines and Lucky Chouette's esoteric style stance, this collaboration truly embraces the uniqueness of one's style. So whether you're like Bella or Vely, this collection is truly for you!
And as it is limited edition, make sure you get your hands on the Laneige x Lucky Chouette collection while it lasts.
--------------------------
The limited edition Laneige X Lucky Chouette collection will be available from 1 September 2016 at all LANEIGE boutiques and counters while stocks last.