With life under lockdown and glitzy social affairs being placed on hold till further notice, an increasing number of style seekers have turned to alternative #stayhome-friendly creative hobbies and pursuits to showcase their flair for art and design. We checked in with Amanda (@this.oneday) from Singapore, Jye Miin (@pleigraund) from Malaysia and Sheila (@sheiladytiu) from the Philippines to learn more.
Strokes of serenity: Abstract art
"The pandemic has gifted me more time for introspection and opportunities to start creating again. It felt almost instinctive to pick up painting again," revealed content creator and social media marketing specialist Amanda Olivia, who started her art project called "This One Day" during Singapore's circuit breaker last year.
She describes her personal style as "minimalistic, chic and elegant." A quick glance at Amanda's portfolio of paintings on @this.oneday will show how her artistic endeavour further reflects her affinity with colours and textures that evoke a sense of calmness. "I love being able to be present with my thoughts while painting," she explained.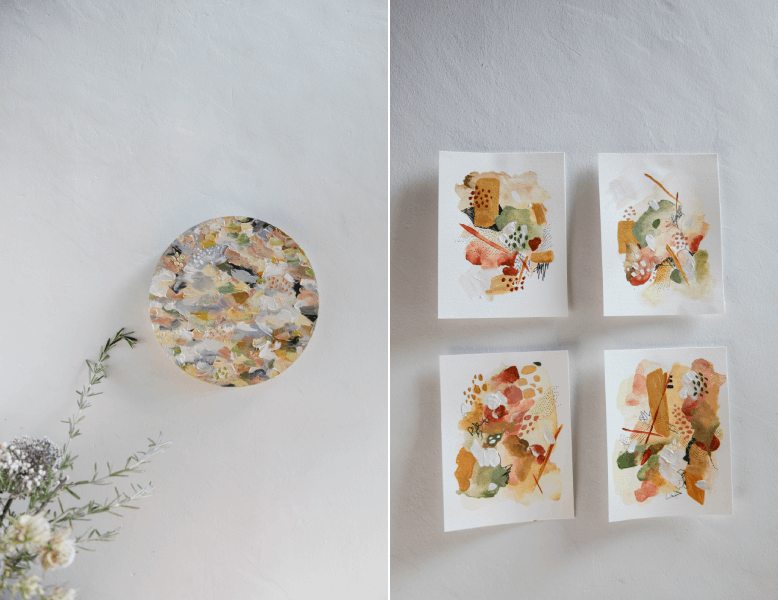 Although Amanda founded This One Day not too long ago, her love for abstract art traces back to her university days. She tells us that she had studied fine arts then and was "lucky" to have been surrounded by peers and lecturers who have "inspired" her to grow in her personal style. "We also cross-shared knowledge about painting techniques, which opened up my perspectives on art. This carried through with me after graduating and into adulthood," she added.
With This One Day, Amanda shares that she has received overwhelming support from her friends, family and followers, who've commissioned her to create artworks for various settings — such as for the home and for private practices. Her paintings are also available for sale on Etsy.
Looking ahead, Amanda hopes to be able to share her knowledge of abstract art with the community, such as hosting painting workshops after pandemic restrictions have been lifted. In addition, she also wishes to expand her creative work beyond the canvas. "I would like [for my work] to be more relevant to people's daily lives, such as having my art printed on garments or other merchandise," she shared.
Blue's hues: Indigo dyeing
"While you have restrictions and limitations, that's where creativity kicks in. It's all about praising the hard work, the persistence and the creativity that goes into achieving something, more than the achievement itself," mused Jye Miin, who officially introduced @pleigraund, her line of hand-dyed natural indigo pieces earlier this year.
Jye Miin's first encounter with indigo dyed products was at the young age of 15. More than a decade later, she decided to rekindle her interest in it by attending an indigo dyeing workshop with a friend and eventually turned her passion into a small, ethical business. "The alchemy of working the dye with my hands made me feel incredible. My experiences — such as with nature, relationships and all aspects — led me to fall in love with the traditional process [of indigo dyeing] and the brilliant blue it produces," explained Jye Miin.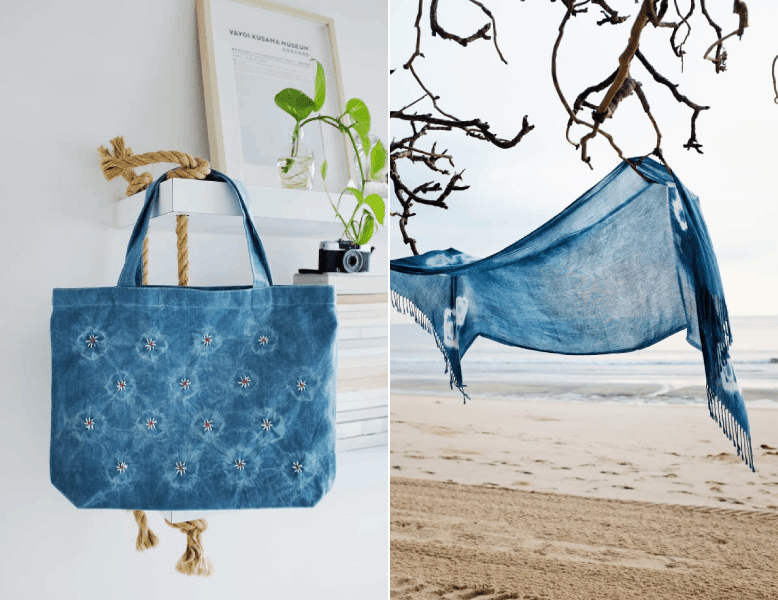 In terms of her sartorial choices, Jye Miin does not see herself as a fashion trend seeker. Rather, she prefers to invest in pieces that are comfortable, simple, sophisticated and kind to the environment. "White tee and denim jeans are always my default go-to," she added, which signals her unpretentious yet covetable sense of style.
Similarly, the pieces that she's personally produced for pleigraund aim to make a subtle yet impactful statement too, by raising awareness on the traditional process of ancient indigo dyeing while educating others to practise ethical consumerism.
With pleigraund, Jye Miin also sees it as a reminder for herself and others to live in the present and find joy in the journey. "[Indigo hand-dyeing] has taught me that it's not the end of the world if you make a mistake; you can always try again. The attention and the time spent on hand-dye is all about the act of creation, the journey, the discovery and love for the self. It's about telling myself to enjoy the blue pleasure coming from mother nature," she concluded.
Visual feast: Tablescaping
As the expression goes, "We eat with our eyes first." Most of us are familiar with snapping photos of our coffee runs or taking flatlays of our weekend brunch. However, stylish parenting blogger and mum of one Sheila Dy-Tiu is all about elevating her gastronomical experiences with tablescaping — a hobby and skill that she picked up in 2019. Tablescaping is the arrangement of items on a table that produces an attractive and decorative effect.

"Ever since the pandemic started, my husband and I were never really comfortable with dining out. As such, I decided to practise tablescaping as a form of 'therapy' to make our meals at home feel extra special," revealed Sheila. The results of her creative pursuit look nothing short of wonderful — and appetising — for her family and followers: Think vibrant colourways, fresh floral bouquets and a smorgasbord of hearty dishes beckoning you at every meal.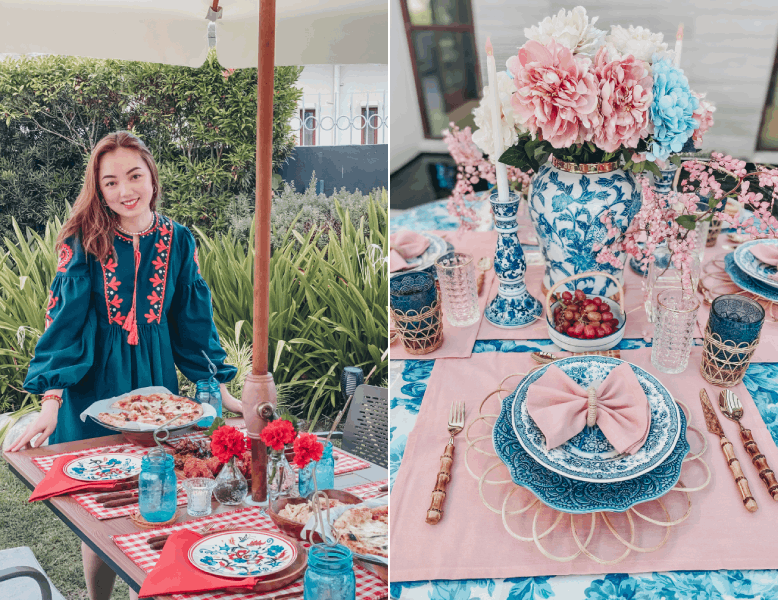 "[Tablescaping] complements my passion for fashion in a lot of ways. For example, whenever I plan for my next tablescaping project, I think about how my outfit will go with the theme as well," shared Sheila, who describes her personal style as "polished yet comfortable."
More than just a therapeutic, creative outlet for her to channel her time and energy into, Sheila revealed that tablescaping has also opened up opportunities for her to work with like-minded brands. "I've been contacted by some of my local favourite brands and shops for collaborations, so I've been featuring them on my tablescapes. The ideas are endless," she explained.
In the near future, Sheila dreams of designing her own line of dinnerware. Until then, she intends to collect more plates and create more themed tablescapes. "I just love the sound of the plates 'clinking.' Dressing up the table is just as fun as dressing up with clothes!" enthused Sheila.
What's one creative hobby that you've picked up this year?
(Cover photos from: @pleigraund)
Click here as we take a look at accessible fashion in Southeast Asia.