Everyone loves a fresh makeover — not just for people, but also for the iconic heritage brands that we've come to adore. Pandora's new, dazzling look is no exception. This month, the Danish jewellery company unveiled its rebranding to put a focus on upbeat visuals and give its stores a fresh, modern spin.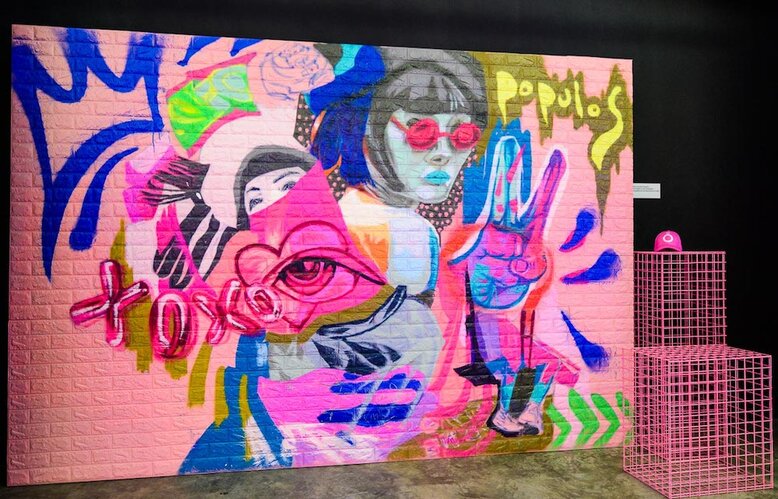 Grafitti wall at the Singapore launch
Their new signature colour? A pink shade that's as bright as the future. Even their logo has transformed to reflect the brand's milestone. The soft, uppercase logo is replaced by a sleek, minimalist word mark, retaining its black colour with bold, symmetrical sans-serif letters. It's the first redesign since its launch almost four decades ago.
To celebrate its new look, Pandora introduces the new Pandora O Pendant, which is now the standalone emblem of the brand, in its Autumn 2019 collection.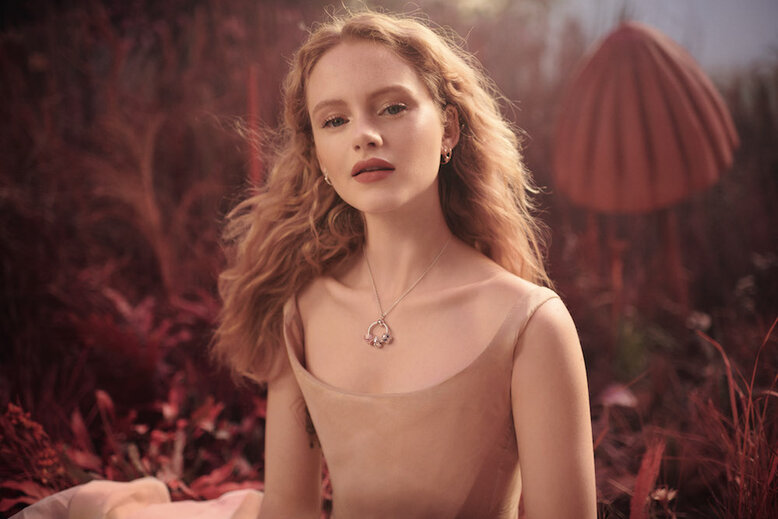 Model wearing the new Pandora O Pendant
Even before the official launch of its rebranding, Pandora has been going through some significant breakthroughs already. Most recently is the collaboration with Stranger Things star Millie Bobby Brown, which will be released next month. The actress will also be heading "Pandora Me". This is the first official global campaign that celebrates self-expression and the "true identity of yourself." Pieces in the collection include a customisable safety brooch and unique charms crafted from sustainable sterling silver.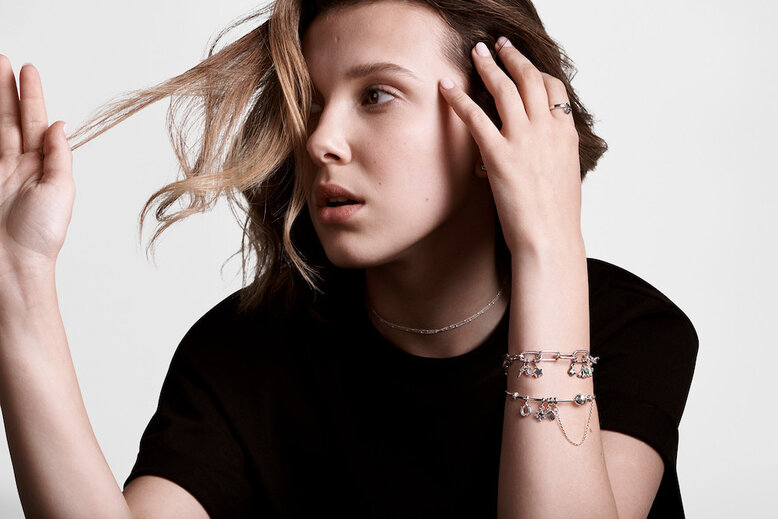 And who could forget about Pandora Muses? Last August, the brand partnered with actress Larsen Thompson; artist Tasya van Ree; director, writer and consultant Margaret Zhang; models Halima Aden and Georgia May Jagger; and actress Nathalie Emmanuel to serve as ambassadors for the refreshed jewellery label.
"Our Pandora Muses represent the duality and diversity within and between every woman, as well as the values Pandora stands for: they're diverse, approachable, inclusive, expressive stylish, socially and environmentally responsible and, above all else, true to themselves. We're extremely proud to work with this community-building tribe of inspirational women," says Vita Clausen, Global PR Director at Pandora.

With this sparkling new look combined with exciting collections like the upcoming Harry Potter collection, Pandora hopes to hold its prime position and establish rapport with the new modern audience for years to come.