In the fast-paced world we live in, we hustle to get from one meeting to another, ticking off one task after another in a cyclical pattern. When convenience is key, it's not a surprise that there are alternatives to traditional makeup. Ditching the blending brush and mascara wand seems so attractive when you're always on-the-go. Today, we explore the realm of permanent makeup, its pros and cons, and the places in Southeast Asia where you can go to for it.
A brief history
Permanent cosmetics have been present in society for thousands of years. From the crude stones and pigments used to etch images onto skin, makeup always had an essence of permanence to it. We could even argue that permanent makeup was the norm before "traditional" makeup, as we know it, started gained prominence.
Permanent makeup creates the effect of natural readiness. It allows you to achieve the look of effortless beauty without the usual hours it takes with the usual cosmetic products. You can have your eyebrows, eyeliner, and lips tattooed for a permanent tint, allowing you to say, "I woke up like this!" and mean it.
The pros
As with everything, there are both benefits and downsides to getting a permanent makeup procedure. One benefit has been said since the very beginning — convenience. Who wouldn't want to wake up with a ready-made makeup look? This leaves you time to do other tasks, essentially "freeing up" your day. The fact that the colour won't fade, smudge, or flake over the course of the day is another reason why women would opt for permanent makeup.
Professionals who offer permanent makeup procedures emphasise that these are only made to enhance your natural features. Lip blushing tattoos and eyeliner tattoos are there to provide a flush of colour and enhance the contour of your lips and eyes. Eyebrow tattoos should follow the natural shape of your brows, complementing the shape of your face.
A permanent makeup procedure can be a godsend to someone who suffers from allergies triggered by cosmetic ingredients. Professionals who offer permanent makeup services also claim that it's perfect for people who have sustained burns, scars, or vitiligo. Overall, it's made to make one feel confident and beautiful in their own skin — which is what the beauty industry strives for.
The cons
However, there are also downsides to getting a permanent makeup procedure. Despite the convenience, you'll be stuck with that "one look" for a very long time. Even semi-permanent procedures like microblading and eyebrow embroidery can last up to several weeks before it starts to fade. If you're the kind who likes to switch things up every so often, you might have a hard time to commit.
Another issue that may concern you is the recovery process. All permanent procedures will leave your skin red or scabbed over. This usually lasts for a few days up to two weeks, depending on the kind of permanent makeup you opted for. The tenderness, flaking skin, and aftercare require your time and attention before you get to truly enjoy the results of the procedure.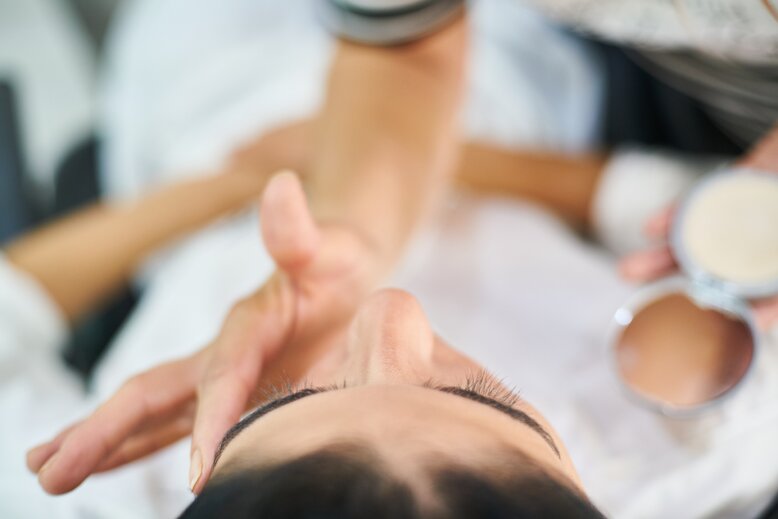 One of the biggest cons to permanent makeup is that it's difficult to correct once done. There have been a lot of horror stories of wonky eyebrow tattoos on the internet. Correcting a botched procedure requires more professional help and more fees. It also requires a certain period before any adjustments or removals can be made.
Lastly, permanent cosmetic tattoos can fade and change colours over time. Like body tattoos, the ink will oxidise and turn into a bluish-green hue eventually.
To avoid any regrets, the key is to have an in-depth pre-treatment consultation with the professional. Ask all the necessary questions about the procedure beforehand. When it comes to sculpting the brows, really double down on the shape and shade you want to have. Listen to the aftercare instructions and follow it closely to get the look you want.