Ready to say Fri-yay? We are! If you are too, we're helping you cruise into the weekend with the help of these uplifting beauty, fashion, and entertainment news. From Pomelo Fashion's new Harry Potter collection to the new feature on the My Home Credit Philippines app, these news bites will bring a smile to your face. Read on to know more.
Pomelo launches Harry Potter-inspired collection
Accio fashion! Pomelo Fashion is set to come out with a Harry Potter clothing collection on 12 November. The collection will consist of t-shirts, sleeveless tops and a pair of lounge shorts made from 100% sustainable cotton as well as a matching pendant necklace that feature popular details from the franchise. You can shop it in Singapore on the Pomelo App, website, and in-stores.
KAWS x sacai Nike Blazer Low rumoured to come in new colourway
Rumoured to be part of the KAWS x sacai Fall/Winter 2021 "Wearable Art" collection, a new colourway of the KAWS x sacai Nike Blazer Low sneakers has popped up on Instagram. It features violet, purple, and light blue hues designed by sacai creative director Chitose Abe. Other significant details include "layered shoelaces, tongues, eyestays and midfoot Swooshes," according to Hypebeast. We'll have to wait a little longer for news on the collection's official release date, though, so patience is key if you're eyeing these new kicks.
BTS and Megan Thee Stallion to perform at the AMAs
The Grammy-nominated K-pop group will be performing their song Butter to a live audience for the first time at the 2021 American Music Awards. The performance will also feature rapper Megan Thee Stallion, who the group collaborated with to create a remix of the hit single. BTS is nominated for three awards, namely Artist of the Year, Favourite Pop Duo or Group, and Favourite Pop Song for Butter. Other confirmed performers for the awards ceremony are Olivia Rodrigo and Bad Bunny. Meanwhile, Cardi B is making her hosting debut. The 2021 American Music Awards will be streamed from Los Angeles on 21 November at 8PM ET. Watch this space for updates on how to stream it in our region!
Colourpop x The Mandalorian gets a full collection
If you're a fan of Colourpop's Baby Yoda palette, you might want to check out the brand's new Star Wars-inspired beauty collection. Called The Mandalorian and Colourpop Makeup Collection, it features an eyeshadow palette, a lip oil duo, a hand mirror, and a cosmetics bag featuring a cute illustration of Baby Yoda. The entire collection is now available for USD77 at the Colourpop Cosmetics website.
Fenty Beauty becomes the official beauty partner for Riot Games
Following the release of Riot Games' Arcane Netflix series last 6 November, the gaming company (which made icons such as League of Legends) announced that they're partnering with Rihanna's Fenty Beauty brand — the first beauty partnership for the company. Fenty Beauty will "curate beauty looks across Riot Games and content, aiming to highlight the multifaceted and diverse beauty landscape that celebrates beauty in all of its forms — including animation," Riot Games said in a press release. It's more than likely that some virtual "skins" for the company's games will make an appearance in the coming months. Perhaps some League of Legends-inspired beauty collections? We can't wait to find out.
HERA launches the Black Cushion Couture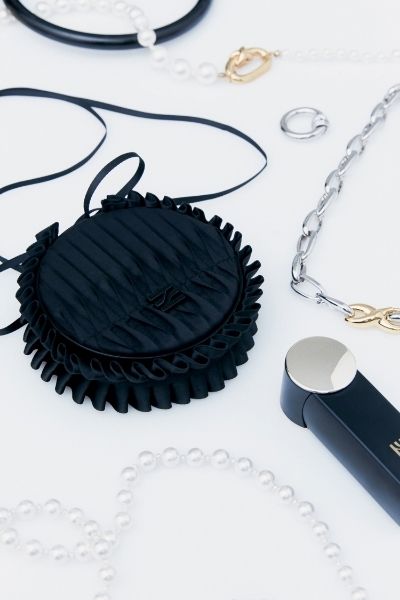 For those who have fallen in love with HERA's bestselling cushion foundation, you'll be delighted to know that the brand has released its couture version this week. The luxury K-beauty brand partnered with JayBaek Couture, one of Korea's premier couture brands, for the limited-edition product. The cushion's packaging will feature the designer's signature pleats and will come with a detachable, pleated bracelet. This allows you to turn the cushion foundation into a fashion accessory like a bracelet, necklace, or hair accessory. It is now available in Singapore at the HERA ION boutique, heraonline.com.sg and the HERA official store on Lazada.
Filipinos can pay their utility bills through the My Home Credit app
Convenience is the name of the game these days. Paying bills online instead of lining up at a payment centre? Sign us up! Luckily for Qwarta and Home Credit Card users in the Philippines, this is something you can easily and safely do by using the My Home Credit mobile app. An even better news? You don't have to pay any additional fees! Users can also enjoy real-time posting for their MERALCO bills, so you can have the peace of mind that your monthly duties are taken care of the moment you click the button on the app. You can download the app on the Google Play Store.