Rise and shine! Literally.

As important as day care regime is to kickstart the day, a rigorous night regime is equally important to me. Due to the nature of my jet-setting lifestyle, i feel my skin is more prone to being dry, thus moisturising has become a religiously rigorous part of my daily routine. As my biological clock ticks, I catch myself faithfully layering my night moisturisers like a dedicated craftsman spreading a new layer plaster of paris.
For me, a relaxing environment is a must. A freshly scented room, is an inviting haven and creates the perfect setting for my bedtime routine. Fresh bed linens and fluffy pillows are always a welcome invitation to relaxation and rejuvenation. I also have a habit of taking a quick cool shower to unwind before i start to prep my skin for the night's rest.
Skin rejuvenates itself as you sleep through the night. Therefore, it is vital that you pamper your skin with a treatment dedicated to deeply moisturise and hydrate as you allow your skin to repair itself from dusk to dawn. Probably the best treat you can give yourself after a hard day's work!
Elated to add these indulgences to my strict daily moisturising regime. I find myself falling in love with the light scent of the treatment series.
These are my new nourishing babies added to my day regime for a touch of glow.
The radiant dual-phase emulsion, from Estée Lauder, proved to be more than just a treatment lotion. I love that it delivers light hydration and adds a touch of radiance to my skin. No matter your age or your skin type, you will find yourself gleefully basking in this freshly scented emulsion that refreshes and moisturises your face all at once.
Frankly, I have lost count on the number of moisturisers i have bought over the years - both for day and night time use. I think of moisturisers as a coat. They help form a fine protective layer between the skin and the environmental conditions our skin is exposed to. Found myself grinning as I observe how quickly the moisture cream absorbs into my skin, leaving it richly almost velvety and protected, while giving a nourished after-feel. Definitely a pleasant morning's treat to kick start a day.
At night, I also find myself falling in love with this powerful, nutritious and lightweight magic potion. This highly concentrated intensive detox treatment works well with skin's natural renewal skin cycle as we sleep. Such a sweet treat to know that our skin is continually renewed even as we rest in our slumberland.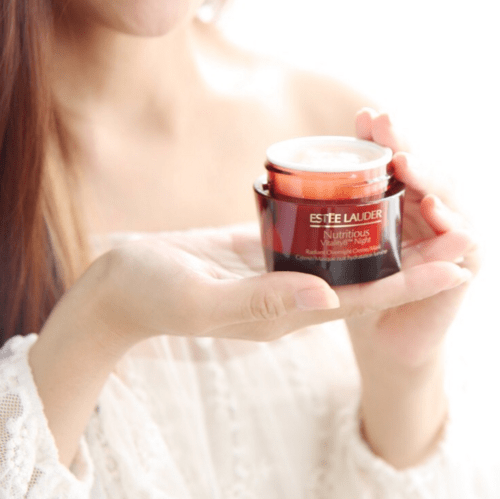 I have always been a huge fan of rich overnight creams which are a big help to my dry skin. This has got be to one of my personal fave from this series as i slap it on religiously every Sunday, to give my skin a nourishing treat every start of the week. I like that i can leave the rich texture of this overnight cream to work it's magic through the night as i rest my head on my scented fluffy pillow.
All in all, this routine makes for one of my cherished weekly self-pampering treat. I get to simply rest, relax and sleep soundly through the night knowing that this nourishing cream is building the vital moisture and charging up my skin for the next morning. My reward? Waking to a soft, dewy, and glowing skin that feels well nourished and deeply hydrated to face the week's new challenges.
Invest wisely and get richly nourished as you snooze.

A quick tip: A hot steamy face wash loosens any traces of makeup.

Pampering your skin when your pores are still enlarged, helps seal any form of treatment applied onto your skin. Don't forget to moisturise your body, hands and feet generously. Discipline is indeed the bridge between goals and accomplishments. Your glowing skin will soon thank you for the nightly treats.
True and lasting beauty is not just how you nurture your heart and soul. It also shines through your face. So, nurture your skin nightly. Awake confident that your inner beauty will be reflected in the radiance of your face.
So make this your nightly mantra: Sleep pretty and wake up pretty to face a glorious new day!
Have more tips to share? Let us know in the comments below!