This July, we're sharing stories of the friendships and sisterhoods behind businesses. These are the journey of people whose friendships have flourished into partnerships. They share the perks and perils of running a business venture with your closest friends.
Eunyce and Joanna's friendship (and partnership) is one of the living proofs that differences can be an advantage rather than a hindrance. Read on as they share the unconventional story of how they built their clothing brand, Love And Bravery.
The Artist And The Muse
Eunyce Yap and Joanna Lam
Their unconventional story had a typical beginning, they were childhood friends who met through their parents who were also friends with each other. They've been family friends and church mates for about 20 years now, which Eunyce remarked, as more than half their lives.
Love and Bravery started out as a small venture by Eunyce, where she sold jewellery on online platforms like Yahoo and Etsy. After a while, she started to venture into female apparel and recruited Joanna as her model.
"Her business grew and she asked me to work with her. But being two years younger, I was having the time of my life enjoying while studying part-time; I was not ready to 'start work' and was happy receiving free clothes in return for modelling," Joanna shares. But after awhile, Joanna eventually joined Eunyce and officially became a partner in the business.

A Fresh Start



IXORA Dropwaist Dress in lovely pastel blue
Their differences became apparent when Joanna started helping with business operations. Joanna says, "It was challenging for the both of us when I officially joined as her partner. Eunyce has been in it since Day 1, juggling everything on her own while I was just the 'model'. We were both focused on different areas. Eunyce would prioritise on business growth while I would prioritise on learning and 'getting used to things'."
While they had their happy moments, it was undeniable for both that they were struggling as partners. And so, Joanna quit Love and Bravery to pursue a career in business operations for a private hospital.
While they were apart, they learned other skills and gained experiences as individuals. And after two years, they decided to give their partnership another try. It was like a plot borrowed from an old movie about estranged lovers reuniting once again but this time, it's about friends. Usually, when something doesn't work the first time around, people give up, but not these two.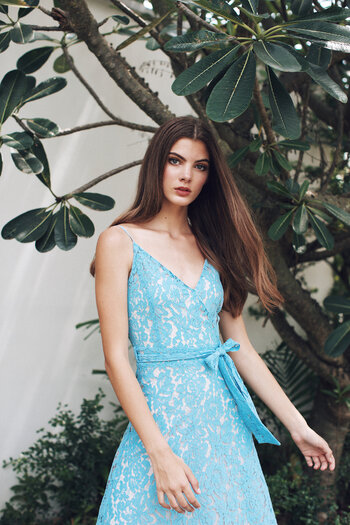 LIV Lace Midi Dress
Joanna shares, "Eunyce asked if we could give our partnership another shot and we decided to take the leap of faith, but this time around, setting goals for the business together and keeping them in mind. Challenges are ever present especially as the business grows, but we turned our differences into strengths and found out that these differences are complementary. We see things in a different light and this has been an advantage to our business strategies, process improvement and time management."
An Inspiration To Others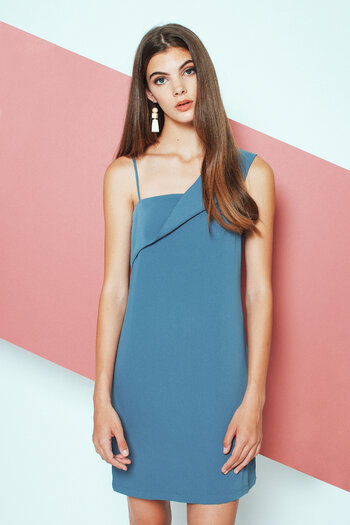 LILA Drape Dress
Eunyce and Joanna share what they learned when it comes to building a brand, saying, "Be intentional about creating a business that makes a difference; it has more longevity than chasing numbers. As a brand, Love & Bravery strives to create quality apparel at affordable price points for our customers. Our focus is on quality so that our customers can be well-dressed in a well-cut piece. That is how we'd like to make a difference in our customers' lives. As a company, we've been exploring meaningful projects that we can do for the community. When you talk about business expansion, some people strive to move into a big office or open two stores within a year, but we want to make it meaningful as we grow. Sometimes we can all get caught up in the daily grind, so it's important to find joy and meaning in work. We're in talks to embark on our first community project, a vocational tie-up with a special needs school."
Clozette Must-Haves



Off-Duty Tropical Ensemble


When asked what their Clozette must-haves are, they shared some of their favourite pieces from their brand. They're pieces that other busy girls like them would love. First is a pair of well-cut high-waisted pants to match these season's crop tops or white shirts for work. Their pick? The best-selling SILJA PANTS, which is a structured pair of pants with stretch, creating the perfect fit. Second, a dressy skirt like the Eva Crochet Skirt, which features a lace hem that amps up your evening look. Third, the LIV Lace Midi Dress for occasions that call for a casual chic attire. Fourth, a blazer, of course. And lastly, a statement necklace that adds character to any outfit.
(Cover photo from: @loveandbravery)
Get to know the friendship behind the stylish Queen's Hostel, too!