We all want to look, feel and smell fresh. But in our tropical climate, it can sometimes be a feat. With heat and humidity cramping our style — and literally making us sweat — staying cool and fresh, especially under the arms, can be quite the challenge. So a deodorant that can ensure we're smelling our best and more is what we need to look for. Here are five criteria we make sure to seek when it comes to deodorant.
Effectively deodorises
Some deodorants only mask the odour with fragrance. We need something that actually removes or neutralises the odour. The
QB Medicated Deodorant
nips odour in the bud with the help of two active ingredients — O-Cymen-5Ol and Zinc Acid — that sterilise bacteria and reduces the sweat the underarms produce by tightening the sweat glands respectively.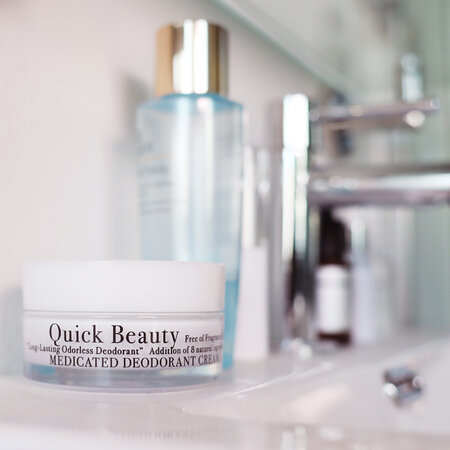 With the help of eight natural plant extracts — rosa multiflora fruit extract, witch hazel leaf extract, hop extract, lavender flower extract, great burnet root extract, tea plant extract, Satsuma Mandarin peel extract and Chinese skullcap root extract — it also moisturises the skin on the underarms.
Has clean ingredients
We're always cautious about what we put on the skin on our face. We say do the same when you think of what deodorant to pick! The QB Medicated Deodorant doesn't contain aluminum, fragrances, colourants and parabens — so you're sure that it's gentle for your skin.
Is non-sticky
Deodorant wearers know that texture is also important. Some take a while to dry; others leave a slimy feeling on the skin. Either can definitely bring discomfort, which is not something you're looking for when you want to feel fresh. So make sure you opt for something that has a non-sticky texture.
Easy to apply
Many of us may have gotten used to re-applying deodorant when necessary. But let's face it: not everyone has the time to do so, especially in our fast-paced lives. So a deodorant that doesn't require re-application is definitely a plus in our book. With the QB Medicated Deodorant, you can apply it one time and the effect will last for seven days. Talk about time- and effort-saving!
Doesn't stain
Have you ever had to say goodbye to a favourite shirt because it got stained by your deodorant? So make sure you choose a deodorant that meshes well with your body's chemistry and doesn't leave you with white (or any colour) stains.
The QB Medicated Deodorant is available in all SaSa Malaysia outlets.