Ah, fashion! Just when you think you've seen the most brow-raising pieces out there, it gets even more bizarre (not that we're complaining). Just recently, Alexander Wang's luxury lunch bag clutch trended like crazy on the internet for its, well, very familiar design. Banking on nostalgic recess memories from when we were still in school, the brand's take on the brown lunch bag is anything but cheap and flimsy and makes do without the grease from all the sandwich stains (it's made from satin and polyester and is really not meant for your midday snacks, in case you're curious). Currently in the market for USD295, of course, it inspired both a fair share of amused patrons and some heavy detractors.
Now, we've seen this coming a mile away. As with every 'quirky' designer item release comes a lot of people who don't get amused by it at all. But in this instance, it's not exactly the design that people are getting annoyed by — it's the idea of it allegedly being yet another fashion copycat case. Many people pointed out the similarities of this Alexander Wang clutch to a USD630 Jil Sander menswear piece released in 2012. The latter also had a coated-paper version sold at USD290 (photo below), which became the epitome of owning 'designer extra' pieces during that time. Neither party has reacted to the issue, but until now, people are still pointing out this coincidence in the AW comments section.
Drama-aside, this isn't the only designer item out there that truly sparked our interest and amusement. After all, the fashion industry just never seems to run out of bougie novelty. So whether you're one to make the purchase or are simply here to get amused in the oddity of it all, we're lining up more quirky designer items to feed your fancy below.
Moschino dry cleaning bag dress
We all know that plastic/PVC-panelled clothing has always been in circulation ever since the futurama obsession of the '70s. But Moschino definitely upped the ante in 2017 when they released this dry cleaning bag dress that was seemingly meant to protect your clothes while you're wearing them. The brand is well-known for its eccentric aesthetic, sure (especially during Jeremy Scott's creative direction at the time), but this one really hit the home run when it came to weirdness. P.S. The USD735 price tag still doesn't cover a garment to wear under the plastic piece.
Everything in the Tiffany & Co. Everyday Objects line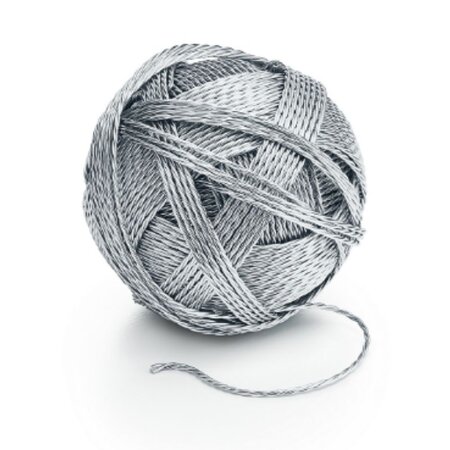 Love knitting? Or probably want to give your cat the best bougie life he/she can live? Either way, this USD9,270 sterling silver ball of yarn from Tiffany & Co. may just be the thing for you (or your feline companion). Now, before you think this is an April Fools joke that's way too advanced, let us tell you, we ain't kidding. Since the release of T&C's Everyday Objects line in 2017, it never ceases to amaze with its selection of interesting homeware, from USD310 yo-yos, USD550 pillboxes, and even a USD275,000 greenhouse. And yes, some of them even sell out once in a while.
Maison Margiela's distressed sneakers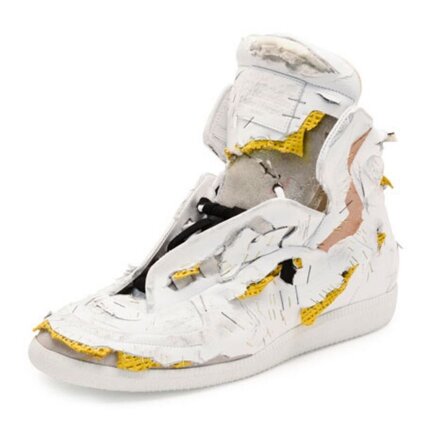 The resurgence of '90s grunge definitely brought distressed everything back into the fashion radar. But it seems like Maison Margiela decided to take it one step further back in 2017 with this Future Destroyed High Top Sneakers. The shoes looked practically destroyed, but it didn't stop it from being sold out despite the USD1,425 price tag. Talk about a dystopian aesthetic!
Hérmes wrapping paper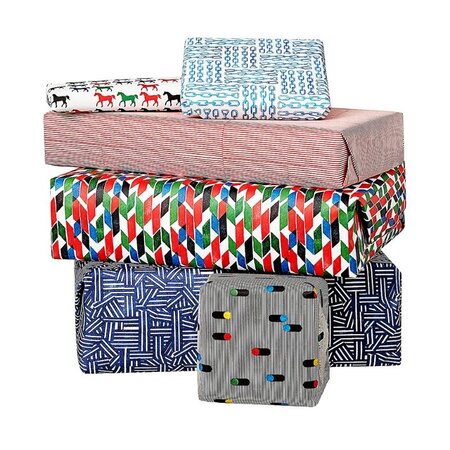 With the holidays coming up, why wrap your presents with normal wrapping paper when you can use these ones from Hérmes instead? Going for USD190 for 12 sheets in six different designs, how about that for going the extra mile when it comes to gift-giving? We're kidding, of course, but you do you.
(Cover photo from: alexanderwangny)
Next, if you're looking for quirky picks in beauty, what do you say to cork for skincare?