Following their rainbow-themed capsule releases last year, Rainbow Mickey is back again with a bigger array of products for their Rainbow Disney Collection 2019. We're talking plushies, wearables, and even the iconic Mickey ears headband dressed in rainbow colours, that can be enjoyed by both the LGBTQ+ community and allies alike. It's worth noting that 10 per cent of the total sales sold the entire month of June will be donated to GLSEN, an organisation championing LGBTQ+ rights and programs in an academic setting. Pretty awesome, don't you think?

But we get you! Disney + rainbows + many items to choose from = one overwhelmed shopper. So to make it easier for you, we narrowed down the best picks from Disney's latest Rainbow Collection that's totally sending us #PRIDE vibes.


Rainbow Disney Collection Minnie Mouse Ear Headband


Of course, let's start with the staple. If you're going in for some Disney merch, it's no secret that the headbands are the first ones to get your hands on. We had a bit of a hard time choosing between this, the Rainbow Mickey version or the Minnie Mouse Rainbow Ribbon version, but we figured that nothing beats going all out with the colours and the shine.
Rainbow Disney Collection Mickey Mouse Heart Bangle by Alex and Ani


For the fashionistas out there who want a subtle accessory that still makes a statement, this pick just spells perfection. Elevated with an enamel charm featuring Mickey's gloved hands forming a rainbow heart, it's also decorated with tags labelled 'infused with positive energy' and 'recycle' that delivers good vibes all over. Plus, it's designed to be adjustable for the perfect fit, making it a great gifting option. You can also get the silver option with a Rainbow Mickey charm if that suits your fancy more. Or better yet... just grab both!


Rainbow Disney Collection Mickey Mouse Ringer T-Shirt for Adults - Disneyland


Souvenir tees are the heart of every amusement park visit so it's no surprise that this collection includes one as well. This pick is serving us looks with a retro-style neck and cuff ribbing, combined with the modern appeal of screen-art Mickey dressed in rainbow colours. Whether you're Disneybound or not, this is a wardrobe piece that's just destined to be a favourite.
Rainbow Disney Collection Mickey Mouse Travel Tumbler with Straw


Bringing your own straws and tumblers when travelling is becoming a major thing right now because of many 'Save The Earth' movements. And one way to encourage people to follow the trend is through this gorgeous double-wall glittered tumbler. Featuring Mickey-heart-hands on one side and a 'Believe In Love' message on the other, talk about spreading the message of both #LoveIsLove and #LetsGoGreen in style.
Rainbow Disney Collection Mickey Mouse Earrings by CRISLU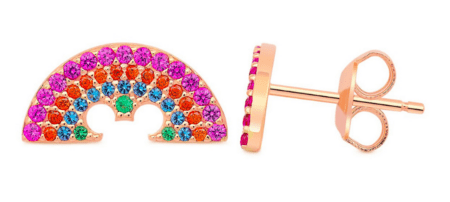 Looking to wear your support for pride on the daily or even at the most elegant of affairs? This collection has something for you, too. Set in .925 sterling silver and an 18-carat rose gold finish, this pair features a cubic zirconia crescent embellished with a Mickey-ears cutout. Subtle, stunning, and oozing with both pride and Disney-lovin', this piece also has a lifetime warranty to ensure that it will last as long as Disney's timeless legacy.
(Cover photo from: shopdisney.com)
Complete your Disney-fied style with these beauty looks inspired by your fave Disney princesses.