Our skin gets more and more dull each day when we get exposed to dirt, pollution, and other harmful substances from our environment. Not to mention other factors like stress and lack of sleep that could also significantly contribute to our skin's lacklustre appearance.
That's why we're thrilled to find out about the newest addition to
Atorrege AD+
skincare range--
Atorrege AD+'s Brightening Essence
-- a high performance skincare product from Japan that corrects modern skin troubles and strengthens skin against environmental damage.
The
C5 essence
, which contains a unique combination of
Vitamin C
,
hamamelis
,
soya
, and
chamomile extracts
, is suitable for all skin types - from sensitive skin to oily and acne-prone skin.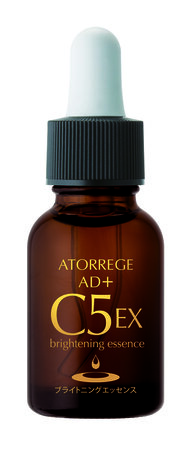 It deeply penetrates and rejuvenates the skin, resulting to brighter and smoother skin with continuous use. Other benefits include anti-ageing, moisture retention, and stimulating collagen production.
With cleverly incorporated innovative nano-technology and an alkaline level of pH 4.5 that's close to our skin's pH level of between 4-6, the brightening essence aids in avoiding skin irritation, making it suitable for long-term use and even sensitive cases such as pregnancy.
Without inhibitions on your skin's sensitivity and safety along with the promise of visible results, you can say goodbye to lacklustre and uneven skin today with Atorrege AD+'s Brightening Essence!
--------------------------
The Atorrege AD+ Brightening Essence is available in selected Guardian and Watsons outlets in Singapore for SGD$ 99.