It's time to rejoice and celebrate as the auspicious Ramadan month of fasting has come to an end. Hari Raya is the time to be thankful for blessings, seek forgiveness and start anew. For non-Muslims, we often see the happenings from afar, but now we get to see it up close and personal through the lens and life of beauty influencer
Faa
Firds
. Watch the video above as she takes us through her Raya preparations. Then read on to find out what keeps her fresh through the festivities.
Wearing a hijab
Here's one misconception of wearing the hijab Faa thinks non-muslims should know about: "We wear it by choice! That's the first thing non-Muslims should know about. Also, we do NOT shower with our hijabs on."
While not all Muslims opt to wear hijabs, Faa decided to do so. "When I was 19, I remember vividly that it was during Ramadan month," she says of the first time she wore the hijab. "I don't know what inspired me to wear [it] but I did." She tried it only on the weekdays at first. "The reason is that I wanted to be 100% sure that this is what I wanted to do before breaking the news to my family," she shares. "On the first day of Eid [Al Fitr], I came down from my room with a hijab on and my family was surprised yet supportive of my decision. The next day, I woke up to every hijab colour you can imagine laid out in front of me; it was a surprise from my mum."
Taking care of what's underneath
Now, she wears the hijab and does so as she prepares for Hari Raya — from getting a new
baju kurung
to meeting a loved one in between the preparations. But she admits that with all the hustle and bustle of work and errands, there are certain struggles that come with wearing a hijab. "I did suffer from hair loss, itchy scalp and brittle hair," she shares.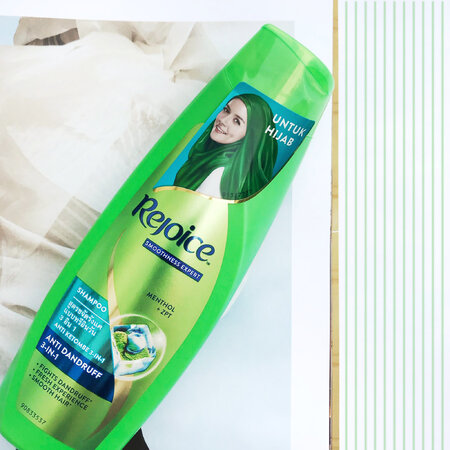 So one thing that Faa made a point in doing is finding a product that works for her, and she found it in
Rejoice's 3-in-1 Anti-Dandruff Shampoo
.
The shampoo gives "the power of three hair treatments" packed in one bottle. It contains ZPT that helps treat and prevent dandruff. It also has hot oil to make sure your hair is frizz-free and protected from friction caused by a hijab so it doesn't break easily. Plus, it has a refreshing cool menthol that makes the wash experience rejuvenating.
"After using the shampoo for almost a month, I especially love how my hair looks," Faa shares. "I also enjoy the cooling feeling from the menthol in the shampoo. This sensation lasts me at least two hours and sometimes more."
Get your bottle of Rejoice 3-in-1 Anti-Dandruff shampoo in Malaysia here.