The first question that came to mind when I heard about FaceTox was if it is some sort of a detoxifying oral supplement for the skin. I was relieved when I learned that it's actually an organic detoxifying face mask because I love masking.
Now, I'd like to first give a preface on my skin condition, so you have a better understanding of how well the mask could work on someone with a similar skin type. I have combination skin, and my face is drier in the U-zone. I also have overzealous acne (come on, puberty. I thought I was done with you 10 years ago). Aside from that, I also have congested pores, dull complexion, excessive sebum production, and my face is almost always shiny.
With that out of the way, let's start talking more about this organic mask that has taken over the U.K. by storm.

--------------------------
FaceTox is made by a U.K.-based company whose primary goal is to offer organic products created using natural methods. Their products are said to be 100 per cent cruelty-free, paraben-free, organic and vegan-friendly.

FaceTox uses a blend of natural healing Aztec clay, Rhassoul clay and 100 per cent organic rosewater in its formulation, which works together to deliver the following key claims: draw out external toxins, restore skin tissue, extract and prevent blackheads, shrink pores, minimise scars, reduce skin redness, even out skin tone – at the end of the day leaving the skin feeling soft and smooth.
I have used FaceTox for a total of four sessions, and I can now understand how and why it took the U.K. by storm.
The Process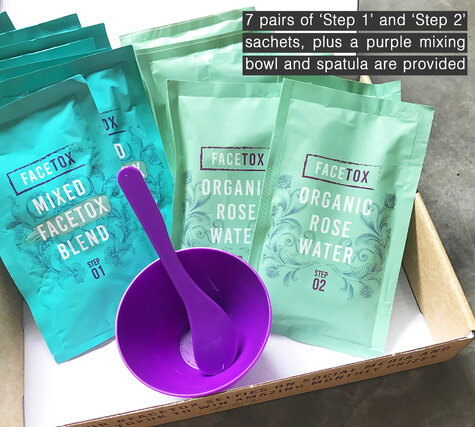 The set contains seven packets of "Step 1 - Mixed FaceTox Blend", seven packets of "Step 2 - Organic Rosewater", and a purple mixing bowl and spatula.

Pour the contents of the sachets into the bowl. Using the folding method, begin mixing the contents slowly and evenly until a thick, beige-colored paste is formed. The paste will not come out super smooth or creamy-dreamy, and that is okay. As long as the clay powder and rosewater are completely blended together, you are good to go.
The Scent
With the "Step 1" sachet, you will notice a faint, muddy scent that is common with clay masks. The content of the "Step 2" sachet, on the other hand, has an unmistakable scent of fresh rosewater. It is so delicate and delightful. There's no need to worry if you are not a fan of rose-scented products as the scent dissipates quickly.
Application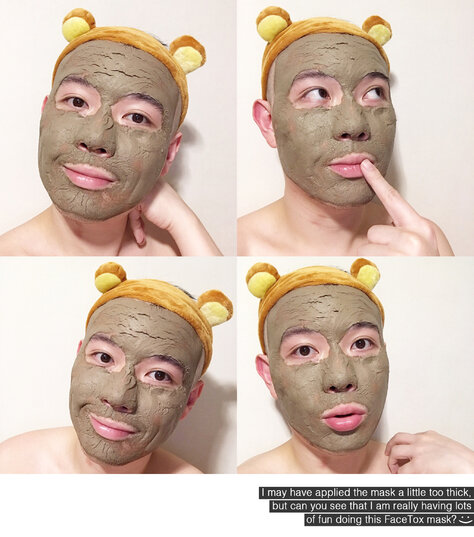 Although a spatula is provided, I find that using my fingertips to apply the paste is much easier and less time-consuming. The texture of the paste is rather thick. Unlike commercial clay masks that come in tubes, its texture makes it slightly difficult to spread using the spatula. Don't get me wrong; you can still use the spatula to apply the mask. I just prefer to use my fingertips because it gives me greater control over the skin contour.
Results
Oh, the results! The amazing, amazing results I get after just 30 minutes – well, after what seems like another five minutes of washing the mask off. I may be exaggerating about the time, but I am definitely not joking about the difficulty in removing it. However, there is a good reason why it takes some effort to wash it off: this mask is made with only three ingredients. Since it does not contain any additive, it doesn't have a smooth, butter-like texture or easy-to-wash-off formula. Honestly, I would rather take more time to remove a mask than to have one loaded with unnecessary additives, wouldn't you?
Once you have removed the mask, you will discover that the results are nothing short of stellar. You will find your pores cleaner, complexion smoother and softer, facial redness reduced slightly, and more importantly, get this: pimples heal up so much faster. By the third session, I could already see that my blackheads and whiteheads were nicely under control.
I truly think that the FaceTox mask is a remarkable product and that everyone should have it in their skincare arsenal. Get used to spending more time washing off the product, because oh boy, you will start getting used to people complimenting you on how clean and clear your skin looks.
--------------------------

Learn more about FaceTox
here
.