While we all know working out and eating well play a big part in achieving tip-top body shape, adhering to a healthy lifestyle these days is not as easy as it seems. Let's be honest: a hectic lifestyle today is inevitable. But that does not mean that we should raise the white flag and admit defeat. Thanks to science and technology, there is a way to enhance our lifestyle to help us get in shape. And in case you're wondering… yes, it's absolutely non-invasive.
Goodbye thunder thighs, belly pooch and love handles! The
UltraShape® Body Contouring
, developed by leading global aesthetic device company,
Syneron Candela
, uses pulsed ultrasound energy to bust stubborn fats on your thighs, abdomen, and flanks. UltraShape® is FDA-cleared for non-invasive body-shaping and inspired by a natural fat clearance process. The treatment specifically targets and destroys fat cells without hurting the muscles, veins, arteries and more.
But wait, there's more… there is absolutely no pain and no downtime! Simply put, it doesn't get in the way of your daily schedule. Just remember to stay hydrated so that the fat cells, which are broken down permanently, get naturally flushed out of your system lymphatically. And of course, pair UltraShape® up with your usual healthy routine and you're all set to get in ultra good shape.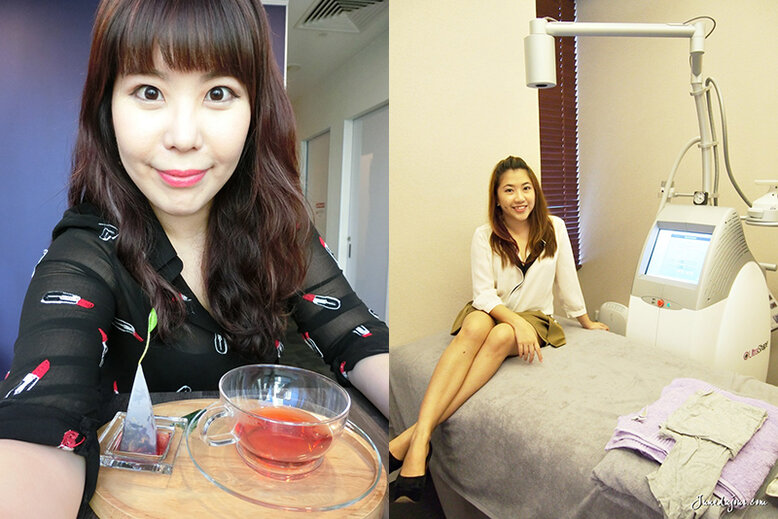 So, what if your erratic work hours are messing up your mealtime and exercise schedule, or if you're pressed for time to get in shape by, say, your upcoming wedding? With that in mind, we invited two of our ambassadors -- beauty workaholic
Cheryl Chio
, and bride-to-be
June Fong
-- to try out the UltraShape® body contouring treatment at
Aeon Medical and Aesthetic Centre
(AMAC).
At AMAC, the ladies underwent a total of three 60- to 90-minute treatment sessions each in the span of six weeks. Why three sessions, you ask? Easy, it's result-driven. After over 300,000 treatments performed worldwide, results have shown an average circumference reduction of 4CM after just three treatments.

Ahead, read on to find out what our ambassadors have to say about their UltraShape® body contouring treatment experience.
"All I had to do (during the treatment) was lie there in comfort. The strapping (around the targeted area) can get a little tight at times -- but this is necessary in order to compact the fat and make for a better treatment mass. Doctor Kim will calibrate the machine, which will then in turn mark out the spots to be treated."
"Everything was literally in his expert hands -- it's not just anyone who can do it. Yes, it may seem to be a simple task of moving the machine head to fit the red spots marked out by the machine, but according to the good doctor, you needed to know how much pressure to exert, and to make sure the head was placed on parallel to the skin's surface, etc."
"All I felt was the machine head gliding around the thighs (over a gel). It was only towards the end when there was some slight warmth, but it was pretty much negligible. In fact, I could have fallen any time during this portion of the treatment. There's really no downtime to this treatment -- I was up and ready to leave."
"While I may be of petite size, I do have some subcutaneous fat that is hard to burn despite exercising and dieting ... so this is where UltraShape® comes in."
"(During the treatment), all I hear is a slight hum and a gradual warming sensation around the area as the procedure continues. In fact, I personally felt so comfortable throughout the entire treatment that I nearly dozed off a few times during the session. Dr. Kim can also select to do the targeting in a sequential or randomized manner; which was very helpful because at some points the Ultrasound targeting did get slightly prickly to certain more sensitive areas."
"It's almost bittersweet as my final session rolled by. While I will still miss the awesome experience with the AEON team, I'm really excited to see my results! I actually had a minor 100 grams weight increment but I had expected it because I was (and still am) on low carb-meat rich diet to bulk up muscles. Overall, here is how my waistline looks after 1 month of treatment duration; the results are pretty amazing. While I can barely believe my eyes on the whopping 5CM I lost, I can sure feel the slimmer waistline when donning my bodycon dresses and skinny jeans."
Want to reach those fitness goals just like Cheryl and June? Maybe it's about time you give the UltraShape® experience a try just like they did.
--------------------------
UltraShape® body contouring treatment is available at AEON Medical Aesthetic Centre, 9 Scotts Road, #06-02/03, Scotts Medical Centre @ Pacific Plaza, Singapore 228210. Email the friendly team at

[email protected]

or give them a call at 6733 2002.
To find out more about the UltraShape® body contouring treatment, visit

Syneron Candela