During my teenage years, I suffered from major bouts of acne. Admittedly, although it was not as bad compared to what others have gone through, I still felt bad whenever there was a fresh pimple rearing its ugly head on my adolescent skin. It affected my self-confidence and consequently affected the way I socialised with my peers. I became self-conscious whenever I raised my hand in class or when my picture was being taken.
This photo was taken recently.
Thankfully, as I grew out of my early teenage years and into my early adulthood, my skin problem began to abate. But just like how old habits die hard, I still clung to my trusted acne-prone skincare routine. The reason why I still used the same products is because of my fear that if I stopped using them, my old acne-riddled skin will return. I knew that this was not true and yet and I still continued using my old, outdated skincare that does not suit the current condition of my skin.

It did not take long for me to see the effects of prolonged use of acne medication and harsh toners. My skin began to flake and lose elasticity. You know the test where you pinch your skin and when it does not bounce back it means your skin is dehydrated? I tried it and oh golly, mine was definitely dehydrated — no doubt about it. So I tried numerous moisturisers but they never felt right; they were either too thick, too oily or too watery that I didn't feel like putting it on would make a difference until I found the Innisfree Green Tea Balancing line. There were a lot of rave and good reviews, so why not try it?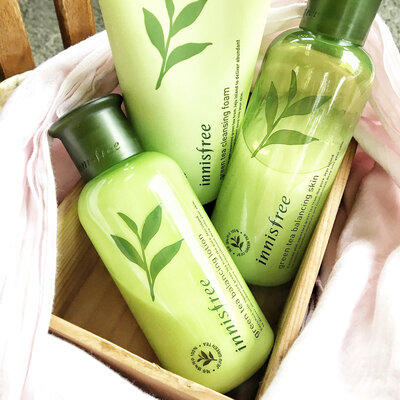 I was amazed. In just one week of using Innisfree Green Tea Cleansing Foam, Green Tea Balancing Skin (Toner), and Green Tea Balancing Lotion, my skin became visibly supple and radiant. I'm very pleased to say that I didn't experience breakouts while using it. From here on, it became my basic skincare staple. From time to time, I still add a few serums into my skincare routine depending on what my skin needs at the moment but the Innisfree Green Tea Balancing line is my skincare foundation.