These days, we can easily share visual memories almost immediately via our smartphones and social media platforms. We love the convenience of going digital, but we sometimes wonder — whatever happened to good ol' photo prints? If you, like us, relish the idea of something instant yet tangible gratification, reach out for Fujifilm's latest
Instax SQUARE SQ10
. This hybrid instant camera allows you to enjoy the best of both worlds in digital and print.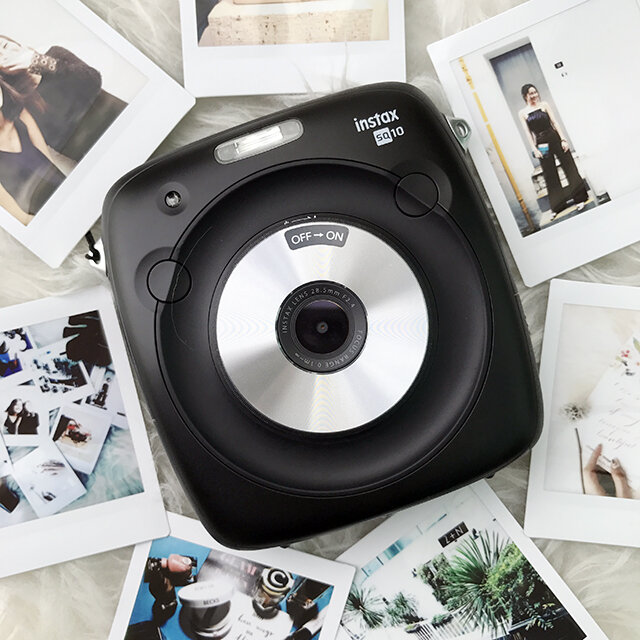 The SQ10 encompasses Fujifilm's many firsts. It is the first hybrid instant camera by the imaging company; the first Instax camera with a built-in digital camera and a three-inch LCD screen on the back; and it features Fujifilm's first Square Film format. Its design has simplicity in mind — sleek, black, and user-friendly function buttons only.
We can safely say that the SQ10 boasts one of the best photo qualities in the instant camera arena. It features a CMOS sensor (1/4-inch) with a 28.5mm f/2.4 fixed lens, and its internal memory can store around 50 photos. Need more storage space? Simply pop in a microSD card. In a single charge (via USB), the SQ10 can produce up to 160 prints. It does not support WiFi, Bluetooth or NFC — as if Fujifilm is encouraging the user to print her visual memories rather than digitally compartmenting them. But if you'd like to digitally transfer your photos, just use the microSD.
While we wish that the SQ10 comes in more colours other than black, the 10 filters, vignette control, brightness adjustment and live view functions more than make up for its aesthetic vibrancy. Furthermore, its square build makes it easy to hold, and the dual shutter system on the front allows you to snap pictures whether you're gripping it with your left or right hand. The built-in photo editing functions also means that you no longer have to fret over wasted instax prints. You can snap now, edit, and print later — perfect for the trendy millennial.
The Fujilfilm Instax SQ10 is retailing at SGD499. Find out more about the SQ10 here.