As someone who loves Japanese beauty trends, one of the brands that I've had my eye on for a while is Jill Stuart Beauty. The interest started with its cult status in Japan to the point that many people mistake it for having its roots there, despite actually being an American company. Apparently, the ideation for this spin-off from Jill Stuart's eponymous fashion brand was really targeted towards the Japanese market, where the beauty line initially launched and founded its current headquarters. It's also where Jill Stuart Beauty's products are licensed and manufactured under a Japanese company.

Now, the brand's branch in beauty, despite being distributed globally, doesn't really follow much of the Western beauty trends but rather focus its inspirations on the Land of the Rising Sun's well-known preference for kawaii (cute) and hime (princess) aesthetics. But does it really fare as well as it's hyped about? With this, I went on a deep dive and tried out some of its best-sellers and vanity favourites — the Jill Stuart Lip Blossom and Lip Blossom Velvet, the Blend Blush Blossom, and the Birth Gem Lip Gloss — to see if they're really more than their pretty packaging.


Jill Stuart Lip Blossom and Lip Blossom Velvet
Lipsticks are my number one makeup obsession (I couldn't leave the house without at least three tubes in my purse) so these two beautifully packaged lippies truly set my heart aflutter at first glance. The two tubes look almost identical apart from the gem in their casing, the clear one indicating the Lip Blossom and the white referring to the Lip Blossom Velvet.
Upon swatching, I could immediately tell that these two lipsticks are not the type to hit the preference of those who love matte or semi-matte finishes. Both lipsticks definitely border on a creamy satin finish that would easily transfer even at the most careful attempt to drink or eat. The Lip Blossom Velvet is a bit less glossy than the Lip Blossom, but both need a couple of swipes to give a semi-opaque finish.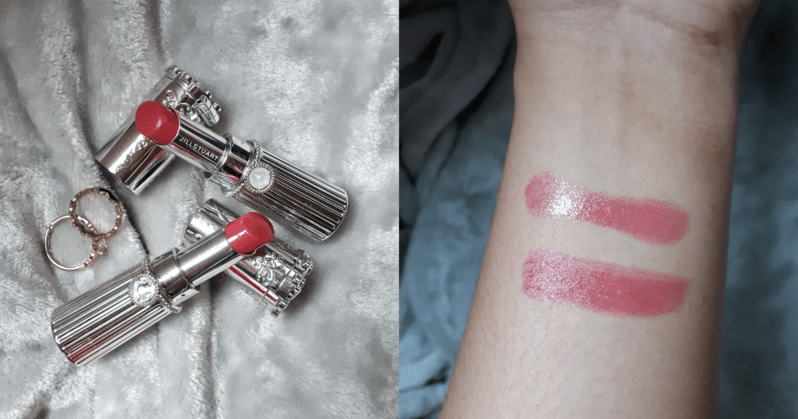 Left: The gems on the lipstick cases indicate the Lip Blossom Variant; Right: Top swatch shows glossy Lip Blossom and bottom swatch shows creamy satin Lip Blossom Velvet

On the upside, I love how hydrating the lipsticks feel. They're also not tacky or heavy despite having a very creamy finish. However, longevity obviously isn't something to be expected. It's also prone to creasing and smudging so I suggest you wipe it off before you start digging in your food. Overall, I think Japanese women, in general, prefer that natural-looking finish these lipsticks offer. But if you're someone who loves your semi-mattes and mattes, these are definitely a no-go.


Jill Stuart Birth Gem Gloss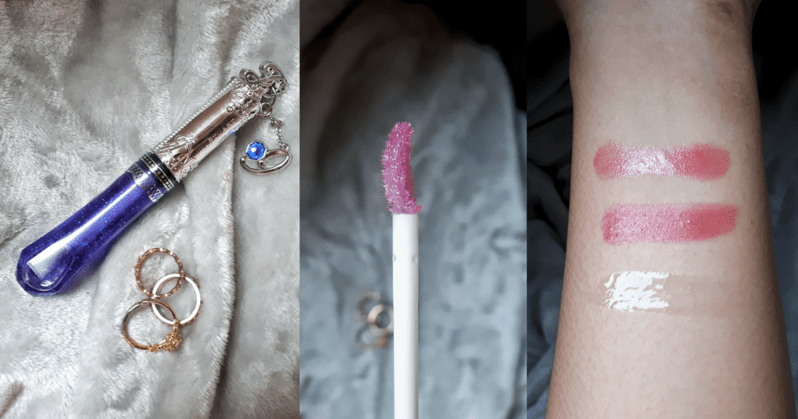 Left: the Birth Gem Gloss serves great aesthetic; Middle: curved wand hugs the lip perfectly for great application; Right: bottom swatch shows ordinary clear gloss
From two lip products to the next, it looks like we're sticking to a glossy theme with the Birth Gem Gloss. I personally love some sheen and gloss on my lips as true mattes never really suit me. Jumping in intrigued with its magic-potion-like glittery purple shade on the tube, I was actually a bit disappointed that it came off clear with just some specks of glitter when applied. I've experimented on black and gold lip glosses before so I had high expectations with this one and sadly, the whimsical aesthetic di not save the performance. As Ariana Grande would say, 'Thank u, next'!
Jill Stuart Blend Blush Blossom
Moving on to blush, the Blend Blush Blossom definitely gives off that dainty and glamorous feel with its packaging. The blusher and the brush follow the same gem-like, fantasy-vanity theme as the lipsticks, which are truly reminiscent of a makeup set we've probably dreamt about when we were younger.
Left: The Blend Blush Blossom channels vintage beauty vibes with its quaint packaging; Right: swatches of illuminator and blusher
The blush has two separate pans, one is the cheek colour and the other is the highlighter. I was a bit sceptical when I swatched the two because despite the intimidating pigment it shows on the pan, it looks almost non-existent on my finger. But when I finally applied it, it was actually pretty good. The colour payoff on the skin isn't as bold as it looks on the pan so despite it being a hot pink colour that shouldn't have looked good on my skin tone, it worked. It gives a really natural but noticeable flush that complements the skin to look glowing and healthy. The highlighter isn't as blinding as those seen on Instagram trends, but it delivers a lit-from-within glow that's perfect for an everyday casual makeup look. Out of all the products from Jill Stuart that I've tried, this is actually my favourite.


Overall thoughts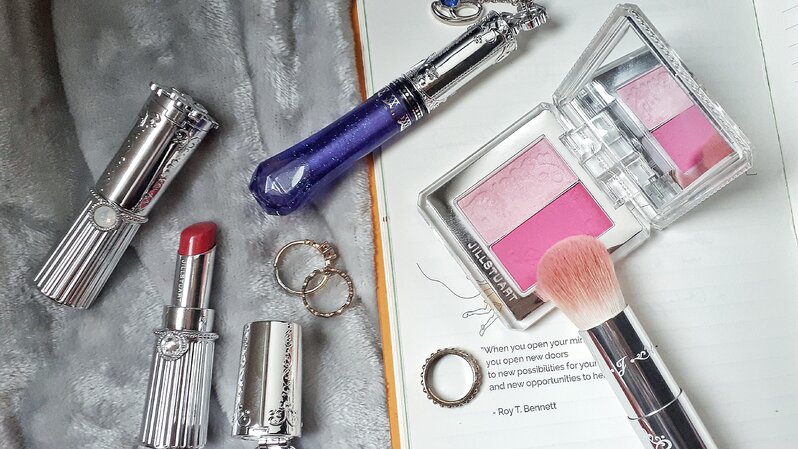 Jill Stuart Beauty has some hits and misses, at least with the set of products I got to try. It's quite tricky to recommend these products because upon trying things out, I realised that it really is targeted towards a very niche audience. I, for one, was pretty satisfied but I can see and understand why it would confuse others of Jill Stuart Beauty's cult following. If you're a casual buyer looking to consider this brand's products, I'd say go for the Blend Blush Blossom as it offers more versatility towards a range of beauty preferences. The others, on the other hand, fall entire up to your preference.
Next, learn more about J-beauty favourites with these select picks.