Amidst our constantly wired lifestyle, it is easy to forget to take a breather and just relax. The same goes for our skin. Between a poor sleep schedule, a sloppy skincare routine, and the facial appointments we've missed many times in a row now, our life — and complexion — is probably in need of a timeout.
What can you achieve if you take 10 minutes off, you ask? Sometimes, 10 minutes is all you need to not just calm and focus your mind, but to let your skin get glowin'. So while you take ten, why not let your skin reap the benefits and bask in the afterglow of the
Neutrogena Fine Fairness Light Mask
?
What was once a technology only available at dermatologists' offices — and costing hundreds of dollars! — is now in the comfort of our homes. And with the Light Mask, you're getting a big bang for your buck.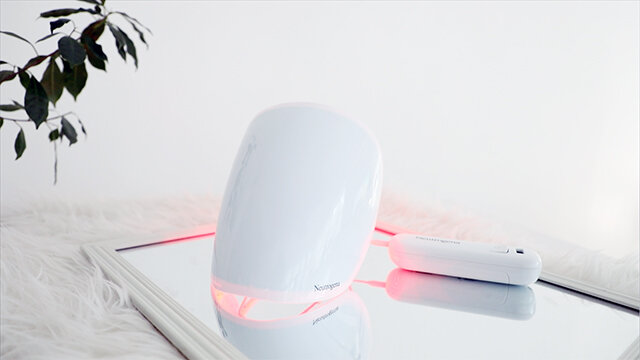 Designed with six infrared LED bulbs and 12 red LED bulbs, a powerful light energy is activated to penetrate deeper into your skin — better than applying a regular skincare product. This 100% chemical-free technology then works to stimulate collagen and elastin production and inhibit environmentally induced excess pigments. The result? An improved skin texture, even skin tone, and a firmer, brighter complexion with luminosity.
For enhanced benefits, simply pair the Light Mask with
Neutrogena's Fine Fairness Gel Cream
. Powered by Healthy White Booster, Vitamin B3, C and Hexinol, the Gel Cream is a gentle giant that boosts your skin's ability to flush out melanin. It works on improving your skin tone, texture and hydration level for intense radiance.
The Neutrogena Fine Fairness Light Mask, without a doubt, is giving at-home skincare a revolutionary new name. Take ten with us and watch the video above. Then keep reading as three digital beauty tastemakers —
Leanne, Cindy
and
Celine
— in their 40s, 30s, and 20s respectively, and I put our Neutrogena Fine Fairness Light Masks to the test.
Plus, find out how you can win your very own Neutrogena Fine Fairness Cleanser, Toner, Gel Cream and Light Mask Set worth SGD180.60
!
Leanne, @loveforskincare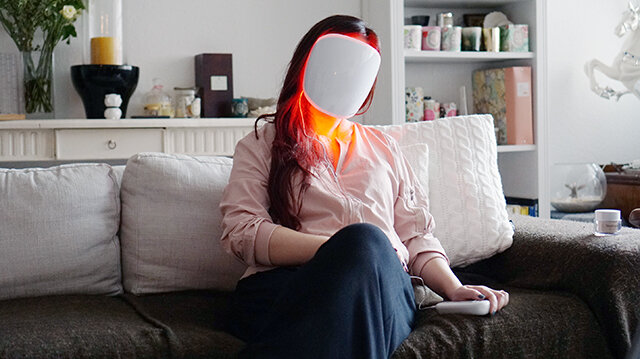 "Transforming my daily 'me time' the past weeks, the new Neutrogena Fine Fairness Light Mask fits into my busy schedule perfectly. In just 10 minutes, I get to mask, brighten my skin, stimulate collagen all in the comfort and privacy of my home. Just imagine having two types of light working together (red and infrared LED) under that mask to give your skin the much needed TLC after a long day, you too would love to bring home one."


Cindy, @lecinlurve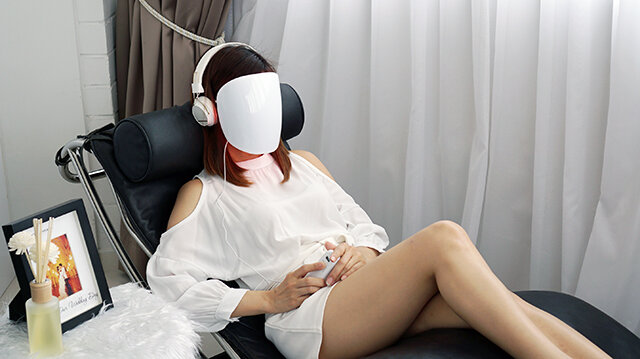 "The newly launched Neutrogena Fine Fairness Light Mask is perfect in improving my skin's texture and elasticity. It's so amazing how you can use dermatologist light solutions to rejuvenate your skin from within in just ten minutes, amidst your busy schedule!"

Celine, @chiamhuiy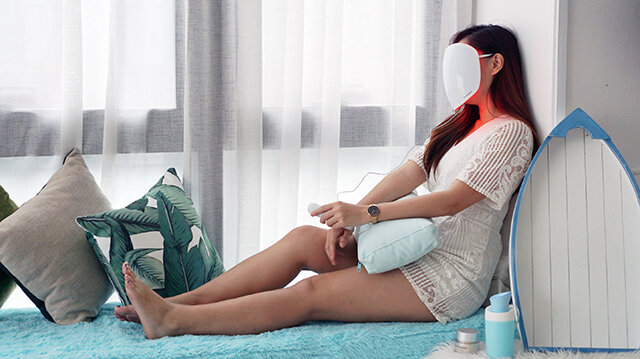 "The use of Neutrogena Fine Fairness Light Mask is much easier than most hand-held lighting devices. Instead of having to carry and hold the lighting device, you can simply wear the Light Mask and relax for 10 minutes without holding it. You can use it any time you wish, but it's best to use it with clean skin. I like to use it after my shower, before I apply any skincare. Choose to play your favourite music for this relaxing session as well.
I must say I'm impressed with the [Fine Fairness] Gel Cream. Because of its gel-like texture, it gets absorbed very easily, leaving only soft skin with no residue or sticky feeling."
Becks, Clozette Editor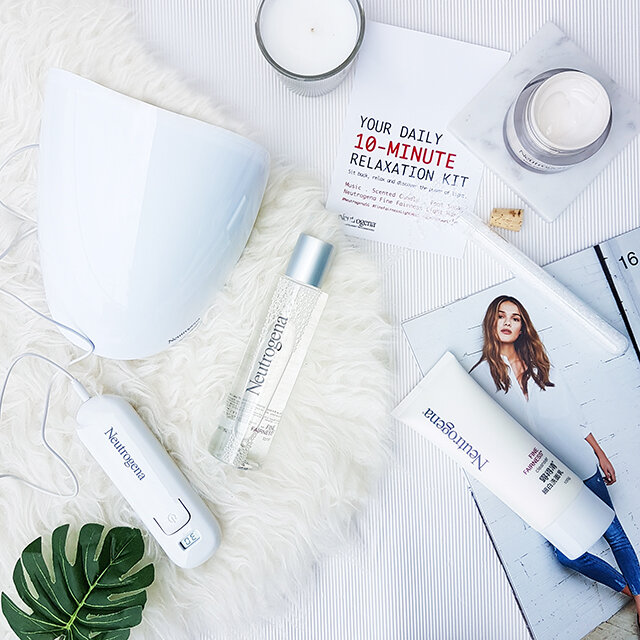 My biggest skincare concern is dull and lackluster skin. So my interest was piqued when I was handed the Neutrogena Fine Fairness Light Mask to bring home and try. After a long day at work, it feels almost therapeutic to take 10 minutes out of my daily evening routine to tune out and relax with my Light Mask. This futuristic-looking light device is supported by a sunglass-style frame, which means that I get to apply this technology hands-free.
Coupled with the Fine Fairness Gel Cream, its gentle formula keeps my skin soothed and hydrated after indulging in a dermatologist-grade LED light therapy. Ladies, you're looking at the future of home skincare. Needless to say, this mask has indefinitely earned its spot in my skincare arsenal.
X
NEUTROGENA FINE FAIRNESS LIGHT MASK GIVEAWAY
TERMS AND CONDITIONS

The Neutrogena® Fine Fairness Light Mask Giveaway is open to all eligible participants as stipulated in clause (2). By submitting your details for the giveaway, you are deemed to have agreed to be bound by these Terms and Conditions. Please read these terms and conditions carefully before you enter this giveaway. Clozette reserves the right to amend the Terms and Conditions at any time without prior notice

GIVEAWAY INFORMATION
1. This giveaway is organised by Clozette Pte Ltd ("Organiser") in collaboration with Neutrogena Singapore.
2. The giveaway begins on 21 August 2017 and ends on 04 September 2017.
3. The Organiser reserves the right to vary, extend or end the giveaway period at its sole discretion, or if the giveaway is not capable of being
continued for whatever reason or other reasons pursuant to the Terms and Conditions of this giveaway.



ELIGIBILITY

1. The giveaway is open to all participants aged 18 and above.
2. To qualify for this giveaway, participants must answer the multiple choice question at the end of the article and submit their particulars
3. The giveaway is open to Singapore residents only.



GIVEAWAY MECHANICS

1. To qualify, the participant will have to answer the multiple choice question at the end of the article and submit her/his particulars (Name, Email and Contact Number).
2. The Organiser will not be responsible for wrongly entered information.



WINNERS PRIZE & PRIZE REDEMPTION

1. At the end of the giveaway period, 3 winners will be selected randomly.
2. Participants who have successfully completed and submitted their contact details will be entitled to a chance of winning a Neutrogena Fine Fairness Hamper (worth SGD 180.60 each).
3. Each hamper consists of a Neutrogena Fine Fairness Cleanser, Toner, Gel Cream and Light Mask.
4. In the event a Winner requires a representative to claim their prize(s) on their behalf, the representatives must bring a letter of consent signed by the Winner, a copy of the Winner`s proof of identity, and the representatives proof of identity. If the Winner is not able to collect the prize by the stipulated date, the Winner will be automatically disqualified. The Organiser reserves the right to forfeit the prize or award the prize to another Participant/Winner.
5. All prizes listed on the Contest Pages may be updated from time-to-time, and are not transferable, non exchangeable and there is no cash alternative.
6. Organiser's decisions are final and no correspondence or questions will be entertained.
7. The Organiser reserves the right to replace the gifts with items of similar value in the event that the published gifts become unavailable.
8. The Organiser will make best efforts to contact the Winner via the contact details or email address supplied during the entry submission process.
Participants are encouraged to keep their contact numbers active, and to constantly check their email and social media accounts.
9. In the event that a Participant is not contactable after THREE attempts for THREE consecutive days, the Organiser reserves the right to disqualify the Participant`s eligibility and the next qualified Participant will be selected.



RIGHTS OF THE ORGANISER

1. The Participant agrees that all materials submitted by the Participant for this giveaway belongs to the Organiser.
2. If for any reason this giveaway is not capable of running as planned due to any reason not limited to infection by computer virus, bugs, tampering, unauthorised intervention, fraud, technical failures, or any other causes beyond the control of the Organiser that corrupt or affect the administration, security, fairness, integrity, or proper conduct of this giveaway, the Organiser reserves the right, at its sole discretion, to disqualify any individual(s) who tamper with the entry process, and/or to cancel, terminate, modify, or suspend this giveaway. If the Organiser elects to cancel or terminate this giveaway, the Organiser will not retain any rights in the Entries.
3. The Organiser reserves the right, at its sole discretion, to remove and disqualify any Participant and/or entries found or suspected of cheating/hacking/tampering with the giveaway submission process, the operation of this giveaway or to be in violation of any Terms and Conditions of the giveaway. The Organiser reserves the right to pursue legal action against any individual whom it believes to have been involved in fraudulent activities or other activities harmful to the giveaway, the Organiser or the giveaway submission process.
4. The Organiser reserves the right to vary the Terms and Conditions of this giveaway at any time at its absolute discretion without prior notice.
5. In the event of any conflict between these Terms and Conditions and any terms contained in any promotional material for this giveaway, the terms contained herein shall prevail.



LIABILITY & RESPONSIBILITY

1. The Organiser, its partners, advertisers, sponsors, affiliates, authorised agents or participating agencies accepts no responsibility for entries lost, damaged, delayed in the post, or due to computer, IT or any technological error. The Participant is responsible for ensuring that his or her entry complies with all the terms and conditions of the giveaway, the rules of the giveaway and that his or her entry reaches the Organiser in the form required by the Organiser.
2. By entering this giveaway, all participants agree to release, discharge, and hold harmless the Organiser, its affiliates and agencies, and their employees, officers, directors and representatives from any claims, losses or damages arising out of or in connection with their participation in this giveaway (including but not limited to, any error in computing any transaction, any breakdown or malfunction in any computer system or equipment) and the acceptance and/or use, misuse, or possession of any prize awarded hereunder. The Organiser reserves the right to alter or modify these Terms and Conditions at any time without notice.
3. The Organiser does not adopt or endorse, or accept any liability for, any statements or claims that are made by any person, or content that is posted on its website / Facebook/ Instagram page.
4. [Where Promotion mechanism involves Facebook] Facebook is not a sponsor of the Organiser. This giveaway is in no way sponsored, endorsed or administered by, or associated with, Facebook. Participants understand and agree that they are providing their information to the Organiser and not to Facebook.



GOVERNING LAW AND JURISDICTION

1. These Terms and Conditions shall be governed by Singapore laws and the participants of the giveaway shall submit to the exclusive jurisdiction of Singapore courts.
2. Availability of this giveaway in any country is subject to such giveaways not being unlawful or restricted under the laws of such country. Your ability to enter the giveaway does not constitute any offer by the Organiser to a party in a jurisdiction where the availability of the giveaway is unlawful or restricted.



PRIVACY NOTICE AND CONSENT

1. Your personal data, including without limitation the personal data obtained from you directly when you provide us with personal information, e.g. when you register for our contests and/or roadshows, buy a product or service from us, sign up to receive information, use our applications, fill out a survey, or make a comment or enquiry, and/or any further updates provided to us by you in relation to your personal information ("Personal Data"), will be processed for the purpose of your participation in our contest and/or roadshow and/or events, to provide you with products or services that you request from us, to provide you with advance notice of our future events, to respond to your inquiries, to provide you information about our and our partners', sponsors' and advertisers' products, services and/or new releases which may be of interest to you, to invite you and your subscription to our newsletters, and/or for auditing purposes in cases where there has been a dispute, collectively "Purpose".
2. We also wish to inform you that your Personal Data may be disclosed to third parties, such as to our headquarters, regional offices, subsidiaries, affiliates and/or members within the Organiser's group of companies, and/or our service providers, advertisers, sponsors and partners which may be located outside of your country, for reasons relating to the Purpose.
3. If you wish to access, correct, limit or update your Personal Data, or to make any inquiries or complaints about the processing of such information, please contact us:

Clozette Pte Ltd
8 Burn Road
#13-14 Trivex
SINGAPORE 369977

Attention: Clozette Compliance Team
Email: [email protected]
Tel: +65 66368318
Fax: +65 66368313
4. Kindly note that it will be necessary for us to process your Personal Data, without which we will not be able to carry out the Purpose. For more details on how we process your Personal Data, do visit our Privacy Policy at http://www.clozette.co/info/privacy.


Check out the Neutrogena Fine Fairness Light Mask in these stores